Robin Williams Had Two Very Personal Reasons For Deciding To Make Jumanji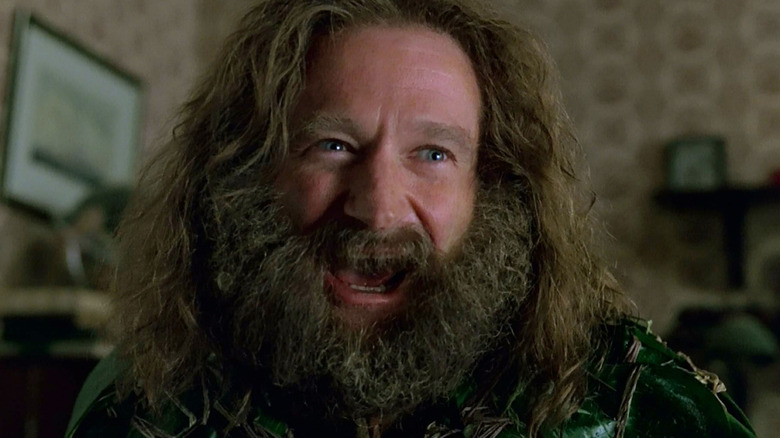 Sony Pictures Releasing
Director Joe Johnston's "Jumanji" came along at just the right time for Robin Williams. Having settled into his groove as an actor, Williams was not quite at the point where he could fully shed his hurricane of a comedic persona on-screen. That would happen a little later in his career when he starred in films like "One Hour Photo" and "Insomnia."
If anything, though, this worked in Williams' favor on "Jumanji." His character in the film, Alan Parrish, is just a boy when he's trapped in the titular magic board game in 1969, only to emerge a fully grown adult — with an untamed beard and a mane of hair to rival that of the lion he squares off with — when he escapes the game 26 years later. Having survived in the jungles of Jumanji alone all this time, Alan the adult is emotionally stunted. As such, in the scenes where Williams indulges his zanier side, it feels in keeping with the character's man-child mentality.
Writing about "Jumanji" in his 2018 biography "Robin," author Dave Itzkoff notes Wiliams was paid $15 million to star in the film. That's nearly a quarter of the movie's $65 million budget, which was quite a lot even for the time, back when actors were the biggest selling points for studio films rather than familiar intellectual properties. But for Williams, it wasn't just about the money he stood to make (though, of course, that helped). It was also that Alan's story and the movie at large spoke to Williams personally.
A lonely childhood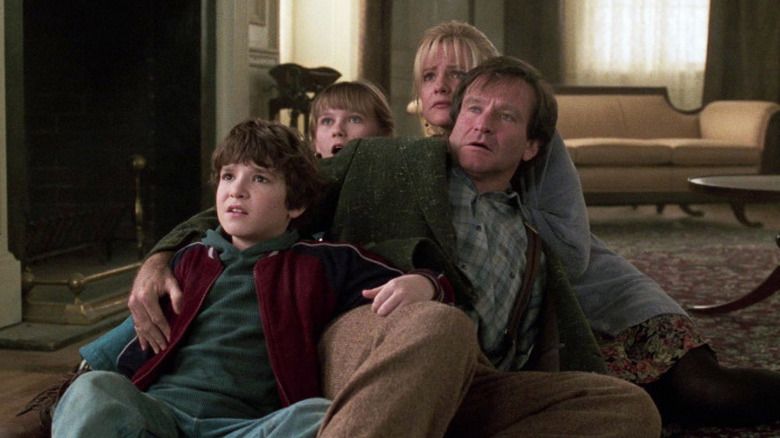 Sony Pictures Releasing
"Jumanji" was inspired by Chris Van Allsburg's 1981 picture book of the same name, although their plots have little in common outside of the enchanted board game conceit. In the film, which Allsburg worked on as a writer, Alan is born into a life of wealth. His father owns a local shoe factory that employs much of Alan's hometown, yet he struggles to connect to his son on an emotional level. Between that and being bullied at school, Alan leads a fairly lonely life as a child.
According to Itzkoff's book, Alan's backstory reminded Williams of "his lonely, mansion-bound childhood in Bloomfield Hills." When the character finally escapes the Jumanji board game, he learns his father spent years searching for him after he vanished, believing he had run away after one of their arguments. The emotional strain also took its toll on Alan's parents and led to their premature deaths some years earlier, on top of causing their factory to go under (decimating his hometown's economy with it).
As you might expect, "Jumanji" is quick to lighten its tone after Alan learns all this. Before he knows it, our hero finds himself teaming up with a pair of kids (Kirsten Dunst and Bradley Pierce) and his now-grown childhood friend Sarah (Bonnie Hunt) to finish playing the round of "Jumanji" he and Sarah started 26 years earlier (the very thing that led to him being trapped in the game to begin with). This is also where the movie shifts into family-friendly mode, as the various wild creatures from the jungles of Jumanji emerge to wreak havoc on our world.
'The world frightens me a lot'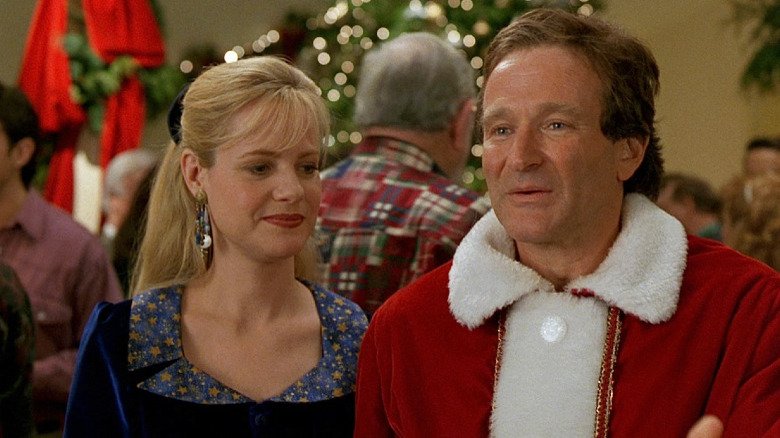 Sony Pictures Releasing
One could argue that "Jumanji" suffers from sidelining the more dramatic aspects of Alan's sub-plot for much of its runtime. Indeed, Roger Ebert was among the critics who felt the film's many visual effects and CG-heavy set pieces foiled its efforts to "construct a coherent story." Ebert also thought the film was too intense for its young target audience, although Williams disagreed with him on that point.
In Itzkoff's book, Williams is quoted as saying "Jumanji" was the only kind of action movie he felt was responsible for him to be making at the time:
"The world frightens me a lot, the world as it exists. This is an action movie, it has a certain type of violence, but I can't do a movie where all of a sudden I'll blow things away and make a joke about it. Because we live in a world where that's a reality."
"You have a responsibility to yourself, whatever your level of consciousness is, about what you do," he added. "Would you show this to your own children? What are you putting out there? What do you want to say?" Ironically, Itzkoff notes, "Jumanji" scared Williams' then four-year-old son, Cody, when it first came out. 
Even so, "Jumanji" played well with families during its initial theatrical release late in 1995, spawning a pair of quasi-sequels more than two decades later. For all the ways the film has come to show its age (namely, the uncanny digital effects), it's the personal elements and subtext of Alan's story that have held up the best. That and the way the movie trusts kids can handle its scarier moments long enough to power on through and make it to the well-earned happy ending. Just maybe don't show it to your four-year-old.