Robin Williams Went The Extra Mile To Protect His Jumanji Co-Stars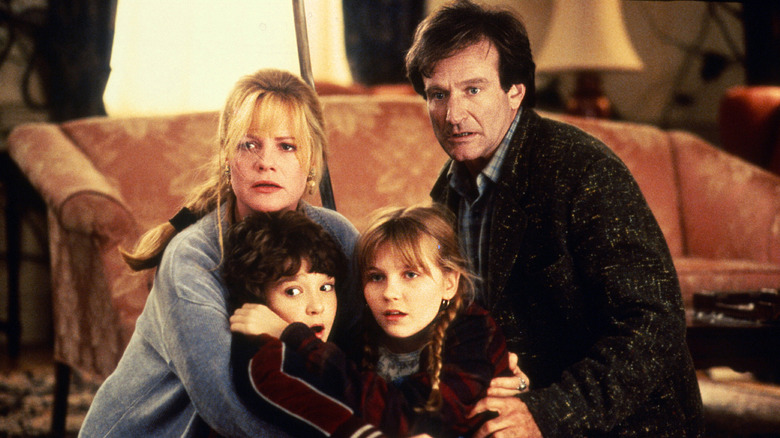 Sony Pictures
The fantasy adventure film "Jumanji" was one of the highest grossing family movies of 1995. Starring the late Robin Williams and a teenage Kirsten Dunst, the movie introduced the cinemaverse to the supernatural board game that terrorizes its players by releasing unforgiving wild insects, jungle animals, and catastrophic weather from the game into the real world. The film has spawned sequels and an animated TV series.
In the original film, four unlucky players are forced to finish the dangerous game to stop the aforementioned — and big game hunter Van Pelt (Jonathan Hyde) — from terrorizing them and the community at large. Naturally, the movie, like all films of the genre, needed kids (or lovable animals and creatures) to fill in the starring roles to attract its target audience. In the eyes of the directors and producers, working with youngsters could be a pain in the you-know-what.
One reason is child actor labor laws, which put work hours restrictions on children. Apparently, the laws didn't stop the head honchos of "Jumanji" from trying to cross those boundaries. However, the late great Williams refused to let it happen on his watch.
No, we are not doing any extra time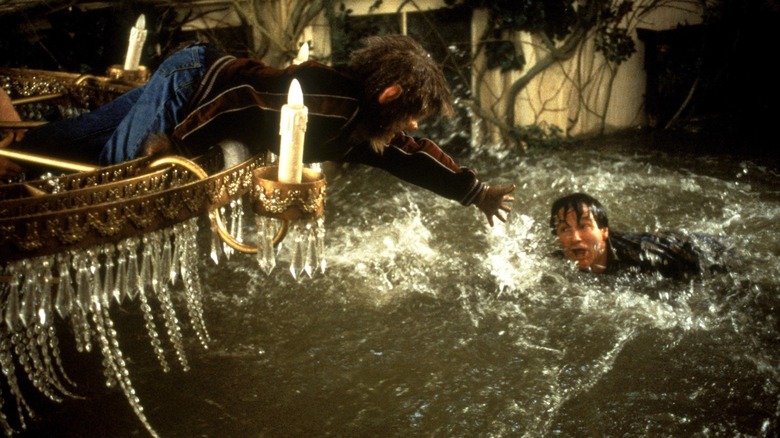 Sony Pictures Releasing
In a 2020 interview with CBC Listen, Bradley Pierce, who co-starred in "Jumanji" with Robin Williams and Kirsten Dunst when he was 13, shared how Robin Williams saved him and the also 13-year-old future "Spider-Man" actress from being coaxed into working overtime.
The rescue came while they were filming the monsoon scene. At that point in the film, Pierce's character had been turned into a monkey, so he had to complete the scene in heavy makeup. The intense scene, which was shot in a water tank, made it difficult for Piece to breathe through the makeup. It took eight days to complete, and it was draining for everyone. Pierce says at the end of one workday, the producers wanted the children to go into overtime, going to Pierce's and Dunst's parents for permission. He remembered:
"Robin basically caught wind of these conversations happening, and apparently he pulled the director and producers aside and said 'No, we are not doing any extra time. You're going to let everyone out of the pool now, and we're going to come back next week.'"
Pierce continued: "For all the dollars that would have cost, nobody would have stood up the way he did."
That's just the kind of guy he was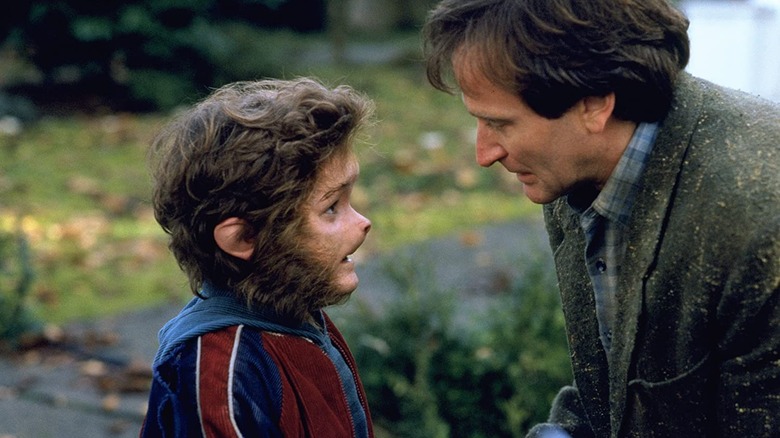 Sony Pictures Releasing
It wasn't just Robin Williams standing up to the director and producers that stood out to Bradley; it was also the little things Williams did that he remembered. For example: Aside from how the heavy monkey makeup gave Pierce breathing problems, Pierce said applying the makeup was a long, arduous process that would take almost four hours to complete. He had to arrive on set two hours before everyone else. A lot of mornings it was just the makeup artist, assistant director, and Pierce on set. But he said some mornings Williams showed up early to hang out in the makeup trailer with him and told him some of his experiences of being in makeup while filming "Mrs. Doubtfire."
"That's just the kind of guy he was. He wanted all the people around him to be happy, and comfortable. And it meant a lot to me because for a 12- or 13-year-old boy sitting in a makeup chair for three hours first thing in the morning — this guy who is an amazing professional that everybody admires and understands what sitting in a makeup chair two hours before anyone else on set really feels like, and he was just there hanging out trying to make me feel better."
At the time of "Jumanji," Williams was a father of three. His eldest son, Zachary, is around the same age as Pierce and Dunst. So it's possible that the actor's fatherly instincts did kick in and he made it his priority to make sure his two young co-stars felt safe and protected.