How Robin Williams Kept His Improv In Check Behind The Scenes Of Jumanji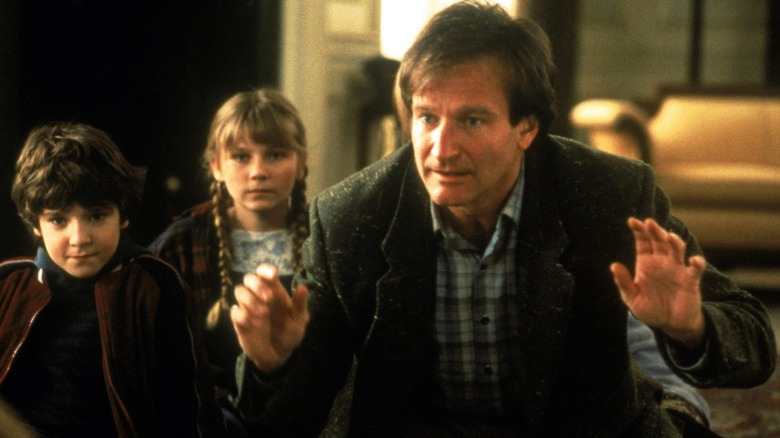 Sony/TriStar Pictures
Revisiting the movies of your childhood can sometimes lead to the realization that you've been wearing nostalgia goggles, but that isn't the case with "Jumanji." The irrational fear of being sucked into a board game for over two decades while everyone in your life presumes you've died still stands because of this movie. "Jumanji" underwent a massive transformation in the past few years with the incredibly successful reboot "Jumanji: Welcome to the Jungle" and its equally successful sequel "Jumanji: The Next Level." But the magic of the series still lies with Robin Williams.
Between "Hook" and "Aladdin," if you were a child of the '90s, Williams likely would have been a huge presence in the movies you watched. He knew how to make us laugh through the colorful and exciting characters he played. The rapid pace in which the man could whip up a stellar gag on the spot is astounding. Improv was Williams' specialty, and no one could do it quite like him. Sometimes it would even end up in the finished film. But for "Jumanji," Williams went with a different approach.
In an oral history from the New York Times, Jonathan Hyde, who played Samuel Parrish and Van Pelt in the original film, recounts how Williams got all his pent-up jokes out of his system after a long day of shooting:
"Every Monday night, Robin went to a comedy club in Vancouver and did an hour and a half of improv with the locals, then another hour and a half of solo stand-up — three hours of burning off excess steam. He was glorious."
This game is no joke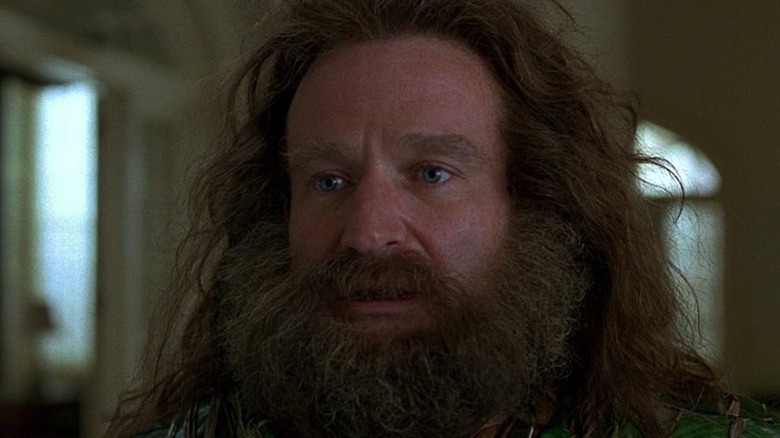 Sony/TriStar Pictures
Even as an adult, "Jumanji" is still pretty terrifying for a family film. Director Joe Johnston always had an eye for fun adventure movies where perils feel real, and "Jumanji" is no different. Robin Williams plays the adult Alan Parrish, a boy who gets trapped within the titular board game and emerges a scared, confused man out of time. It's not a particularly funny performance, because it's not supposed to be.
Although Williams' improv was largely absent when the cameras rolled, it's good to know it didn't prohibit him from being funny once the giant mechanical spiders and man-eating plants went away. Bonnie Hunt, who plays the adult version of the girl who watched Parrish disappear, told the New York Times:
"In between setups, we would drop our 'Jumanji' roles and improvise, just to get it out of our system. Characters would spring to life based on the daily headlines or waiters from dinner the night before, and the crew was a wonderful audience. It was pure joy."
Even Adam Hann-Byrd, who played young Alan Parrish, saw Williams' restraint, saying "he had this larger-than-life manic persona, but he could turn that off when he wanted to."
A good portion of "Jumanji," which takes place in a fictional town in New Hampshire, was actually shot in Keene, New Hampshire, where I went to college. Keene State was a three-minute walk from the downtown area, which most viewers will recognize. I can't tell you how many times I've walked within the area where the downtown animal stampede takes place. The DNA of the film can be seen all over town. Even the Parrish Shoes mural young Alan rides past on his bike can still be seen on that same wall decades later. When Williams died, people created a massive memorial in front of it. Everyone always had kind words about Williams when reminiscing about the project, which certainly tracks with how the cast remembered him.