Steven Spielberg's 'Hook' 4K Blu-Ray Release Will Feature 11 Never-Before-Seen Deleted Scenes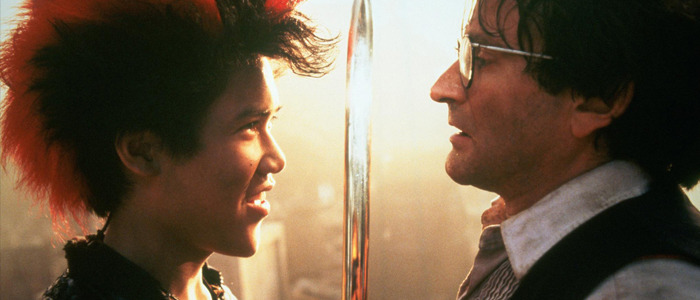 I realize it's popular to crap on Hook, Steven Spielberg's 1991 movie that tells the story of what happens to Peter Pan when he becomes an adult. But even if Spielberg himself doesn't look back on it fondly, the film still has its fair share of supporters – including yours truly – and they may be interested to know that Sony Pictures Home Entertainment is about to release a Hook 4K Blu-ray.
The new home video release's special features will include 11 never-before-seen deleted scenes, and you can read more about the new transfer below.
Hook is already available on Blu-ray, but this 4K release is looking to take things to the next level. According to
, the movie "is fully restored in 4K from the original camera negative, with approval on the 4K High Dynamic Range master from director Steven Spielberg." And in addition to the deleted scenes, the movie "features exclusive Dolby Atmos audio for maximum impact". There's no word yet on what exactly those deleted scenes will be, but feel free to drop your guesses in the comments.
I can already see some of you rolling your eyes and whining about how this is one of Spielberg's worst movies, but I'd encourage you to take another look at it. John Williams' score is outstanding, lending Neverland an otherworldly air and punctuating the movie's dramatic beats and action scenes with a real sense of soul. The colorful production design, much of which is clearly on a sound stage, works because it also embraces that otherworldly vibe; the Lost Boys' camp feels like the extension of a child's imagination. The late, great Robin Williams delivers a child-like, energetic performance that also includes some genuinely heartfelt moments. And the entire underlying story – about a man who's become too busy at work to spend time with his family – feels like Spielberg working through his own personal drama, complete with the daddy issues that often pop up in his movies.
Here's the official synopsis:
A high-flying adventure from the magic of Steven Spielberg, Hook stars Robin Williams as a grown-up Peter Pan and Dustin Hoffman as the infamous Captain Hook. Joining the fun is Julia Roberts as Tinkerbell, Bob Hoskins as the pirate Smee, and Maggie Smith as Granny Wendy Darling, who must convince middle-aged lawyer Peter Banning that he was once the legendary Peter Pan. And so the adventure begins anew, with Peter off to Neverland to save his two children from Captain Hook. Along the way, he rediscovers the power of imagination, friendship, and of magic. A classic tale updated for children of all ages, Hook was nominated for five Academy Awards® including Best Visual Effects in 1991.
The Hook 4K Blu-ray will be available for purchase starting October 9, 2018.