Writing Raiders Of The Lost Ark Was A Slapdash Process From Start To Finish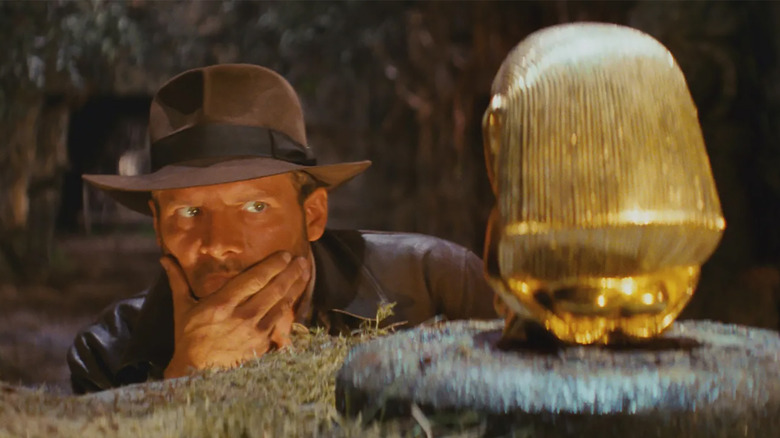 Lucasfilm
"Raiders of the Lost Ark" is one of those timeless adventure films that, since its release in 1981, has served as a model for how to structure a Hollywood blockbuster. Although George Lucas and his collaborator Philip Kaufman conceived of the idea, and director Steven Spielberg crafted the action set pieces, it was screenwriter Lawrence Kasdan who was tasked with molding a solid form out of the original concept. As a result, the script-building process involved meetings in which the creatives would spitball ideas which Kasdan had to glue together into a coherent whole.
Lucas initially conceived of the idea of Indiana Jones on his own, but he used to be called Indiana Smith. Indy was based on the heroes of adventure serial films from Lucas' childhood matinee movie theater trips, much like "Star Wars" was the result of his pursuit to bring the vibe of "Flash Gordon" to contemporary audiences. Kaufman is responsible for introducing the lost Ark of the Covenant as the film's main artifact, but he left to direct "The Right Stuff." In his stead entered Kasdan, who had just come into Spielberg's orbit after writing the script for Amblin Entertainment's first production, "Continental Divide."
The Indiana Jones sessions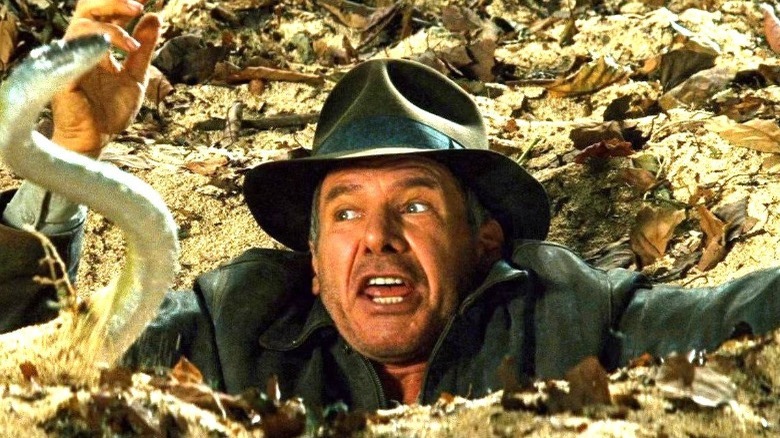 Lucasfilm
Spielberg introduced Kasdan to Lucas, and the three met in January 1978 over several days to plot out the film together, recording their conversations on tapes (the full transcripts are publicly available to read and highly suggested to anyone interested in genesis of the film). The trio worked out the film's story structure, major set pieces, and characterizations in these sessions, including the famed opening sequence, the "serialesque" pacing that focused on exciting "cliffhanger situations," and Indy's fear of snakes, the latter of which was a Kasdan inclusion in order to provide the hero with a vulnerability.
"I don't know. I'm making this up as I go," Spielberg cites in an Empire profile on the making of "Raiders," referencing the line of dialogue from the film. Kasdan explains his own role in the same piece:
"When I started I was intimidated, but I realized the reason they hired me was they wanted someone to do all the hard work, put it all together, and come up with all the connective material. They had great set-pieces in mind but that's different from a screenplay. I actually wrote it in Steven's office while he was making 1941."
Despite the chaotic, improvisational nature of planning the screenplay, "Raiders of the Lost Ark" turned out to be remarkably tight. Kasdan's work earned the respect of Lucas, who hired him to re-write his draft for "The Empire Strikes Back" and solidifying his name in the annals of legendary Hollywood screenwriters. George Lucas and Steven Spielberg may be the more recognizable names on the poster, but Lawrence Kasdan is equally responsible for the film's enduring legacy.