The 14 Most Underrated Episodes Of Seinfeld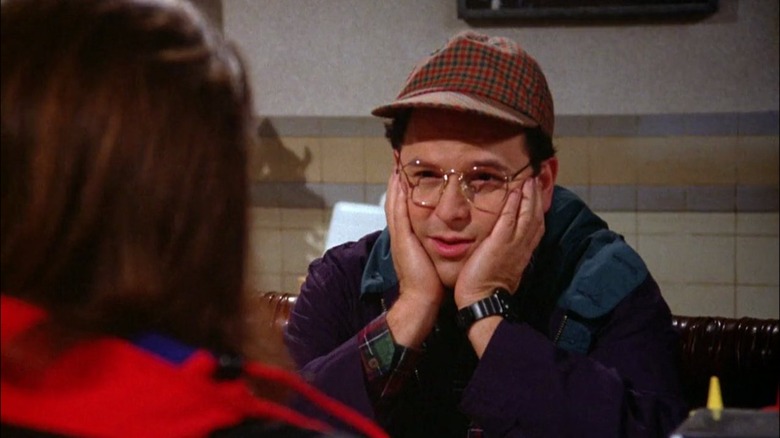 Columbia Pictures Television
"Seinfeld" is one of the best comedy shows of its era, possibly all time. For what it's worth, Indiewire has "Seinfeld" listed third out of 65 on its list of the funniest television comedies ever. Like "Friends," "Seinfeld" radically reinvented television comedy in a way that is impossible to replicate. With the shift toward streaming, prestige comedy, and shorter, more contained episodic arcs, "Seinfeld" is a relic of its era that endures decades later because there is so little out there quite as funny. Larry David and Jerry Seinfeld didn't just strike gold — they invented it.
Famously qualified as a "show about nothing," fans know how that moniker barely grazes the surface of how well David's absurd sensibilities meld with Seinfeld's observational comedy. Famous episodes like "The Chinese Restaurant" have the core quartet waiting to be seated for dinner. "The Soup Nazi" is a pop culture perennial that everyone knows. Michael Richards is certainly problematic, but nothing tops his delivery of "I'm out" in Season 4's "The Contest."
While the show abounds with classics, there are just as many episodes that are underappreciated. We're looking at 14 episodes of "Seinfeld" that deserve attention. These underrated gems are no less noteworthy than the all-time greats. Better still, they're all available on Netflix (with an aspect ratio problem).
The Stakeout (Season 1, Episode 2)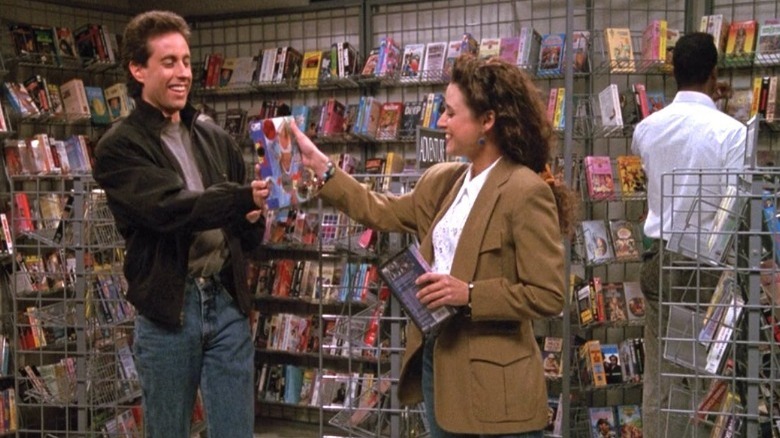 Columbia Pictures Television
Fans of "Seinfeld" might not know that, at one point, Danny DeVito was attached to the role of George Costanza. Certainly, the show would have looked very different. While potential castings often yield no more than idle curiosity, DeVito would have changed the trajectory of the show. Given "Seinfeld's" legacy, it's impossible to imagine anyone other than Jason Alexander in the role.
"Seinfeld" premiered in July 1989, returning a year later in May 1990 with "The Stake Out." While "Seinfeld" would soon develop into a show about four terrible (but hilarious) people, the first season largely resists that temptation. The roots were there, but Jerry, George, Elaine (Julia Louis-Dreyfuss), and Kramer (Michael Richards) weren't quite as terrible as they would soon become. Case in point: In this episode, Jerry is genuinely concerned about Elaine's feelings. While the two weren't an item when the show premiered, their history is a well "Seinfeld" returned to often. Here, Jerry is reticent to discuss other women around Elaine, not wanting to hurt her feelings. It's a curious case study of just how profoundly "Seinfeld" would change. More conventional at the start, "The Stake Out" is still a noteworthy beat in the show's history and the strongest outing of its first season.
The Busboy (Season 2, Episode 12)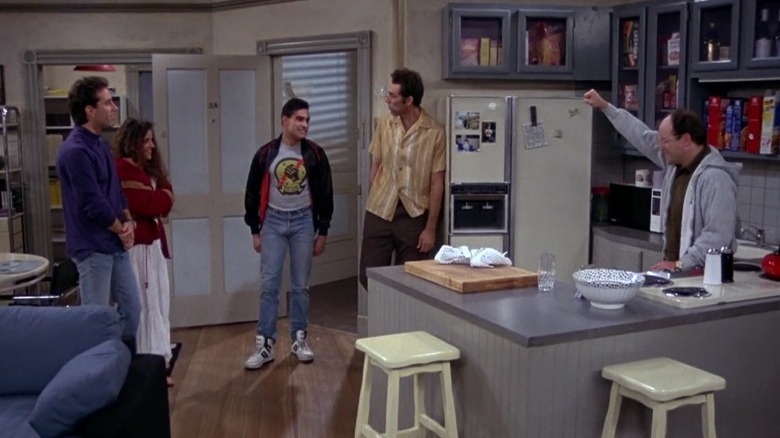 Columbia Pictures Television
"The Busboy" has a hard go of it because it follows "The Chinese Restaurant." After a groundbreaking capsule episode, it is difficult to fully appreciate "The Busboy" without thinking about how good the episode that preceded it was. Such is the case with mold-breaking entries. All things considered, "The Busboy" is no less funny an episode, another classic example of "Seinfeld" using its keen observations as springboards for absurd comedy.
Jerry, George, and Elaine go to dinner at a new restaurant. When a menu on a nearby table catches fire, George successfully extinguishes it and notes the busboy must have left it too close to a lit candle. Elaine, for her part, jokingly remarks she never intends to eat at the restaurant again. Consequently, the busboy is fired, and both George and Elaine fear they may have had something to do with it. While George intends to make amends, he only ends up making things worse. He loses his cat and jeopardizes the busboy's new job in the process. It's wickedly funny, wholly relatable, and represents one of the last times the characters would display some shred of human decency.
The Pen (Season 3, Episode 3)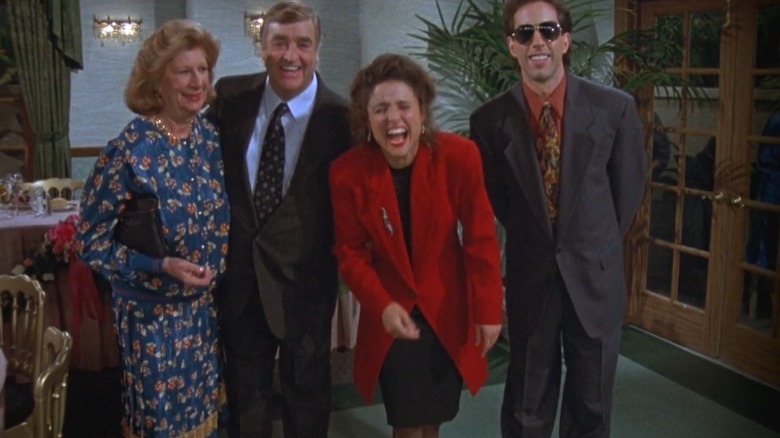 Columbia Pictures Television
"This is an astronaut pen. It writes upside down." When Jerry visits his parents (Barney Martin and Liz Sheridan) in Florida, neighbor Jack Klompus (Sandy Baron) is adamant Jerry wants his pen. He gives it to him, and Jerry reluctantly accepts, though Jack then tells the entire complex that Jerry forced Jack to surrender the astronaut pen. It's ridiculous and relatable. Everyone knows an adamant gift giver who then immediately regrets it. Most of the episode is petty, absurd discussions of the pen. For his part, Jerry is incredulous. He never wanted the pen and is fine giving it back, but in a retirement community full of the most ridiculous old folk around, that matters for naught.
Elsewhere, Elaine does what Elaine does best — pure, pathetic chaos. Consigned to sleeping on a sofa bed at the condo, Elaine's back spasms. Her "B" plot mostly has her loudly complaining like a wounded animal. It's outrageously funny stuff. Interestingly, this episode is the only one to not feature George. Reportedly, Jason Alexander threatened to quit, fearing that it signaled a decline in his role in favor of Louis-Dreyfuss. Luckily, that wasn't the case, and now, that dumb astronaut pen endures and even got a callback in Season 8's "The Money."
The Stranded (Season 3, Episode 10)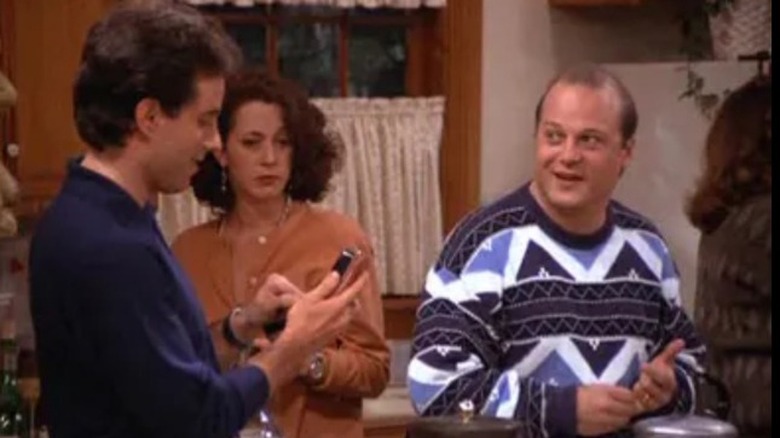 Columbia Pictures Television
"The Stranded" is sometimes considered a lost "Seinfeld" episode. Larry David was reportedly dissatisfied with the episode, scrapping its Season 2 airing for a throwaway placement in Season 3. Consequently, Jerry Seinfeld opens the episode with a brief note explaining some of the continuity errors. It's a shame, too, since "The Stranded" is a remarkably funny and relatable episode. Even better, it's got Elaine's classic riff on "A Cry in the Dark" with "Maybe the dingo ate your baby."
"Seinfeld" was listed second on the Writer's Guild of America's list of the top 101 best-written shows ever, and among the Season 3 crop, "The Stranded" was one of three episodes nominated that year. The conceit is remarkably simple. Jerry, George, and Elaine visit friends on Long Island, and they immediately regret their decision to go. The party is dreadfully boring, and after George leaves in Jerry's car, Elaine and Jerry are stranded there until the middle of the night when Kramer picks them up. It's "Seinfeld" doing what "Seinfeld" does best. There's nothing worse than being stuck somewhere you don't want to be, and "The Stranded" conceptualizes that existential boredom remarkably well.
The Opera (Season 4, Episode 9)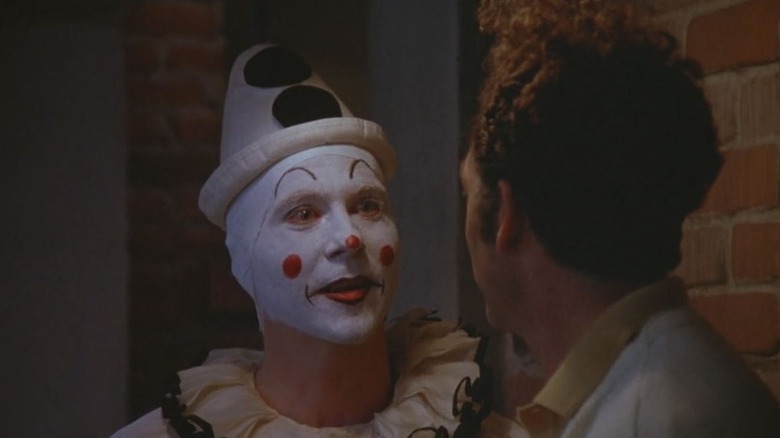 Columbia Pictures Television
At times, "Seinfeld" was willing to move out of its comfort zone to play with the genre in ways few television shows were willing to do. "Roseanne" is perhaps the most equitable peer to "Seinfeld" in terms of getting uneasily dark and disturbing. However, "Seinfeld" played things grimmer, with a distorted, frightening smile across its face. In "The Opera," Elaine finally discovers her new boyfriend is "Crazy" Joe Davola (Peter Crombie), a man who has been menacing Jerry for months. In a laugh-track free beat, Elaine visits his apartment, only to discover a wall adorned with telephoto pictures of her. Joe arrives, and Elaine has to mace him with cherry Binaca to flee.
Later, Joe dresses as "Pagliacci" from the acclaimed opera and stalks Jerry and Elaine as they wait in line for the show. The opera line stuff is great, too, with "Seinfeld" mining the minutiae of waiting in line for, well, everything. Add in a possibly homicidal clown with an esoteric opera connection, and "The Opera" is a classic bit of "Seinfeld" surrealism.
The Movie (Season 4, Episode 14)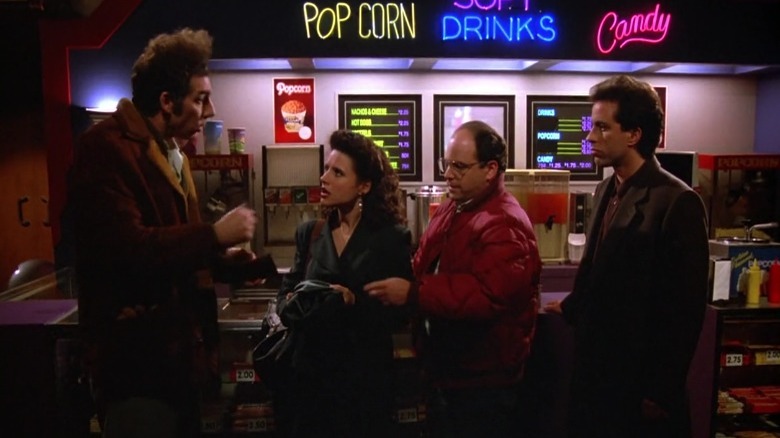 Columbia Pictures Television
NBC did not want to air "The Chinese Restaurant." While it's considered a classic now, executives feared there simply wasn't enough in the encapsulation of petty irritations to sustain an entire episode. As noted, "Seinfeld" resists big plot shifts and changing characterizations. It's the circumstances — the ostensible sitcom situations — that change instead. Because of "The Chinese Restaurant's" success, "Seinfeld" continued to trade in bottle episodes that were often centered around a familiar waiting game. In "The Parking Garage," the gang can't find their car. In Season 4's "The Movie," the gang meets for an evening at the cinema.
Chaos ensues. Jerry is poised to meet the gang after his comedy show, and George is tasked with buying tickets at the Paragon Theater (but he ends up in the wrong line). They later need to shift to a later show at the Multiplex, and Elaine won't let anyone forget how much she hates that theater. George and Elaine get in a gangbusters exchange about money owed. For over a minute, they frustratingly discuss the best way for Elaine to reimburse George for the cost of the ticket. She insists that she buy his concessions and call it even, while he contends it's best to just give him the $20 she has, and he'll get her change later. It's such a simple exchange, but it's killer. Louis-Dreyfuss and Alexander have some of the best antagonistic chemistry around, and "The Movie" is a fantastic showcase for their comedy prowess.
The Barber (Season 5, Episode 8)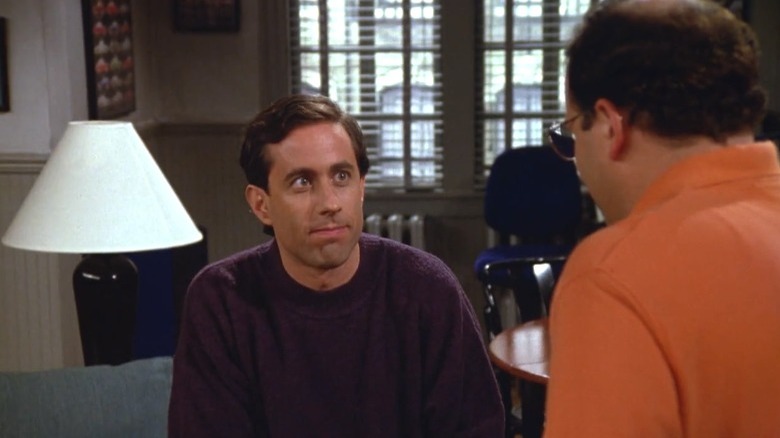 Columbia Pictures Television
Much like "The Opera," "The Barber" plays with genre spectacularly well. "Seinfeld" is rarely, if ever, inaccessible to newer audiences, though "The Barber" skirts that line with an extended homage to Rossini's "The Barber of Seville." It's not exactly primetime sitcom material, but it works and generates plenty of laughs.
Jerry is participating in an upcoming bachelor auction and needs a haircut. Jerry frequently goes to Enzo, principally out of loyalty, since Enzo (Antony Ponzini) can't cut hair to save his life. At Kramer's suggestion, Jerry plans to see Gino (David Ciminello), Enzo's nephew, while Enzo is away, guaranteeing a good haircut and no hurt feelings. Things spiral quickly, with misunderstandings and sabotage piling up until everyone ends up hurt. The conventional "Seinfeld" bass line is replaced with pieces from the "Seville" overture, lending the entire episode an elevated and somewhat surreal quality. Filled with jokes and structural risks, "The Barber" deserves to be mentioned alongside the best.
The Stall (Season 5, Episode 12)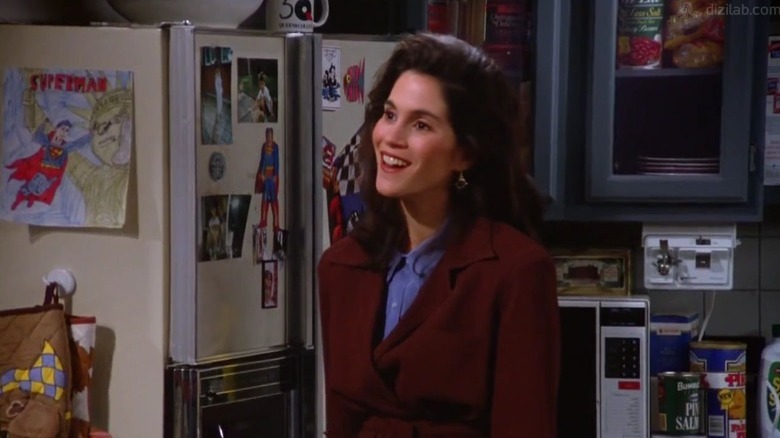 Columbia Pictures Television
"You can't spare a square?" Entire episodes of "Seinfeld" can be reduced to the one word or phrase that, often inexplicably, elevates it to a realm of comedy nirvana. There's no telling why something as simple as Elaine contending with Jamie Gertz's Jane over toilet paper is as funny as it is, but there's something hilarious about watching a helpless Julia Louis-Dreyfuss beg for a single square of toilet paper from an adjacent stall.
Additionally, "The Stall" sees George go rock climbing and Kramer insistent that he's heard Jane's voice on the phone sex line he's been calling. While it's an inconsequential episode, it's emblematic of "Seinfeld" at its peak. It's remarkably relevant and sensationally funny, with "Seinfeld" trading in the universality of its minute observations by predicating an entire episode on Elaine's petty frustrations with a stranger who wouldn't lend her a square of toilet paper. It's not the first (or last) time "Seinfeld" would visit this realm. Nevertheless, "The Stall" is one of the best.
The Hamptons (Season 5, Episode 21)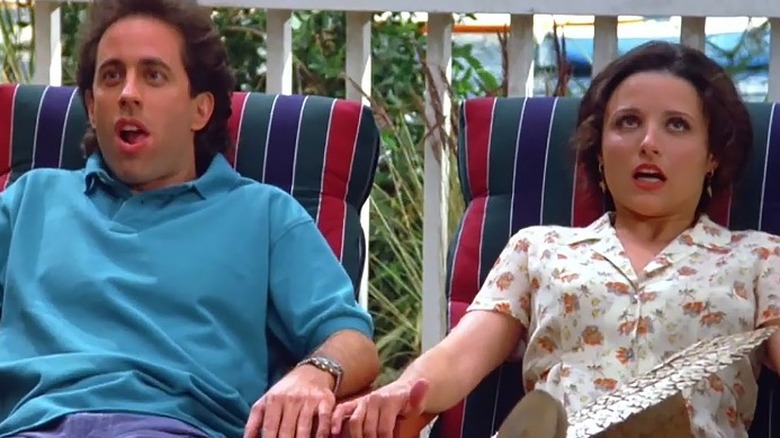 Columbia Pictures Television
"You have to see the baby!" In "The Hamptons," the gang travels to visit friends in the Hamptons, with George bringing along his girlfriend, Jane (Melora Walters). Jerry also brings his girlfriend, Rachel (Melanie Smith). George plans to get lucky, while Elaine hopes to score with doctor Ben (Richard Burgi), who describes her as "breathtaking." That is, of course, until he uses the same qualifier to describe what they consider the ugliest baby they've ever seen.
"The Hamptons" does a lot of things right. The comedy fires on all cylinders, the jokes connect in that innate "Seinfeld" comedy scaffolding sense, and the guest stars are at the top of their game. Most importantly, "The Hamptons" introduces "shrinkage." After a day in the water, Rachel walks in on George as he changes and laughs at the size of his package. George is flustered, insisting it's smaller than normal because of "shrinkage," a process a package undergoes when submerged in water too long. "Shrinkage" has endured as a neologism, a testament to the show's influence on popular culture. You have to see the baby, and you have to be mindful of shrinkage.
The Big Salad (Season 6, Episode 2)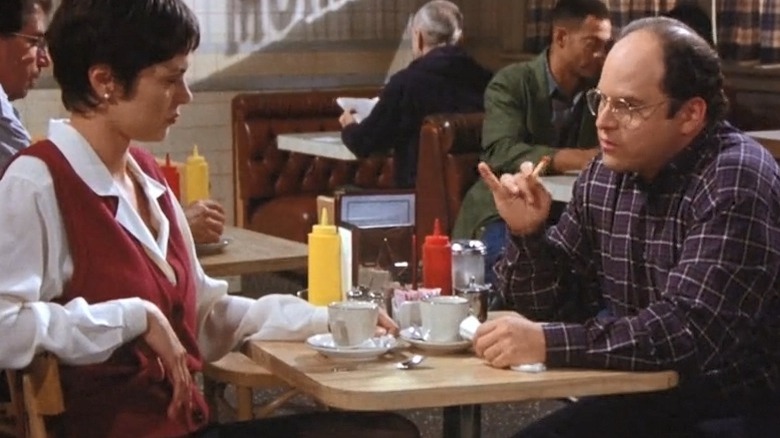 Columbia Pictures Television
There's something outrageously funny about Jason Alexander's George flailing his hands about, complaining loudly about the "biiiiiig salad!" Here, as is often the case, an entire episode is structured around a simple misunderstanding, a petty frustration that fuels the worst impulses of the main quartet. Elaine asks George to pick her up a "big salad" from Monk's, and he does so with his new girlfriend, Julie (Michelle Forbes). At Jerry's apartment, Julie hands Elaine the salad, and she thanks her. George is unreasonably frustrated that Julie got credit for the big salad he bought, so he tells Elaine. Elaine, irritated that George would be so petty, tells Julie, and Julie calls it off with George.
It's so outrageously simple. A petty frustration over big salad credit dovetails into absurdism, with every cast member getting a chance to shine. As noted, Alexander and Louis-Dreyfuss have remarkable antagonistic synergy, and any episode that sees the two of them square off is a bona fide classic. Better still, it's culled directly from the production. In a behind-the-scenes video, Larry David remarks about being asked to bring a big salad to set — only for an assistant to get the credit for it.
The Kiss Hello (Season 6, Episode 16)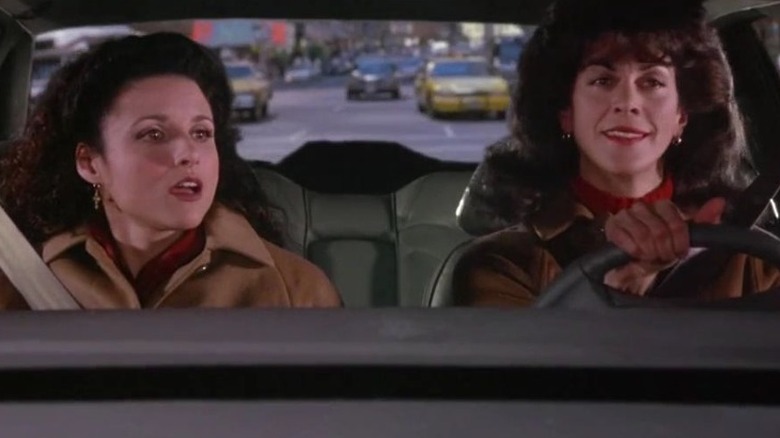 Columbia Pictures Television
While Jason Alexander's George is arguably one of the most pathetic characters ever to appear on primetime television, he isn't always the dense sap he appears to be. Hard as it might be to admit, George isn't always wrong. In "The Kiss Hello," he makes a pretty good point. Here, he is introduced to Elaine's friend, Wendy (a fantastic Wendie Malick), a physical therapist with a terrible haircut. George makes an appointment, but when a family emergency arises, he has to miss it, resulting in a cancelation fee. George is incensed, even more so when Wendy herself cancels an appointment with no notice.
It's what "Seinfeld" does best, calling to mind the classic Season 3 debacle in which Jerry tries to rent a car. It's a quotidian frustration, with patients at times being held to different healthcare standards than providers themselves. Of course, it's refracted through an absurd lens, with both George and Elaine venting their mounting Wendy frustrations by obliterating her haircut. It's a simple enough premise to sustain an entire episode — even without the Uncle Leo "B" plot.
The Wait Out (Season 7, Episode 23)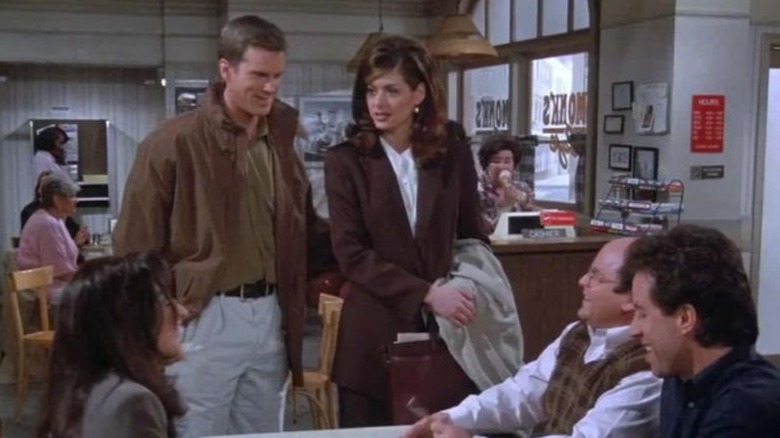 Columbia Pictures Television
While fans of "Seinfeld" might be well-versed in the vagaries of its comedic sensibilities, casual viewers might not recognize the subtle yet seismic shift that occurred as Season 7 came to an end. Some fans actively dislike everything that came after the Season 7 finale, when co-creator Larry David left the show for good. I am in the David Sims camp. Sure, "Seinfeld" is much bigger, a bit goofier, and that much more divorced from reality in its final two seasons, but it's still "Seinfeld" through and through.
While "The Invitations" is the definitive end to Season 7, it too feels like an augur for what's to come. For the uninitiated, George's longtime fiancée, Susan (Heidi Swanberg) dies. That alone best conceptualizes "Seinfeld's" rebranding, and consequently, "The Wait Out" is the last vestige of true, unencumbered Larry David "Seinfeld." Debra Messing and Cary Elwes kill it as Beth and David Lookner. After George makes a facetious remark about Beth being able to do better, David and Beth separate. Both Elaine and Jerry consider themselves to be two of the most eligible singles in the city, and for years, they've been "waiting" the Lookners' marriage out. They pounce at the separation news, generating another enduring "Seinfeld-ism" in "I'm there for you," their line of choice for saddling up to the separated spouses. It's incredibly funny, gamely acted, and a high point of "Seinfeld" as the maestro Larry David conceived it.
The Susie (Season 8, Episode 15)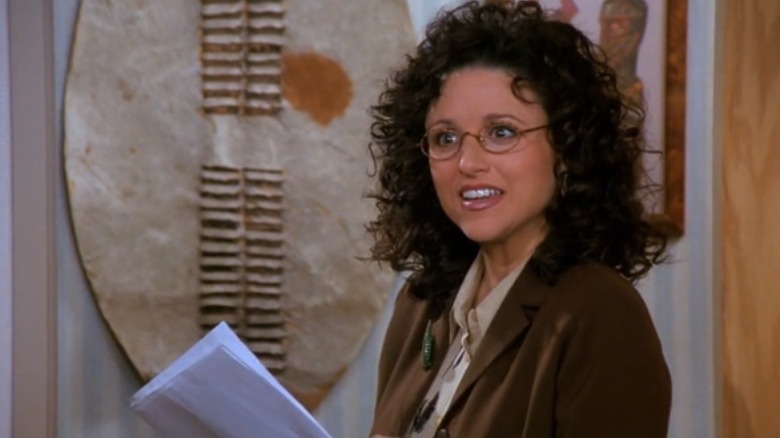 Columbia Pictures Television
The entire cast of "Seinfeld" is great. While Michael Richards as Kramer got the esteemed entrance applause, Jason Alexander's George and Julia Louis-Dreyfuss' Elaine remained the most consistent. "The Susie" is a remarkable showcase for Louis-Dreyfuss, from her mention of Sharon, the "bulimic, chain-smoking stenographer from Staten Island" to her feud with co-worker Peggy (Megan Cole). At work, Peggy calls Elaine "Susie," and the two soon start feuding.
A meeting to address the feud is a classic case of mistaken identity, with Elaine, Peterman (John O'Hurley), and Peggy convening to discuss the issues between Peggy and Susie. Elaine tries to maintain her identity, referring to both herself and Susie as "she" and "her." At one point, Louis=Dreyfuss gets a great rejoinder when Peggy feels left out, remarking, "I thought I was a part of this problem." In response, Elaine says, "You are a huuuge part of the problem." It's one of the best line deliveries on the show. Meanwhile, George's famous answering machine message is revealed, and Jerry is embroiled in some Kramer mess. Still, it's Elaine that makes the episode, and for that alone, it stands among the best.
If you need help with an eating disorder or know someone who is, help is available. Visit the National Eating Disorders Association website or contact NEDA's Live Helpline at 1-800-931-2237. You can also receive 24/7 Crisis Support via text (send NEDA to 741-741).
The Bookstore (Season 9, Episode 17)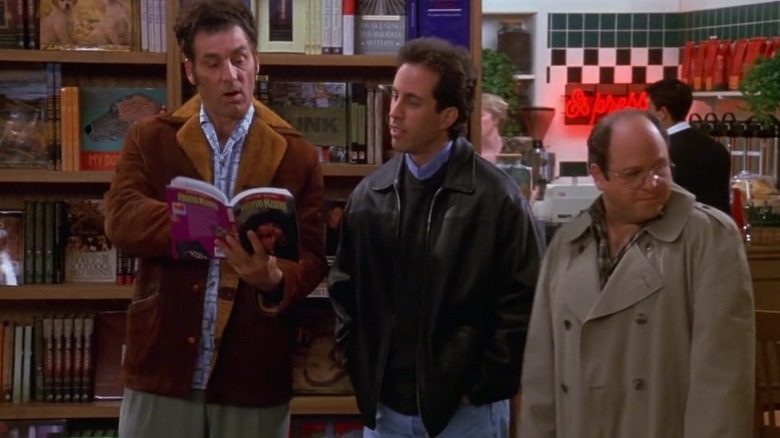 Columbia Pictures Television
While Season 8 marked a shift in "Seinfeld's" comedic sensibilities, Season 9 was on an entirely different level. With absurd premises ("The Merv Griffin Show") and episodes marred in controversy ("The Puerto Rican Day Parade"), it was the right time to call it, and luckily, season 9 did (although with one of the most controversial series finales of all time). While not every episode works, and season 9 is arguably the weakest, it still has some hidden gems, most notably "The Bookstore." Here, Jerry, George, and Kramer are shopping at Brentano's, a long-gone bookstore chain. Jerry's uncle Leo is shoplifting, and George takes a coffee table book into the bathroom. Upon exiting, he is compelled to purchase the book, much to his dismay. Unlike "The Kiss Hello," George is unconditionally in the wrong here. No one wants a bathroom book.
While some of the "B" plots skirt reality, including a misguided thread with Kramer recruiting the homeless for a New York rickshaw service and Elaine dating an opium addict, the Brentano's bit is "Seinfeld" matching its early best. It's deceptively simple. An entire episode predicated around George and a book he brought into the bathroom. It doesn't get better than that.