Azrael: Everything We Know So Far About The Samara Weaving Action Horror From The You're Next Writer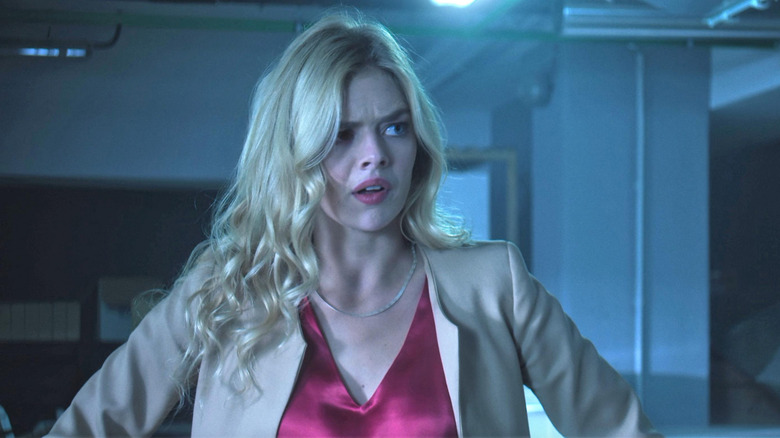 RLJE Films
The reign of Samara Weaving in the horror genre is far from over. Deadline exclusively revealed that the "Ready or Not" actress will be starring in a mysterious new movie from screenwriter Simon Barrett, who wrote "You're Next" and "The Guest." Simply titled "Azrael," this film is billed as an action-horror, an intriguing genre mashup that can be associated with movies like "Predator" and "Overlord."
While little is known about the movie, we do know that it will likely be Barrett's last horror movie for an indefinite amount of time. The screenwriter, a longtime collaborator of director Adam Wingard, revealed this in a Twitter post.
"Azrael is the reason I've spent the last month in Estonia working with my friends E.L. Katz and Dan Kagan. This will also be my last horror project for a long while, because we're putting everything scary we've got into this one. Very excited, but will say no more for now."
Sounds bittersweet given his history in the genre, but it sounds like he's going out with a bang. Here is what we know so far about "Azrael."
What we think Azrael will be about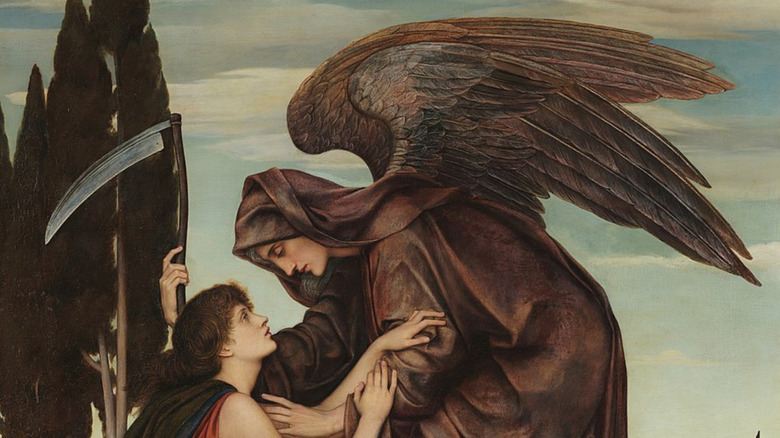 Evelyn De Morgan, Public domain, via Wikimedia Commons
It's important to note that there are very few details that have been released about this movie, and that's probably for a reason. However, the title of "Azrael" and its labeling as an action-horror hybrid could lead to some interesting speculation regarding its potential to dive into religious horror. If you may recall, Azrael is the name of the Abrahamic angel of death, being a prominent archangel in Islam and the Angel of Death in Judaism (with the Zohar spelling his name as Azriel). However, Azrael is not an inherently malevolent being, as much of his role simply amounts to transporting souls when their time on Earth comes to a close.
Another version of Azrael is cited as Muriel in the fringe Christian sermon "Discourse of the Abbaton," and this is where things get a bit interesting. This iteration of the angel still collects souls but is either peaceful or violent depending on whether the soul they collect is a pure one or not.
Obviously, this section should be taken with a grain of salt. However, the idea of a movie that evokes this very specific archangel's name is an interesting one, especially one that combines action and horror. The most likely bet is that the film will focus on some sort of soul-collecting entity, although they might not be as benevolent as the fabled Azrael is.
Who else is attached to the project?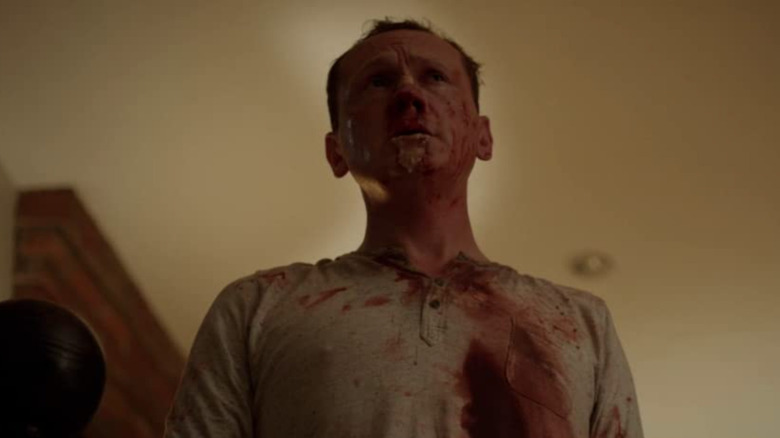 Drafthouse Films
Outside of Barrett and Weaving, a few intriguing names are attached to this film, which is expected to begin filming in Estonia in October. Evan Katz, also credited in projects as E.L. Katz, is slated to direct from Barrett's script, and he certainly has the credits to back this decision up; he directed the 2013 film "Cheap Thrills" as well as episodes of "The Haunting of Bly Manor," "Channel Zero," and "Swamp Thing."
There are also a few producers that have been announced. Jason Cloth and Dave Caplan of C2 Motion Picture Group will finance and produce the film. Barrett will also serve as a producer alongside Dan Kagan and Katrin Kissa. Currently, Weaving is the only actor confirmed for "Azrael," but that will likely change as principal photography inches closer.
"Azrael" will likely release sometime in 2023 or 2024. The latter year will also be when Barrett's other high-profile film, "Godzilla vs. Kong 2," will premiere.