Stranger Things Season 4 Blooper Reel: Watch Vecna And The Hawkins Kids Crack Up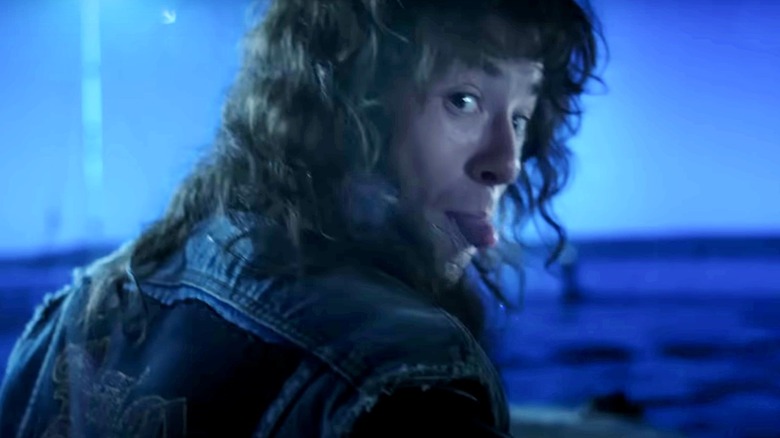 Netflix
The vast expanse of the always-too-long "Stranger Things" off-season is upon us, but a little oasis appeared on the horizon today in the form of the most recent blooper reel for the Netflix phenomenon. The outtakes dropped as a part of Netflix's Tudum event, as the streamer shared trailers, clips, and behind-the-scenes footage from all its biggest shows. The fifth and final season of "Stranger Things" is clearly still cooking, but the gag reel will hold us over a little longer in the meantime. Check out the four minute reel of laughter, line flubs, and on-set mayhem below.
"Stranger Things" season 4 was the biggest installment of the series yet, with multiple set locations and movie-length episodes that saw the Hawkins crew trying — and kind of failing — to save the world from the Upside Down's big bad, Vecna (Jami Campbell Bower). All gag reels are good gag reels, but this one in particular is a lot of fun because it brings the fantastical production back down to earth with a reminder that even the biggest stars on TV aren't above laughing about the word "boobies."
Even monsters get the giggles
There are lots of great moments here, from Gaten Matarazzo casually saying "recast me" in defeat after he can't keep a straight face for several takes, to the always-funny Eduardo Franco making Charlie Heaton lose his composure again and again. We also get to see Winona Ryder and David Harbour giving the camera a cheeky look after their big kiss, Millie Bobby Brown screaming in surprise, and lots of delightful tidbits featuring the season's gone-too-soon breakout star, Eddie Munson actor Joseph Quinn.
As a horror fan, though, my favorite part of this behind-the-scenes reel might be the special-effect-free look at Jamie Campbell Bower's Vecna. The show clearly goes all out on the VFX, so it's always jarring and exciting to be reminded that the team created the monster largely from practical effects including costuming and prosthetics. In one shot, Bower breaks character while standing over Nancy actor Natalia Dyer, his Vecna scowl turning into a surprising laugh. Pictures of Bower sipping iced coffee and hanging out on set in full Vecna garb have already circulated, but seeing the costume in action without effects is a reminder of just how imposing it looked even before digital touch-ups.
"Stranger Things" season 5 is set to be the series' last, but a spin-off series is also reportedly in the works. The final season has no set release date, but all of season 4 is now streaming.