Breaking Down The Entire Stranger Things Timeline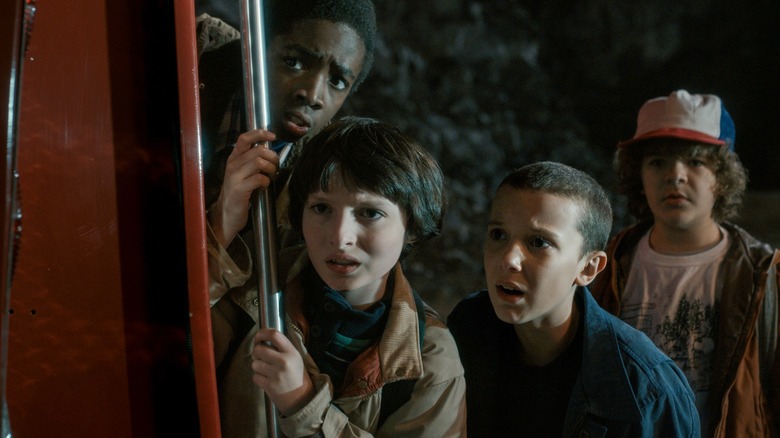 Netflix
Remember the '80s? If you've seen "Stranger Things," you definitely do. The Netflix series has spent the past six years traipsing through the decade that brought us "Fast Times at Ridgemont High," Farrah Fawcett hairstyles, and lots and lots of great music. With four seasons and multiple time jumps, it can be difficult keeping track of when the kids of Hawkins, Indiana are at any given moment. Plus, as more secrets about the town and the villains that call it home come to light, the pre-'80s past has also begun to become important.
Luckily, we've got you covered with the complete timeline of the major plots of "Stranger Things" to date.
Warning: There are SPOILERS below for "Stranger Things" season 4.
Early 1940s: Victor Creel's war experience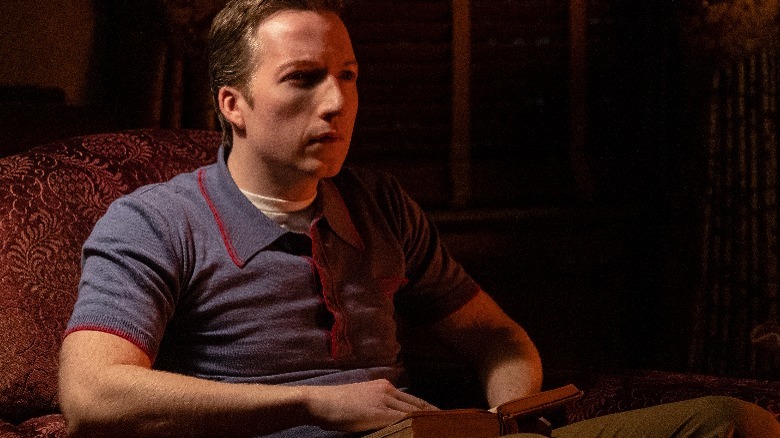 Netflix
In a brief but seemingly important flashback, Victor Creel revealed that he was stationed in France in WWII, where he accidentally ordered the shelling of an occupied civilian home. We're briefly told that this is his greatest regret, and later, his son Henry — who would grow up to be Vecna — shows him the haunting image of a child's bassinet engulfed in flames.
Could Victor's wartime memory be just another example of Vecna's ability to reflect shame and guilt back at his victims? Maybe, but as you'll see on this timeline, much of the "Stranger Things" mythology has to do with both shady war practices and children. Plus, Victor's wife gets pregnant with Henry soon after he returns from the war — could all of this be related to the origins of Vecna's powers?
1953: MKUltra experimentation begins in Hawkins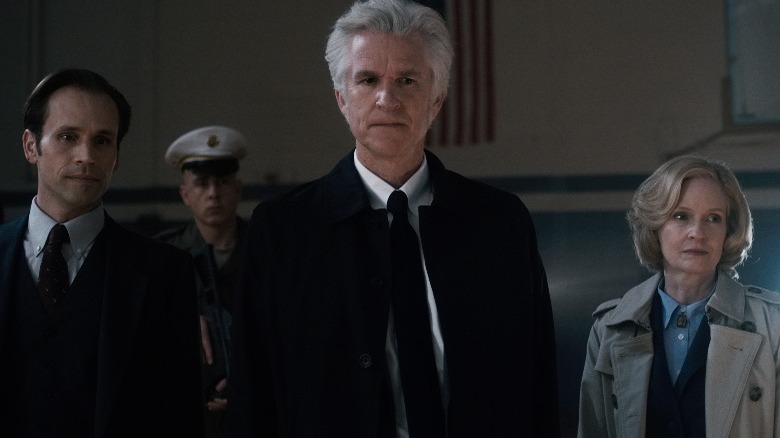 Netflix
"Stranger Things" hasn't talked about MKUltra for a while, so it's easy to forget that the real-life CIA mind control experiment is at the core of the series' sci-fi premise. While the show itself doesn't seem to have mentioned the exact year the experimentation that would eventually be led by Dr. Brenner (Matthew Modine) began, press materials for season 2 (shared by The Playlist) included a timeline revealing the start of the experiments.
1959: The Creel family haunting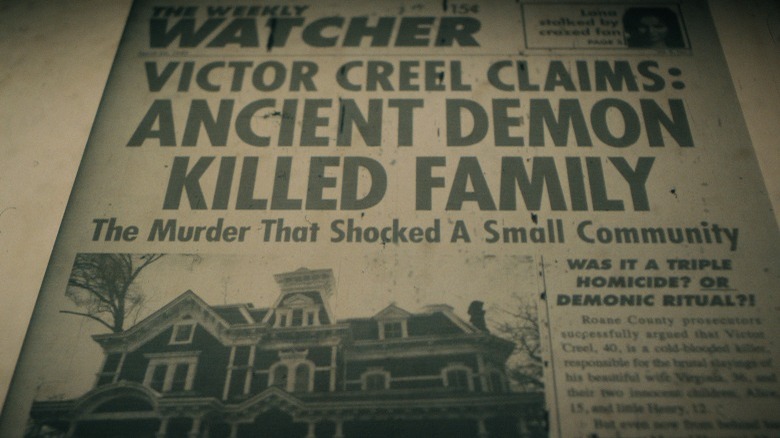 Netflix
In 1959, the Creel family moves into their dream home. About a month later, strange things begin to happen that resemble a classic haunting. After Victor finds animals mutilated, he begins keeping watch for whatever may be after the family, but it all comes to a head when young Henry kills his mother and sister. 
Victor, wrongfully imprisoned for their deaths, thinks his innocent son died one week later. The truth is actually much sinister: the boy — likely thanks to having demonstrated some sort of abilities — ends up in the care of Dr. Brenner. 
1962: Hopper works with Agent Orange in Vietnam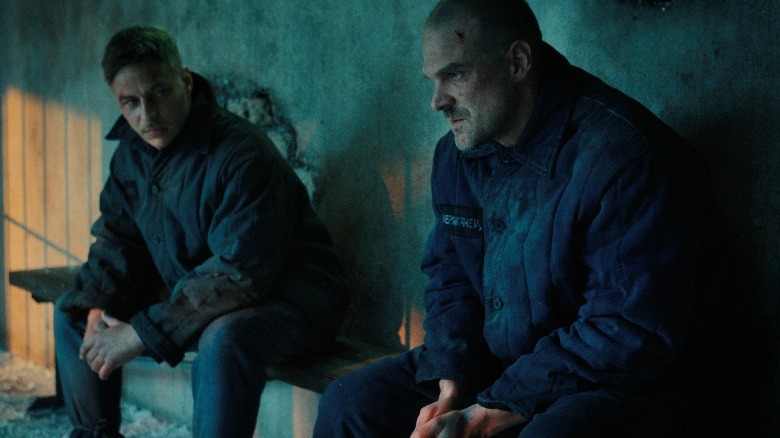 Netflix
As he reveals in an emotional season 4 monologue, Hopper (David Harbour) worked in the Chemical Corps and was a part of the project that spread Agent Orange in Vietnam. This real-life "herbicidal warfare" program left many involved extremely ill and also caused birth defects in children of soldiers and Vietnamese locals.
According to dates laid out in the book "Stranger Things: Darkness on the Edge of Town," Hopper was in Vietnam in 1960, but Agent Orange didn't begin until 1962. In the series, he says that he joined the military when he was just 18, so maybe he didn't get shipped off right away. Either way, we'll go with the show's timeline and say that if he was involved in the early days of the Chemical Corps, it was in 1962.
1971: Sara and Eleven are both born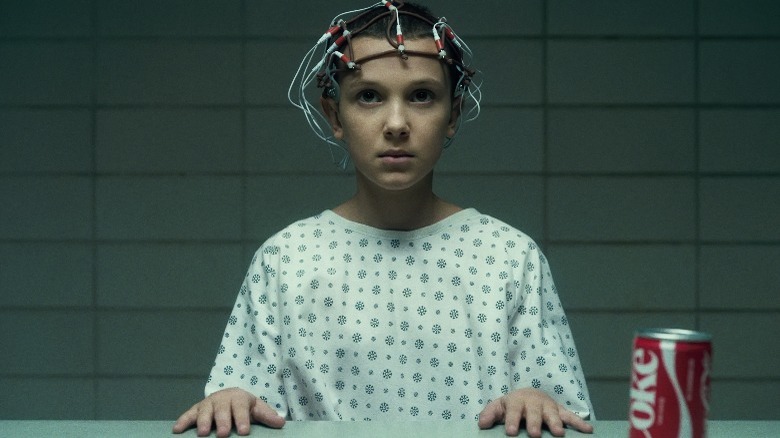 Netflix
Sometime in 1971, Terry Ives gives birth to a baby named Jane, but is told she miscarried while Jane is secreted away to Hawkins Lab. During her pregnancy, Terry was subject to the MKUltra experiments, which her sister says involved putting her in sensory deprivation tanks. Twelve years later, when Hopper and Joyce (Winona Ryder) visit Terry's home to question her, she still has a child's room set up for baby Jane, now called Eleven (Millie Bobby Brown).
Coincidentally (or not), Hopper and his wife gave birth to a daughter named Sara during the spring of this same year. This is another detail that's revealed in "Stranger Things: Darkness on the Edge of Town" but that hasn't been exactly specified in the show's timeline. Despite Hopper's exposure to Agent Orange, he says Sara was initially healthy upon her birth.
1978: Sara passes away, Terry is shot, Kali escapes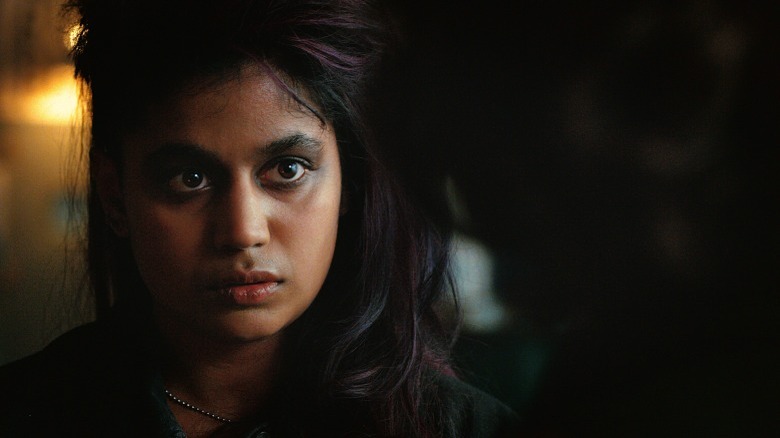 Netflix
The emotional climax of "Stranger Things" season 1 reveals that Hopper's daughter Sara passed away at a young age after developing cancer. While the show doesn't specify the year, we know Sara was seven at the time of her death, meaning this would have happened in 1978.
If Sara and Eleven are parallels, this is interesting timing, given that El's mother Terry was also fighting to save her life this year. In season 2, we learn that Terry's current catatonic state happened after Dr. Brenner forced her to undergo torturous treatments for her perceived mental illness, all because Terry brought a gun to Hawkins Lab in an attempt to recover her daughter.
Meanwhile, El's childhood friend and fellow test subject Kali (Linnea Berthelsen), aka 008, escaped from Hawkins Lab this year, which is good, because some pretty intense stuff went down in 1979.
1979: Vecna's creation and the massacre at Hawkins Lab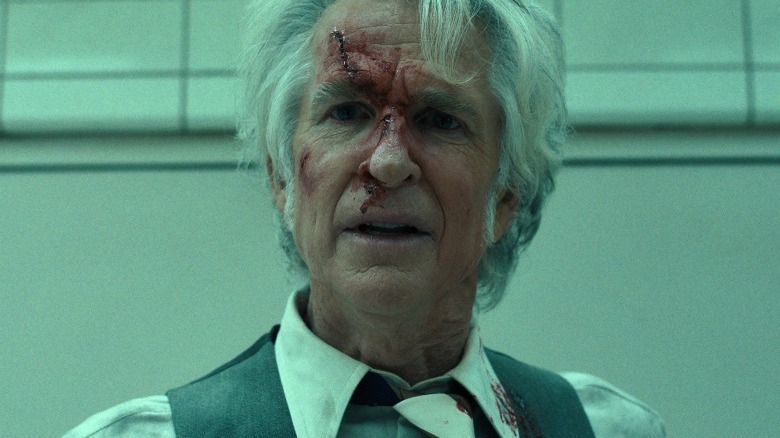 Netflix
The memories El uncovers at the Project Nina headquarters are from 1979. We see her bullied and badly beaten by her fellow test subjects, but she's also aided by a man who works as an orderly at the facility. On September 8, the man reveals himself as Henry Creel (Jamie Campbell Bower) and attempts to get Eleven to join him on the dark side. Most of El's peers in the program are slaughtered by Henry, and she eventually is able to stop him by opening a gate to the Upside Down and sending him there, creating the monster known as Vecna in the process.
1983: season 1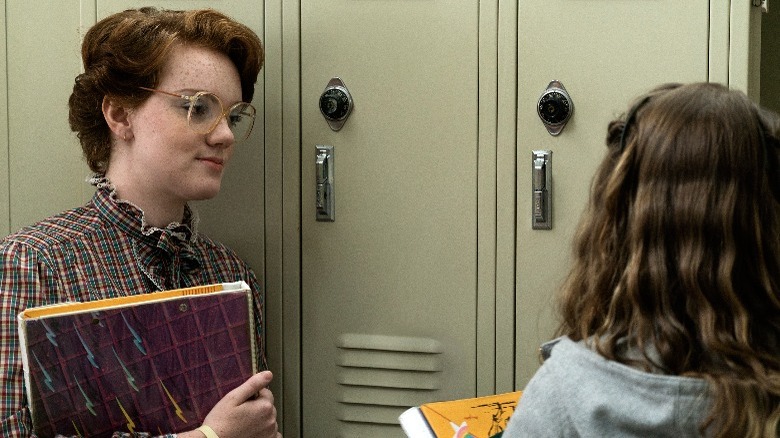 Netflix
The bulk of "Stranger Things" season 1 takes place over the course of about a week, from November 6 to November 12, 1983. This timeline may be important for season 5, as our intrepid heroes recently discovered that the Upside Down is stuck back in time — specifically, November 6th 1983, when Will (Noah Schnapp) went missing. Also on that day: El escaped Hawkins Lab and the demogorgon came through a gate after her.
On the 7th, Joyce reports Will missing and later gets a mysterious call. This is also the day the D&D party finds Eleven after she dodges some special agents at Benny's diner. On the 8th, Barb gets taken into the Upside Down and El reveals her powers to the boys. On November 9th, Hopper discovers MKUltra, Joyce chats with Will through Christmas lights, and a body that's presumed to be Will's (but isn't!) is found.
The next day, the 10th, a Hawkins Lab employee gets killed attempting to get into the Upside Down. Both Joyce and the boys make contact with Will though, while Hopper discovers the gate at Hawkins Lab. The 11th slows down a bit for Will's funeral, but on the 12th, everything comes to a head: First, Joyce and Hopper find out about Terry Ives. Then El dips into the sensory deprivation tank and confirms Barb's dead and Will's alive. She eventually faces off against the monster and disappears in the process, but later comes back through a gate and hides from government agents. Meanwhile, Hop and Joyce find Will and save his life.
On December 11th, Will coughs up an Upside Down slug and tries to act chill about it. Around that same time, Hopper secretly finds El in the woods and brings her to live with him.
1984: season 2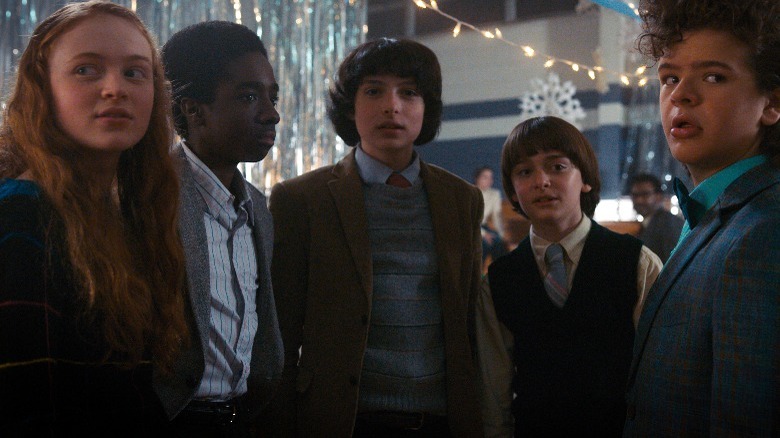 Netflix
In June of this year, unbeknownst to our Hawkins heroes, Soviet scientists are hard at work on a project meant to mimic the situation in Hawkins Lab. They want to open their own gate to the Upside Down, but as of this point, they're not successful.
The bulk of season 2 takes place in fall of 1984, starting on October 29th. In the subsequent days, Will starts having visions, Max (Sadie Sink) and Billy (Dacre Montgomery) arrive at Hawkins high for the first time, Hopper discovers something is killing the crops in town, El sneaks out of the cabin, and Hopper accuses Hawkins Lab of having ties to the crop circles.
November 2nd is a fairly tame day in the world of "Stranger Things": Nancy (Natalia Dyer) and Jonathan (Charlie Heaton) get evidence about Barb's death on the record, Hopper discovers the Upside Down vines, and El finds out about her mom. The next day, the group discovers Will shares a hive mind with the Upside Down and he ends up nearly dying. Meanwhile, El tries to read Terry's memories, then goes full "Warriors" in Chicago.
On November 4th, El almost kills a former Hawkins Lab employee but decides not to at the last minute. Demodogs do kill some Hawkins Lab employees, though, as well as good old Bob (Sean Astin). The gang also learns more about how the Mind Flayer works, and are able to get through to Will even as he remains mostly sedated to keep it from spying on them. 
On November 5th, Eleven returns to Hawkins, the gang saves Will (again), and El closes the gate. A month later, on December 15th, everyone dances the night away at the Snow Ball while the Mind Flayer looms on the horizon.
1985: season 3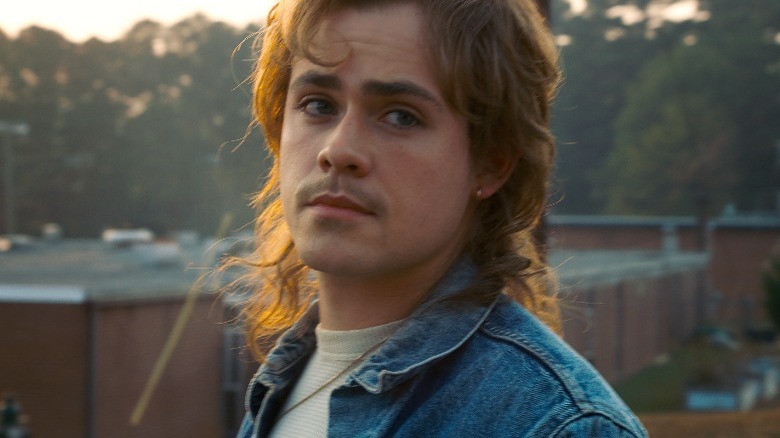 Netflix
"Stranger Things" season 3 also takes place over the course of about a week. Imagine how boring the rest of the year must be for these folks. The action starts on June 28, 1985, when a power outage and a horde of rats signify something weird is going on in Hawkins. The next day, Billy gets possessed by the Mind Flayer and Dustin picks up a Russian radio frequency.
On June 30th, Billy kidnaps a classmate (yeah, I forgot this happened too), Nancy and Jonathan start investigating the rat situation, and Dustin, Steve (Joe Keery), and Robin (Maya Hawke) figure out the Russian recording is coming from Starcourt Mall. Everyone in Hawkins kicks off the month of July by acting really weird: Billy turns his classmate and her family into servants of the Mind Flayer, while Nancy and Jonathan find an old lady eating fertilizer. And as usual, Joyce and Hopper end up investigating Hawkins lab.
The next day, July 2nd, the gang does a tricky little sauna test to figure out that Billy's possessed. On the 3rd, Hopper and Joyce kidnap a Russian guy, the mall gang sees Russians trying to open a gate, and everyone else fights off some nasty, gooey monster acolytes. Everything comes to a head on the 4th, though, when Independence Day is interrupted by Russian schemes and Upside Down creatures. The Mind Flayer has a showdown with the kids at the mall, where El loses her powers, Billy dies, Hopper blips away for the off season, and the U.S. military comes in after the fact.
Late this year, the Byers and El move to California. If we're going by El's countdown in her letter at the beginning of season 4, she last saw Mike on September 18, 1985.
1986: season 4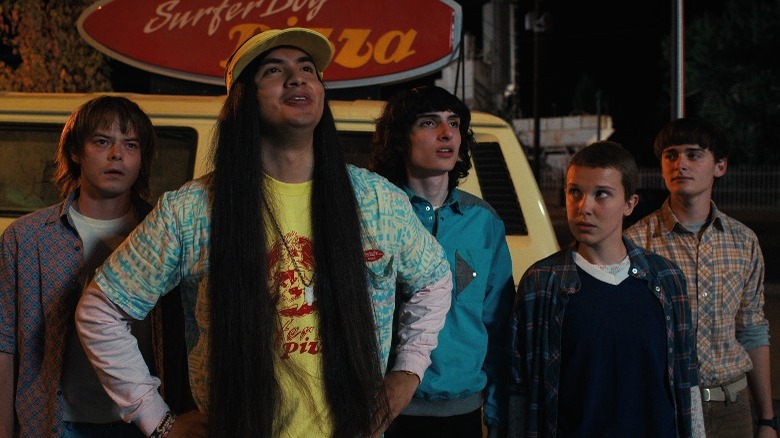 Netflix
Season 4 takes place largely at the end of March. According to the files Max stole from the guidance counselor's office, the chaos starts March 16th, when Chrissy (Grace Van Dien) has her first vision from Vecna. Five days later, on March 21st, she's killed by Vecna. Joyce also gets a package from Hopper that day.
March 22nd marks the first day of spring break, and also — depending on who you ask, including the Duffer brothers — is Will's birthday. This is also when Mike (Finn Wolfhard) arrives in California and Vecna claims his second victim, Fred. On the 23rd, Max has her first Vecna vision, Joyce and Murray (Brett Gelman) fly to Alaska, and El is taken by Dr. Owens (Paul Reiser).
On March 24th, Robin and Nancy get the scoop on Victor Creel, the California kids get attacked by soldiers, Max survives Vecna's first attempt on her life, the California crew gets their own scoop about Project Nina in Salt Lake City, and Jason is killed by Vecna. This is also (roughly) the day when Joyce and Murray crash land.
March 25th is just as eventful: Hawkins gets its Satanic panic on while the older teens investigate the Upside Down gate in the lake. Hopper faces off against a demogorgon, El finds out about Vecna, and Joyce and Murray finally reach the Russian prison. The bulk of the remainder of the season seems to take place on the 26th, a very long day that sees Eddie die, Brenner die, and Vecna defeated. Sadly, Max ends up in a coma.
Two days later, which would be March 28th, 1986 by my estimation, "Stranger Things" leaves viewers with one more twist: Hawkins, already devastated by an earthquake, is being rapidly poisoned by the Upside Down, setting up season 5.