Maybe Will's So Sad In Stranger Things Season 4 Because Even The Duffers Forgot His Birthday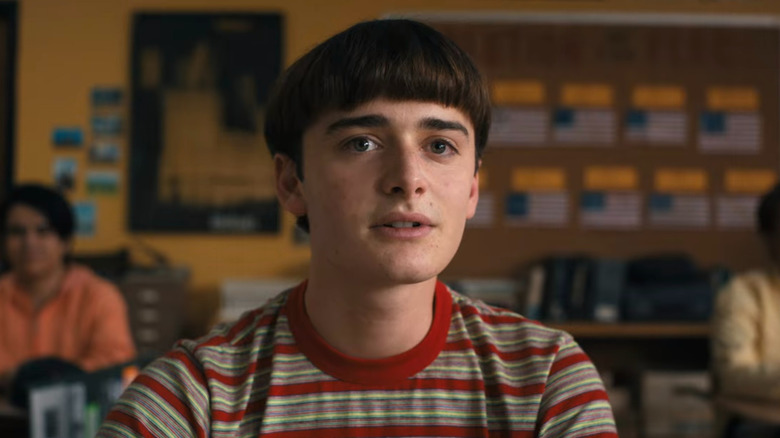 Netflix
Will Byers (Noah Schnapp) was once central to the "Stranger Things" story, as his disappearance into the Upside Down dimension served as the narrative lynchpin for season 1. Since then, however, Will has faded to the background a bit, leading some to suggest that the show is failing his character by keeping him sidelined. It's as if the series has treated Will, the perennial outcast, the way society itself does: not just bullying him, but even forgetting his birthday.
"Stranger Things" creators Matt and Ross Duffer recently spoke with Variety about the show's fourth season, which sees Will in a sad state, perhaps because of his unrequited love for his friend Mike (Finn Wolfhard). When the interviewer pointed out an Easter egg that fans had noticed — namely, a camera with the date of March 22 in the second episode of season 4 — it came to light that Will's birthday had slipped the Duffer Brothers' minds altogether.
"Clearly like the characters in the show, we also forgot about Will's birthday," Matt Duffer explained. "So the debate now is whether we adjust Will's birthday or we just let it be really sad."
"Stranger Things" first premiered on Netflix in 2016, and Duffer also pointed out that they don't have a continuity expert on hand, saying:
"You know how George R.R. Martin has somebody — I mean, his story is more vast — and Stephen King has someone who just keeps track of this stuff? We need that. We don't have that. So Ross and I, and my memory's not great, but we love Will, and I don't want people to think we don't love Will because we forgot — we do! But now we mentioned Dustin [Henderson]'s birthday this season, so we're being very careful for people not to forget."
'We'll go and George Lucas it'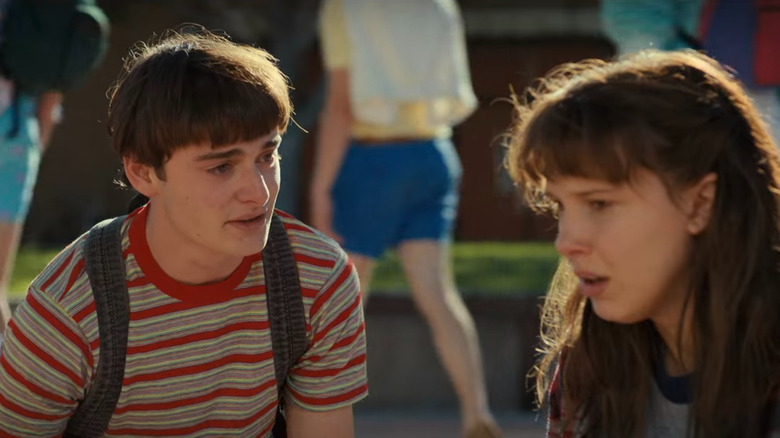 Netflix
Duffer mentioned George R.R. Martin, and having March 22 show up in the background of "Stranger Things" — without anyone acknowledging that it's Will's birthday — brings to mind that one "Game of Thrones" episode where a Starbucks coffee cup somehow made it onscreen into the medieval world of Westeros. HBO subsequently removed the cup in question, but not before the people of the internet assembled to ring the ritual shame bell and make the show undergo a naked perp walk like Cersei Lannister.
With respect to the forgetting of Will's birthday, Ross Duffer seemed to indicate that "Stranger Things" might go a similar route and do a little alteration of past episodes to correct the continuity error. Like Will himself, telling Eleven (Millie Bobby Brown), "It's not that bad. We'll fix it together," in the season 4 premiere, he and his brother are keeping a level head and looking to "Star Wars" for examples of how to deal with this creative mishap.
"I think what we're going to do is we'll go and George Lucas it," he said, alluding to Lucas' digital tinkering with the original "Star Wars" trilogy.
Matt Duffer added that they might make Will's new birthday May 22, because it could easily fit in the existing lip movements of Will's mom, Joyce Byers, played by Winona Ryder, in the season 2 episode where she says the date of Will's birth. "Of course, that would mean his mom forgot his birthday!" Ross said. "It's too mean. It was obviously a mistake, and we're sorry. We apologize to the fans."
"And especially to Will!" Matt concluded. "It's unfair."