Superhero Bits: Spider-Man: Miles Morales On PC, Doom Patrol Season 4 First Look & More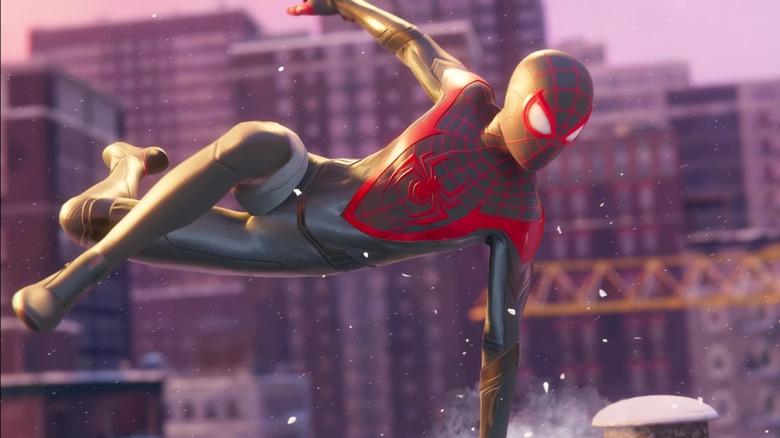 Insomniac Games
(Superhero Bits is a collection of stories, updates, and videos about anything and everything inspired by the comics of Marvel, DC, and more. For comic book movies, TV shows, merchandise, events, and whatever catches our eye, this is the place to find anything that falls through the cracks.)
In this edition of Superhero Bits:
"Marvel's Spider-Man: Miles Morales" is finally coming to PC.
A first look at "Doom Patrol" season 4.
Hannah John-Kamen on returning as Ghost in "Thunderbolts."
A new glimpse at "Black Panther: Wakanda Forever."
DC's Harley Quinn comic gets a new creative team
The cat is out of the bag! DC's ongoing "Harley Quinn" comic is getting a revamp with the upcoming issue #28, as indicated in the above tweet. Writer Tini Howard and artist Sweeney Boo will be lending their talents to tell some more ongoing tales with one Harleen Quinzell. The issue in question is set to hit stands in March of 2023, so be on the lookout.
The first-person Spider-Man PC mod is nauseating
Ever since "Marvel's Spider-Man" video game made its way to PC in remastered form, modders have been having a great deal of fun changing up the action in inventive ways. In this case, someone has opted to mod the game so that it is all taking place in first-person POV. As we can see in the above video, this is downright nauseating and disorienting. Being Spider-Man sounds like fun but, in practice, looks like it might require some barf bags.
The Boys social media team has fun with the blockbuster re-release trend
Dawn of the Seven is getting re-re-released! First, a 4:3 black and white version, then an enhanced 3D version, then "the fun cut" with 2 hours of additional material. Vought++ subscribers get a free churro with ticket purchase. pic.twitter.com/sLDkD7mHDa

— Vought International (@VoughtIntl) September 23, 2022
This weekend, James Cameron's "Avatar" is making its way back to theaters in anticipation of the sequel, "Avatar: The Way of Water" later this year. We also just had "Spider-Man: No Way Home" swing back to theaters, not to mention last year's Snyder Cut of "Justice League." With this blockbuster re-release trend, the folks on "The Boys" social media team decided to have some fun with that, mocking up a fake poster for a re-release of "Dawn of the Seven." Now with the Deep! And you get a free churro. Or you would if this were real, anyway.
Lulu, Jen's friend from high school, gets her very own She-Hulk poster
"She-Hulk: Attorney at Law" is rolling right along through its first season, with the sixth episode hitting Disney+ earlier this week. It introduced us to Lulu, Jen's friend from high school! Well, Jen is now the latest member of the show's ever-growing ensemble to get her very own poster. Not to mention her tiny little puppy companion. Are we slowly building to having enough cute animals in the MCU to have an animal team-up movie like "The Avengers" but for pets? Lucky the pizza dog is just waiting for the call.
Hannah John-Kamen talks bringing the anti-social Ghost to Marvel's Thunderbolts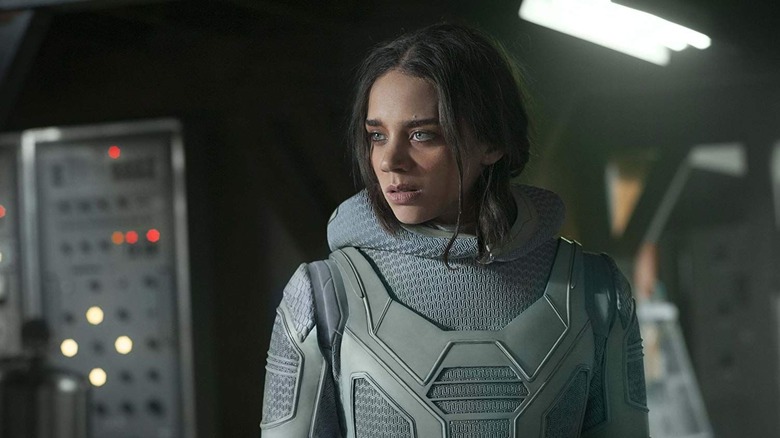 Marvel Studios
During D23 a couple of weeks ago, Marvel Studios pulled back the curtain just a bit on "Thunderbolts," the movie that will close out Phase 5 of the MCU, by revealing the lineup of characters participating. Included amongst the bunch is Hannah John-Kamen's Ghost, who we haven't seen since "Ant-Man and the Wasp." Speaking recently with the folks at Comicbook.com, Kamen discussed her return and the slightly awkward nature of fitting an anti-social criminal into a group dynamic.
"Well, she doesn't like to be touched... So that's going to be interesting. She's quite socially, well, she's not social. She was, she grew up in the van. So she's never actually had human contact with anyone. So this is gonna be interesting for Ghost to connect."
Who knows? Maybe Florence Pugh's Yelena can talk her out of her shell a bit?
Check out the first look at Doom Patrol season 4
"Doom Patrol" season 4 will very likely be dropping its first teaser trailer during New York Comic Con in October. In the meantime, to help tide fans over, Entertainment Weekly debuted the above first-look photo as part of its upcoming fall TV preview. It introduces us to a new character in the form of Casey Brinke, as portrayed by Madeline Zima. This is actually a relatively new addition to the DC Comics canon, having appeared in Gerard Way's run on the book from back in 2017. Well see how she factor's into the ongoing weirdness that "Doom Patrol" brings to the table.
Empire Magazine offers up a new look at Black Panther: Wakanda Forever
The upcoming issue of Empire Magazine will be giving us an inside look at November's much-anticipated "Black Panther: Wakanda Forever." Offering us just a little taste are the above covers for the issue, which feature new looks at Shuri, Ramonda and, perhaps most importantly, Namor. This marks Namor's live-action debut and he even gets to take the spotlight on one of the covers (sort of), with a focus on some of the unique costume he'll be rocking on-screen. Check out both covers for yourself above.
Captain America 4 director on relationship between Cap and the new Falcon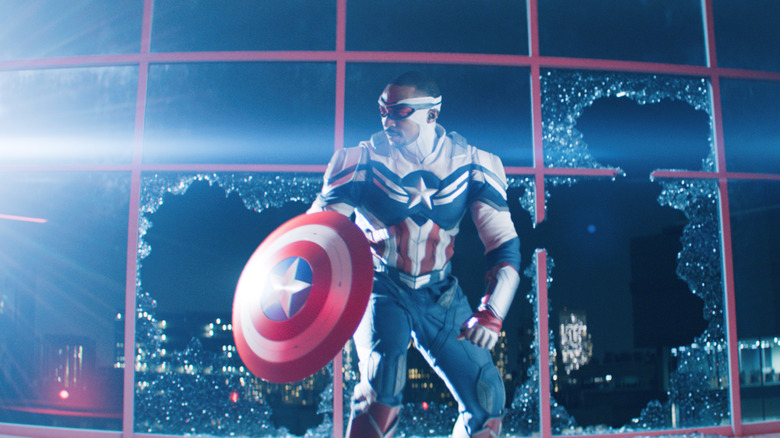 Marvel Studios
Anthony Mackie is getting ready to take the spotlight as our new Captain America in "Captain America: New World Order." But that means, a new Falcon is coming to the MCU, played by Danny Ramirez. In a recent chat with Screen Rant, director Julius Onah talked a bit about the relationship between the old Falcon and the new Falcon, saying the following:
"Their relationship is one of my favorite ones in this movie it really helps form the emotional core of how Sam has to define himself as Captain America because he loves this guy. They are both soldiers, they're brothers, and their journey, I think, is going to be something that really resonates with audiences."
"Captain America: New World Order" is set to hit theaters on May 3, 2024.
Marvel's Spider-Man: Miles Morales comes to PC in 2023, here's a teaser
Lastly, Sony and Insomniac Games were apparently quite happy with how things went in bringing "Marvel's Spider-Man" to PC earlier this year. So, as we can see based on the above teaser trailer, they have also opted to release "Marvel's Spider-Man: Miles Morales" on PC as well. There's not a whole lot of information at this time, but we do have a little teaser trailer to let us know it's a real thing. This means the game will be open to a much wider pool of players come 2023, which is absolutely a good thing.