Why Professional Wrestler Chris Jericho Got Involved In Terrifier 2 [Exclusive]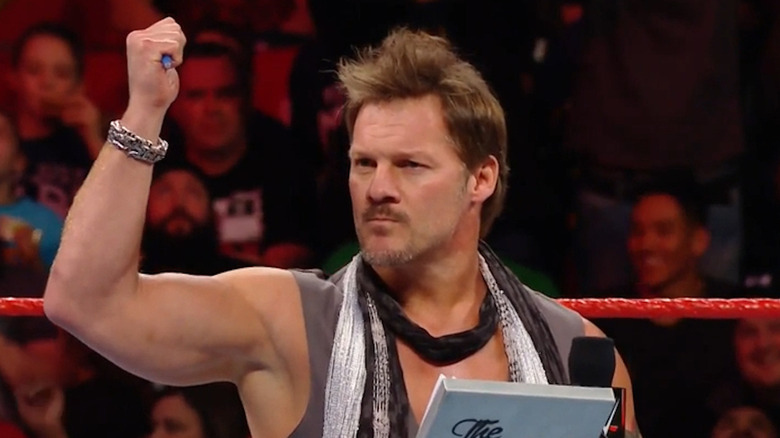 Peacock
Following his feature film debut in the 2013 anthology film "All Hallow's Eve," horror fans wanted to see more of Art the Clown. The demonic killer clown portrayed by David Howard Thornton returned in "Terrifier" in 2016, but filmmaker Damien Leone is reanimating the sadistic slasher once again for "Terrifier 2," in a partnership with streaming service SCREAMBOX and Bloody Disgusting.
The highly anticipated sequel has premiered at Fantastic Fest, ahead of a wide theatrical release this fall, but one fan just couldn't wait to experience the film on the big screen. In fact, this fan was so stoked for Art the Clown to rise again that they did everything in their power to be a part of the movie. But before you go questioning your level of horror fandom, remember to keep this in mind: You're not "The Wizard" Chris Jericho.
/Film's Ryan Scott was able to catch up with the legend of professional wrestling at Fantastic Fest before the debut of "Terrifier 2." In their conversation, Jericho revealed how he first learned about the film series and what enticed him to be a part of it.
That's the f***ing most disgusting thing I've ever seen.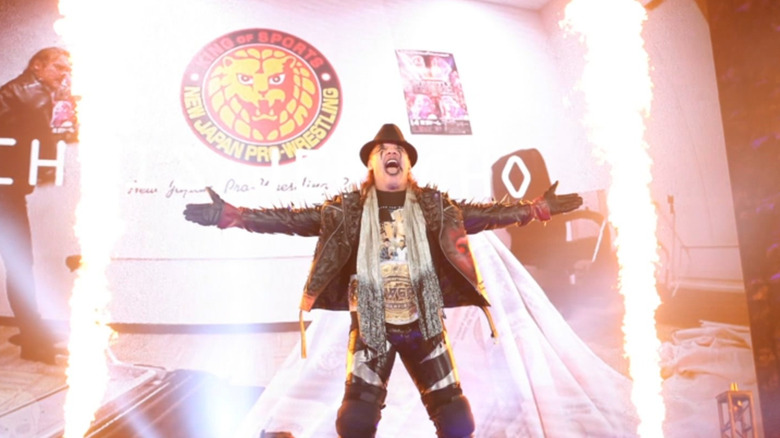 Peacock
It's no secret that All Elite Wrestling superstar Chris Jericho has his hands full in the world of entertainment. As the Jericho Appreciation Society members around the world know, he keeps busy with his band Fozzy and sporadic appearances in films and television on top of his wrestling commitments. But after the current Ring of Honor World Champion hesitantly put on "Terrifier" after a recommendation from his guitarist, the Painmaker was hooked. Jericho recalled:
"I was kind of just like, 'I don't know if I like the title, and it's a clown.' He goes, 'You got to watch this scene.' He showed the famous scene, Catherine [Corcoran]'s scene. And I was like, 'That's the f**king most disgusting thing I've ever seen.' I watched it, and just loved it right away. [Then] David and I did a convention together. One of the reasons why I did the convention was like, 'Oh, I got to talk to the clown.'

So when there was talk about 'Terrifier 2,' I was like, 'I f**king want to be in this.' And I think we spoke about a lot of different things and [they] connected with my manager to talk about some dealings and stuff. And I just became kind of a real champion for the movie. [...] That's kind of where it started, and then Damien had a couple ideas and then came up with this really cool scene [for me] towards the end of the movie."
Break the walls down
Jericho would go on to call Art the Clown "the most iconic horror movie killer that we've had since Jason Voorhees and Freddy in the '80s. More so than Victor Crowley or anybody else." That's definitely high praise coming from someone that has crossed paths with his fair share of colorful, eccentric, and brutal characters throughout his career. Then again, the "Talk Is Jericho" podcast host has always been good at putting over his opponents on the mic. So while we'll have to wait and see how he does when comes face to face with Art the Clown, something tells me that the Walls of Jericho or the Lionsault will be enough to stop a killer clown rampage.
"Terrifier 2" debuts in theaters on October 6, 2022.