The Witcher: Blood Origin Teaser Trailer: Get Ready For The Conjunction Of The Spheres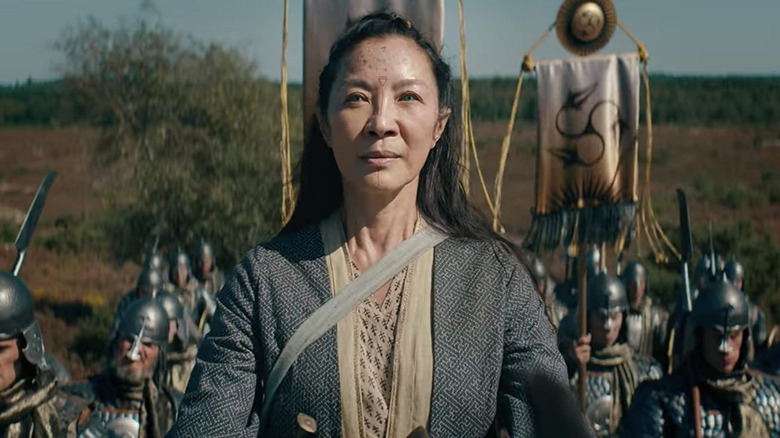 Netflix
Sometimes, as the philosopher Huey Lewis once observed, one has "gotta get back in time." The "Game of Thrones" property is doing just that with "House of the Dragon"; "The Lord of the Rings" has done it before with "The Hobbit" and is doing it again with "The Rings of Power"; and now "The Witcher" is joining the fantasy franchise time-warp party with "The Witcher: Blood Origin," a miniseries that explores a key turning point in the history of "The Witcher" universe.
Created by "The Witcher" writer Declan de Barra, "Blood Origin" takes place 1,200 years prior to the plot of its parent show and explores the incidents that led directly to the creation of the first monster-hunting Witcher on the Continent. Perhaps even more importantly, it also tells the story of the "Conjunction of the Spheres," a crucial event in which the worlds of monsters, humans, and elves all merged into one, eventually giving rise to the version of the Continent seen in "The Witcher" TV series.
In a very Kurosawan twist, "Blood Origin" centers on a group of seven outcasts who must "unite against an unstoppable power that took everything from them." That's a fairly vague logline, so best to let the show's latest sneak peek do the talking from here.
Watch the Blood Origin trailer
The year of Michelle Yeoh continues with "The Witcher: Blood Origin," in which she stars as Scian, the last of a tribe of nomadic sword-swinging elves on a quest of great personal meaning. Joining her in the cast are Sophia Brown ("Clique") as the Queen's guard warrior-turned traveling musician Éile, and Laurence O'Fuarain ("Vikings") as Fjall, a warrior on a mission for revenge. What with the show taking place on the Continent and all, there's a fair chance the three of them will, in fact, walk into a bar at some point.
"The Witcher" show-runner Lauren Schmidt Hissrich joins de Barra behind the camera as an executive producer, with "The Witcher" book series author Andrzej Sapkowski serving as a creative consultant to make sure "Blood Origin" remembers to dot all its i's and cross all its t's when it comes to the property's canon. It's also worth noting Sir Lenny Henry co-stars here as Chief Druid Balo, giving him yet another feather to add to his fantasy cap in 2022 along with "The Sandman" (where he voices Martin Tenbones) and "The Lord of the Rings: The Rings of Power" (where he plays Sadoc Burrows).
"The Witcher: Blood Origin" begins streaming December 25, 2022, on Netflix.