How Michelle Yeoh Got Into Evelyn's Head For Everything Everywhere All At Once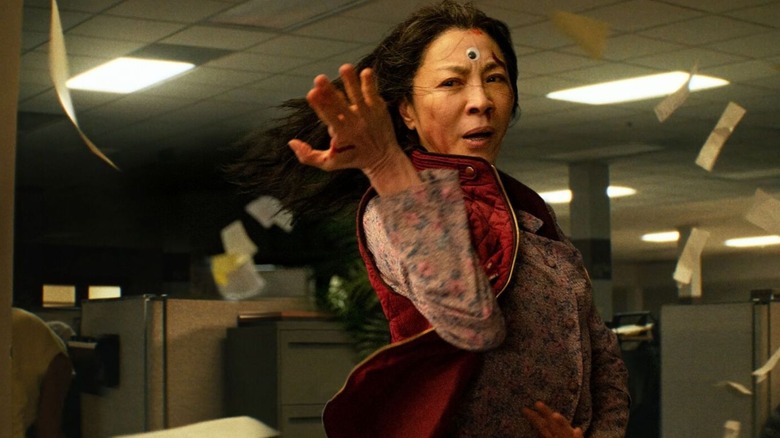 A24
"Everything Everywhere All At Once" is unlike anything else you will ever see in your life — it is a mind-melting movie about the multiverse that balances itself with equal parts chaos and compassion. Malaysian actress Michelle Yeoh illustrates her ability to personify emotional complexity along with showcasing her talent for martial arts in the film, starring as Evelyn, a Chinese immigrant who gets embroiled in a multiversal war. Yeoh's character work and penchant for action in the movie are astonishing. The actress has always been a martial arts star in her own right, but in this A24 film written by Daniels – Daniel Kwan, and Daniel Scheinert – Yeoh embodies her character so impossibly well you forget she's a veteran global superstar.
There's a lot to Evelyn in this movie — she's constantly coming to terms with the multiverse, and the knowledge she is discovering fractures her brain. She's a middle-aged woman who is suddenly forced to unlearn everything she has known. Naturally, Michelle Yeoh labored to prepare for the role, giving Evelyn history so she could get into her head.
'She had the American Dream, like a lot of immigrants do'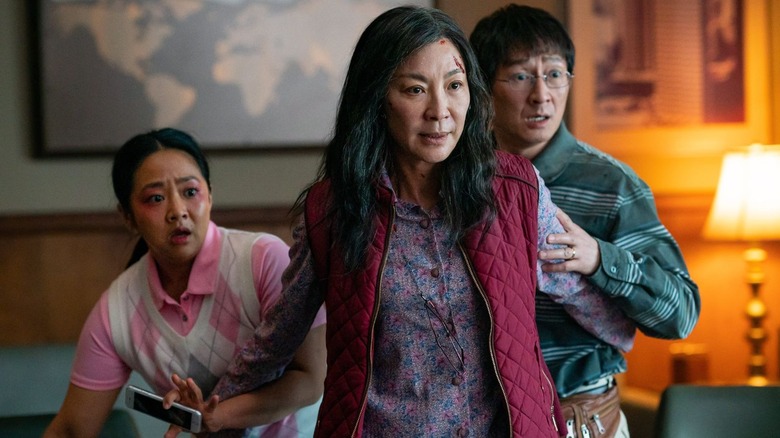 A24
In an interview with Time Magazine, Yeoh explained how giving her character "history" helped her get into Evelyn's head. The actress kept a diary recording her character's experiences from the time she left her home in China to follow the American Dream with her husband:
"Every time I take on a new role, I have to give her history; I have to know where she's coming from. Because Evelyn is a real character and she deserves her story to be told in its entirety, I kept a diary of Evelyn Wang [starting from] when she left China with the man she loved, much to the dismay of her parents, and her father disowning her because she didn't do what he wanted." 
Yeoh touched upon Evelyn's dream as an immigrant in search of a better life — she's a woman who is struggling to keep her life together, and is realizing that she may not have been as successful as she once hoped.:
"She had the American Dream, like a lot of immigrants do, because they are in search of a better life. Hoping for one thing, which was what Evelyn did, they started their laundromat, they started a family, and maybe it's all coming together. But then it's hard. Not everybody is able to keep it together; not everybody is able to be successful at what they set out to be."
Michelle Yeoh shared Evelyn's confusion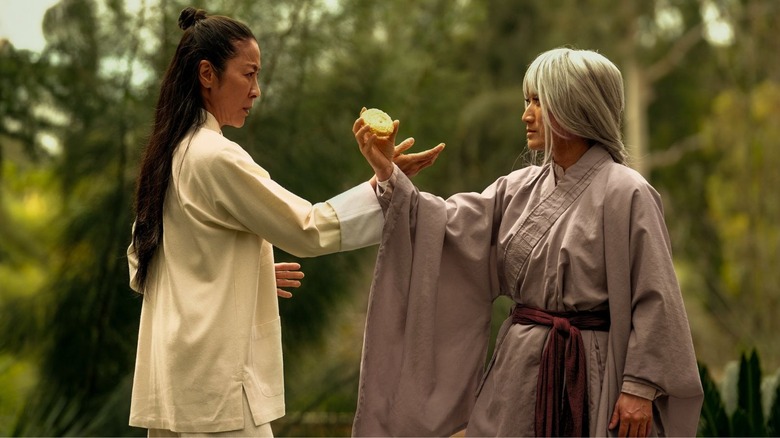 A24
"Everything Everywhere All At Once" operates at breakneck speed, and its many events leave Evelyn in a dire state of confusion. Keeping up with a hundred different versions of Evelyn across the multiverse is tough, and Yeoh spoke about her character's journey, stating that there were moments she looked "as confused" as Evelyn. "Your brain sort of fractures with her," she said.
Evelyn Wang is a profoundly layered character; she's a middle-aged immigrant woman who is genuinely allowed to be a superhero. While the film is about secrets of the multiverse and sees Yeoh kicking ass, it's also about finding acceptance, healing, and being kind:
"I love the beauty that she becomes a superhero, that she's allowed to be a superhero. All of us have the superpower in us when we are able to show kindness because that is a great superpower that will enable us to help the people around us, especially those we love, to find acceptance in ourselves in whatever we're doing."
Michelle Yeoh doesn't intend to stop surprising the audience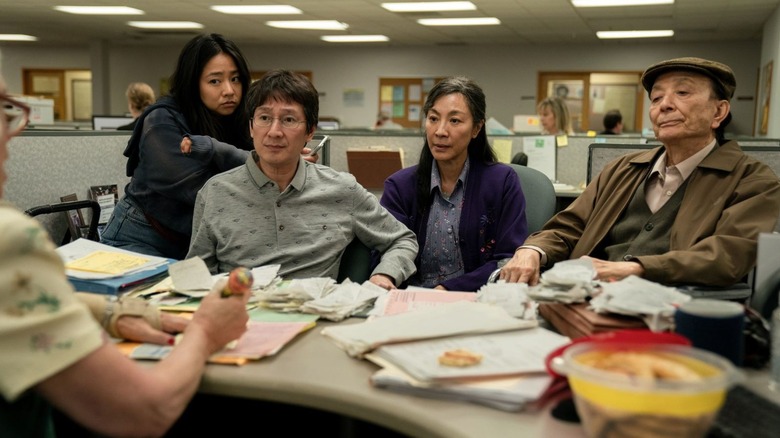 A24
Yeoh further shared that, as a performer, the last thing she wanted was to be stereotyped and to be reached out for a certain kind of role. The actress never intends to stop surprising the audience — so when she takes on a new role, she disappears into it, leaving nothing but the character behind. It's the route she took when playing Evelyn; she didn't want to be recognized as Michelle Yeoh — only Evelyn Wang:
"If after 30-something-odd years being in the business, I can still surprise you, that means I am doing something right. As an actor, that's what you want to do—the last thing you want to do is to be stereotyped or typecast or put in a box. When I approached Evelyn, I was like, 'I do not want to be recognized as Michelle Yeoh; I do not want you to see Michelle in any form.'"
Since its release, "Everything Everywhere All At Once" has become A24's highest-grossing movie of all time and continues to captivate audiences with its deeply resonant story, all of it revolving around Yeoh's performance.