Watch Michelle Yeoh And The Daniels Break Down A Scene From Everything Everywhere All At Once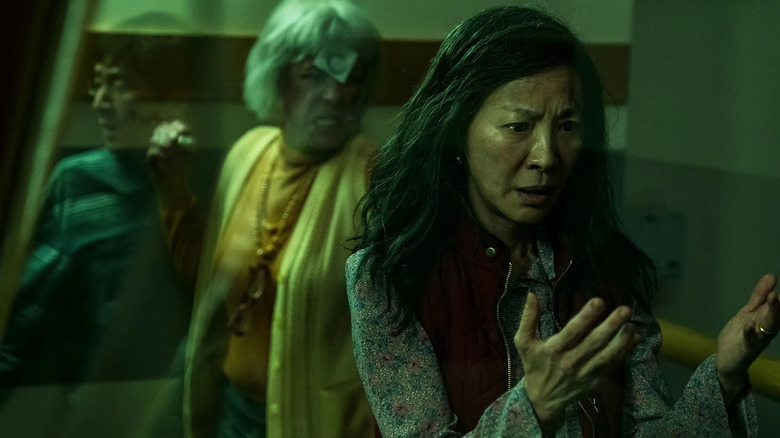 A24
Now, I have a bone to pick with ... well, the world at large. Because I haven't gotten to see "Everything Everywhere All At Once" yet, and frankly, that's just plain unacceptable. Kinda rude, too, when you think about it. 
I suppose that since the film is only in limited release this weekend and doesn't expand until early April I'll let it slide this time, but I just want to say upfront to the powers that be that you're on notice.
Thankfully, Vanity Fair did a scene breakdown with directors Daniel Kwan and Daniel Scheinert (lovingly known as "The Daniels") and star Michelle Yeoh to distract me from the insult of not having yet seen the movie.
The scene in question is what they describe as the visual bible that tells the audience how to watch this movie, which crosses over to different dimensions at the drop of a hat, switches between alternate universe versions of characters you know, etc. The scene in question also happened to be shot during Covid and they had to use additional digital trickery to stitch together their actors filming in entirely different countries.
Sneaky tricks and movie magic around every corner
I love stuff like this, and despite there being more coverage on film and TV than there ever has been before, it seems pretty rare to get an in-depth peek behind the curtain like this these days. 
One of the benefits of growing up when I did was I got to fully come into my movie geekiness at the tail end of the Laserdisc era and experience the DVD boom first hand. For a solid decade, it was expected that every single movie that was released would come jam-packed with commentaries, in-depth behind-the-scenes documentaries, thorough interviews, and all the bells and whistles. 
These days you can really count on boutique labels going the extra mile, which is sad, especially since streaming services can easily add commentaries and the like. Instead, we get those "sit around and talk about a thing" shows like "The Talking Dead" or any of those "Mandalorian" roundtable series.
I do find it funny that I know more about the making of "Everything Everywhere All At Once" without having seen it yet than I do about most things I've watched and loved in the last few years. So, thanks to The Daniels and Vanity Fair. I owe you one.
Also, can I just say how happy it makes me to see Ke Huy Quan thriving again? I may be the world's biggest fan of "Indiana Jones and the Temple of Doom," but seriously, everything I've heard about the movie says he kills it and I can't wait to witness the Quanaissance.