I Love Trouble Was A Tense Production For Nick Nolte And Julia Roberts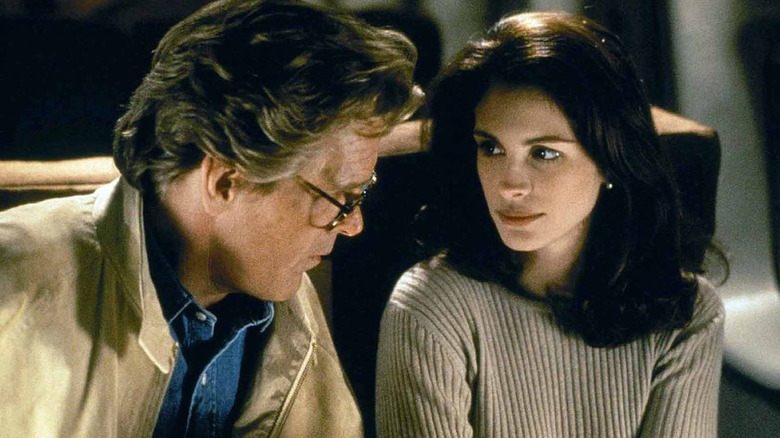 Touchstone
Charles Shyer and Nancy Meyers' "I Love Trouble" was supposed to be a throwback rom-com in the mold of a Spencer Tracy-Katharine Hepburn classic. The pairing of Nick Nolte and Julia Roberts as a couple of quarrelsome newspaper reporters seemed relatively promising. Roberts was one of the most bankable stars in Hollywood at the time, while Nolte was two years removed from being named People's Sexiest Man Alive. This duo was nothing if not photogenic. Surely, they could generate enough chemistry to keep movie theaters packed throughout the summer of 1994. The erstwhile movie magazine Premiere was bullish enough on the film to predict it would be the fifth highest grossing movie of the season. It felt like a can't-miss proposition.
But miss is exactly what it did. The $45 million film opened to a paltry $7.9 million in late June, barely finishing fifth ahead of Mike Nichols' "Wolf," which was in its third week while sporting a ho-hum "B" Cinemascore. "I Love Trouble" earned a "B" as well, but that was a big, sloppy kiss compared to the assessment of the nation's critics. Variety's Todd McCarthy called it "lacking in wit and inspiration," while the Los Angeles Times' Kenneth Turan wrote it off as "flaccid and unconvincing." With a final worldwide take of $61 million, "I Love Trouble" wasn't a bomb per se, which may be why we barely talk about it anymore. All of the principals likely prefer it that way because, according to several accounts, the making of the film was a contentious battle of wills between its two stars.
Nothing but trouble of the unlovable kind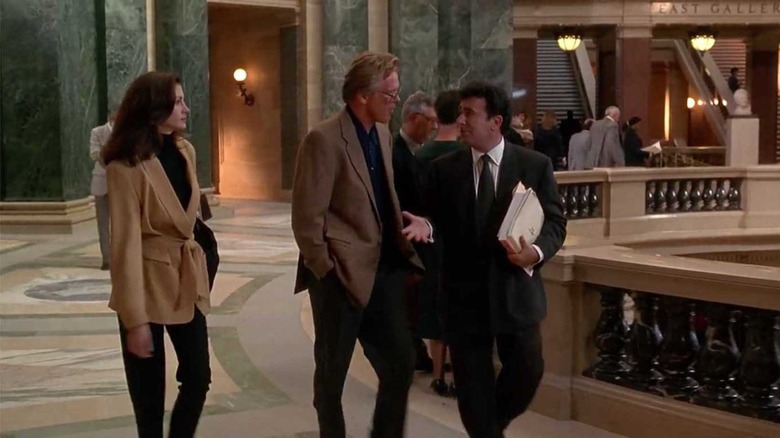 Trouble
Ironically, the film about two intrepid reporters joining forces to uncover a massive scandal turned into one of the hottest stories in Hollywood during its filming. For months prior to its release, there was talk that Nolte and Roberts weren't getting along. At all. As in, they actively hated each other. There are multiple examples of stars clashing on set, only to look like they're crazy in love on screen (e.g. Bogie and Bergman in "Casablanca"), but this was not the case with "I Love Trouble." Per a 1994 article from the Los Angeles Times, which sourced people "involved in the production":
"They claim tempers flared early on, peppered with a few Roberts tantrums along the way. Roberts reportedly wasn't thrilled with Nolte's machismo, so she would deride and insult her co-star. Some on the set claim that he became so annoyed with her attitude that he would do things to agitate her even more. The discord was so intense, the sources say, the two played more to stand-ins than to each other."
Some sources contradicted this, claiming the real animus was between the stars and the Shyer-Meyers team, who demanded multiple takes of improvised dialogue. Regardless, it was clear the film wasn't working as the peppy screwball comedy the studio had hoped for, so, as the release date neared, the studio marketed the movie as a thriller à la Roberts' previous blockbuster, "The Pelican Brief." Meanwhile, the score composed by the great Elmer Bernstein was scrapped, forcing the very-good-but-not-Elmer-Bernstein Thomas Newman to step in and write all-new music at the last second (this occurred so close to release that many posters still bore Bernstein's credit).
The worst kind of bad movie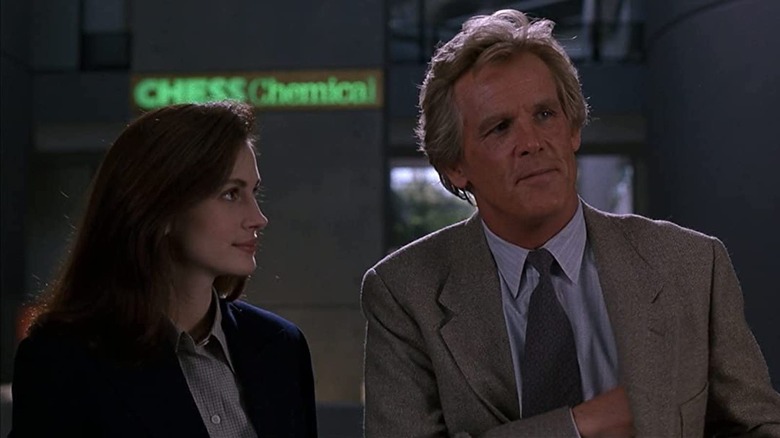 Touchstone
Unlike some high-profile misfires, there has been no significant attempt to rehabilitate the reputation of "I Love Trouble." It never found a second life on cable, and has thus far failed to receive an anniversary re-appreciation from a contrarian critic. This is not surprising. I saw the film when it was released, and its biggest problem is that it's not terrible. It's just flat. Given its run time of 123 minutes, this makes it interminable. Even a stacked supporting cast featuring the always watchable likes of Eugene Levy, Robert Loggia, James Rebhorn, Olympia Dukakis, Marsha Mason, and Saul Rubinek (among many other top-notch character actors) can't breathe life into this moribund undertaking. It's a chore to watch.
Shyer and Meyers's script is so relentlessly formulaic in that '80s and '90s way, where comedies with even a little bit of action had to contain jarring flourishes of violence, that you check out early. The laughs simply aren't there. And, yes, Nolte and Roberts look like they'd rather be anywhere else than mirthlessly bantering with one another. The only reason I'd like to revisit this movie is to see how many two shots they share (both actors reportedly only came to life while playing to each other's stand-ins). Perhaps one day, some brave journalist will get these folks on the record for an oral history before everyone's dead — because I know for a fact Nolte is still privately grousing about Roberts to this day.