Jack Nicholson Surprised Matt Damon With A NSFW Prop For Their First Scene In The Departed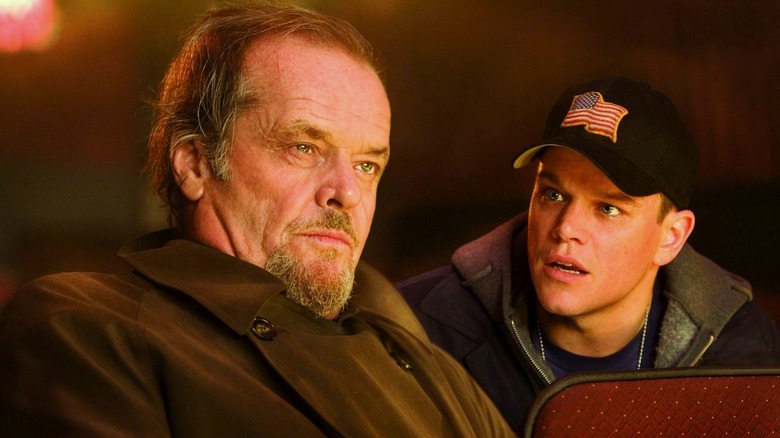 Warner Bros. Pictures
Martin Scorsese's "The Departed" features multiple generations of Hollywood legends. Naturally, when Matt Damon found out he was getting the chance to work with Jack Nicholson, he was thrilled — he expected to learn a lot from such a seasoned professional. As it turned out, the most memorable lesson that Nicholson taught the young actor was how to have fun on set. Nicholson pushed boundaries with his improvisation that imbued his character with dark humor. This gave the villain a memorable dimension that wasn't in the screenplay and even inspired Damon to add a new element to his own character.
Nicholson improvised a few of his most memorable lines in "The Departed," Damon revealed to Sirius XM. This included the scene where he shoots a woman in the back of the head. Nicholson invented the line "she falls funny," among other "sinister" jokes. But nothing could have prepared Damon for what Nicholson would improvise during their first scene together.
"The first day I worked with Jack, he'd been working with Leo for about a week," Damon recalled to FilmInk. While preparing for his scene, he got a phone call from Scorsese. "Well, a funny thing has happened and Jack has some ideas," the director told Damon. "And the next day we were shooting a scene in a porn movie theatre, so Marty says, 'Well okay, I'll just get to it. Jack's going to wear a dildo!' And so I thought, 'Well alright, you know, so be it.'"
Nicholson's stunt inspired Damon to change his character too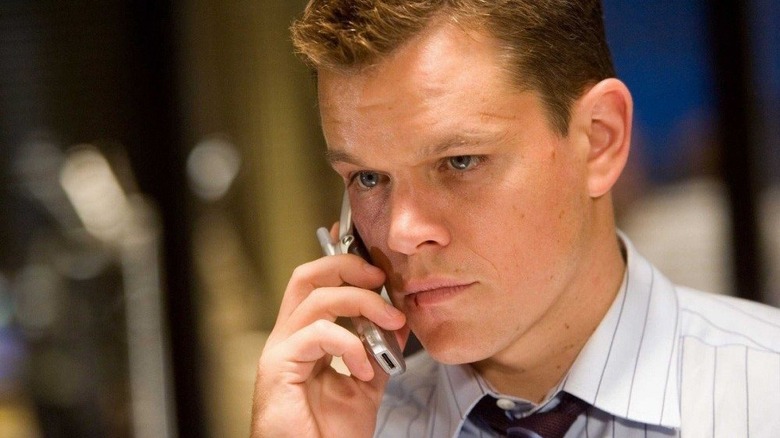 Warner Bros. Pictures
In the porno theater scene of "The Departed," Nicholson disguises himself as a fellow moviegoer. He approaches Damon and appears to reach for a gun but instead whips out a dildo. "Jack's idea was 'So here's the deal — I'm going to come in and I'm going to sit there in the overcoat and I'm gonna turn around and pull out the big dildo and we're gonna laugh,'" Damon recalled the Hollywood legend telling him.
The young actor was inspired by what Nicholson was doing. "Jack really brought this incredible new element to that character," Damon insisted. "He made him more obscene in a way that felt authentic, because these guys sublimate sex into violence and violence into sex and it really is how a lot of those things did occur."
By introducing this vulgarity to his character, Nicholson allowed Damon to expand upon his own character as well. "If Jack was introducing this sexual element, then I thought it was fair game in the script, and that we had to reference this from my character Colin's standpoint," he explained. This inspired him to introduce a new side to Colin. "We're in this macho world where everyone's beating each other up... and Jack's a sexual dynamo – so here's what I want to do: I want to lose every fight I'm in and I don't want my d*** to work," Damon told the director.
The work of these two actors added a new thematic layer to the film that strengthened it on the whole. Nicholson may have shocked Damon when he pulled out a dildo on set, but he scared him into an ingenious idea.