Believe: Ted Lasso And The AFC Richmond Players Are Coming To FIFA 23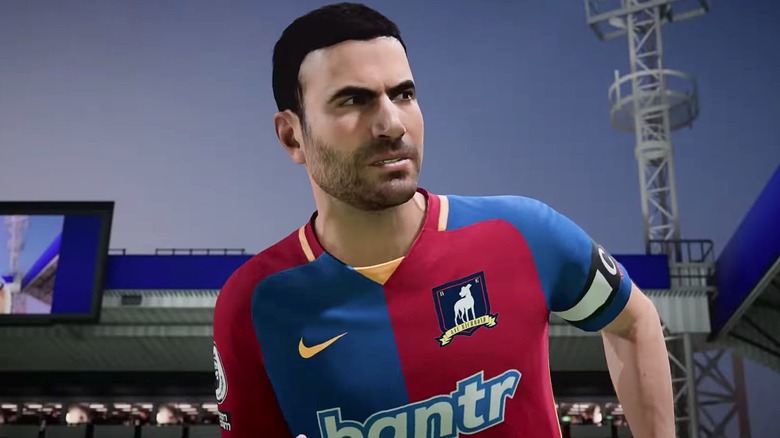 Electronic Arts
"Ted Lasso" was one of the biggest hits of the early pandemic, a show that helped us all during a very dark time with its relentless optimism and focus on kindness. It became a hit for Apple TV+ and helped make the platform a strong contender in the streaming wars with its tale of a fictional association football team (yes, I'm calling it football, not soccer). Even if you have never watched a single football match, "Ted Lasso does a great job of explaining the sport and its rules (as dumb as theymay seem). More importantly, the show makes it a point to highlight why it is that people around the world love this sport so much and what makes it special.
It makes sense, then, that just as Richmond AFC managed to score a promotion to the Premier League in the world of the show, they would also join the big leagues in the video game world. That's right, get ready to chant "We know we are, we're sure we are. We're Richmond till we die!" from your couch as you humiliate your Manchester City-supporting friend, because Richmond AFC is joining "FIFA 23" later this year.
The "FIFA" franchise is one of the biggest sports video game franchises in the world, having started back in 1993. The 2017 edition of the game included a fictional character named Alex Hunter whose career you could play out, and now we're getting a full team of fictional characters joining the world stage of the game.
Football is life!
A new trailer for "FIFA 23" reveals you'll be able to play as Richmond AFC in the upcoming game. That means Jamie Tartt, Dani Rojas, Sam Obisanya, Isaac McAdoo, and even Roy Kent himself (though he's retired in the show) will be available to play against real times like Real Madrid and Manchester United. 
When playing in Career Mode, you can even select Ted Lasso as your playable manager, as you manage a team (Richmond or any other) throughout the football season and onto the championship cup. The show's Nelson Road stadium will also be available in the game.
"It is so f****** cool to be in FIFA," Brett Goldstein, who plays Roy Kent, said in a statement. "I'm not sure this is going to help dispel the CGI rumours but, f*** it, totally worth it."
Some may think this is too much, or that it's a dumb promotional stunt, but wouldn't you love to play as the team from "Friday Night Lights" in "Madden NFL?" Wouldn't it be cool if Rocky Balboa (or Ippo Makunouchi) was available in "Fight Night?" 
Honestly, this shouldn't be a one-off, but the first step in a larger plan. If Roy Kent can score a goal against Real Madrid in "FIFA," take it a step further! Bring in the whole cast of the anime phenomenon "Captain Tsubasa" to the game. After all, this is a video game, not real life, so why not have some fun? 
"FIFA 23" will be released September 30, 2022.