Strange World Trailer: A Whole New (Pulp) World With A Fantastic Point Of View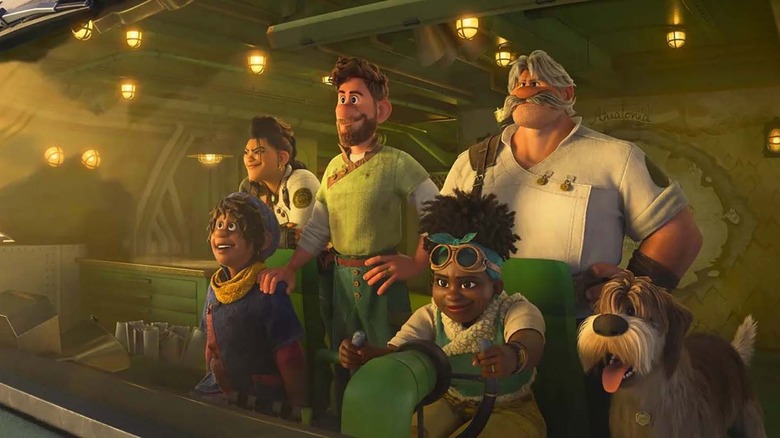 Disney
It's time that, in our animated kids films, we go somewhere different, somewhere we've never been before. New worlds, or perhaps, stranger ones... Enter Disney's next animated film "Strange World," a new adventure where a group of scrappy humans explore uncharted and dangerous lands filled with mysterious and dangerous creatures. Disney released the film's full trailer today, and it honestly looks like a breath of fresh air when it comes to animated family stories. 
In the sneak peek, we're introduced to Searcher Clade (voiced by Jake Gyllenhaal), the son of a great explorer who grew up to be a farmer with a quiet life. On a major expedition with his son, Ethan (voiced by Jaboukie Young-White), he finds his long lost father, Jaeger Clade (voiced by Dennis Quaid), and their reunion gives way to a whole host of new crusades as they find their way home as a family.
The film is directed by Don Hall, who is perhaps best known for directing the Oscar-winning animated hit "Big Hero 6," as well as "Raya and the Last Dragon." Qui Nguyen, a playwright who co-wrote "Raya and the Last Dragon" with Adele Lim, wrote the screenplay. "Big Hero 6" and "Tangled" producer Roy Conli is producing.
Pulp magazines and Strange World
Believe it or not, old pulp magazines were a major influence on this exciting new animated film. Personally, I'd never expected to see Disney take on such an underground fad and make it their own, but it doesn't surprise me that — especially after seeing the trailer — they are approaching the concept with a deep warmth and tenderness that comes with their brand, yes, but also with personal connection.
Hall revealed in December 2021 that much of the film's story was born from his passion for these old school fiction stories printed on wood pulp paper. "I loved reading the old issues of pulps growing up," he explained. "They were big adventures in which a group of explorers might discover a hidden world or ancient creatures. They've been a huge inspiration for 'Strange World.'"
"Strange World" arrives in theaters on November 23, 2022 — just in time for the Thanksgiving season, but also the same day as Steven Spielberg's highly anticipated autobiographical drama "The Fabelmans." Whether or not that impedes the animated film's box office performance remains to be seen, as it seems each movie is catering to a slightly different crowd. That said, I personally want to see both films, so there will definitely be some double dipping in the mix as well. Here's to hoping they both have a fruitful opening weekend.