Billy Eichner Brings Back Paul Rudd For A Bros-Themed Billy On The Street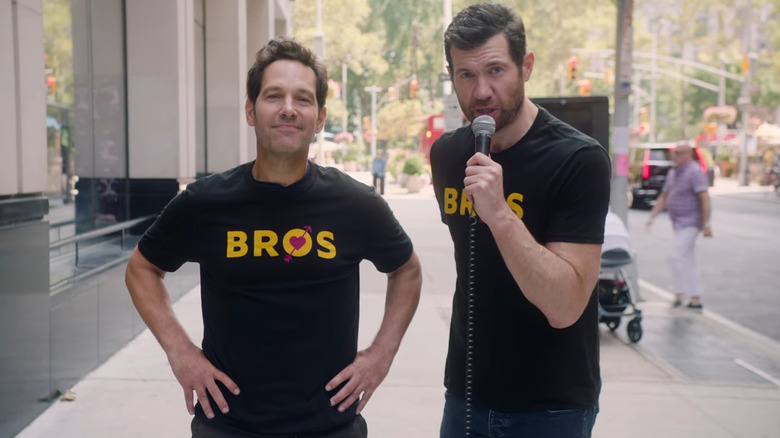 YouTube
Traditional marketing campaigns certainly have their merit: logical, reliable, and unlikely to end with random New Yorkers shrieking in confusion. But you know what's 10 times better than that? Watching Paul Rudd and Billy Eichner dash through the streets of New York, handing out dollar bills to every person who promises to turn up on September 30, when "Bros" arrives in theaters. That's right, Billy is back on the streets but this time he's on a very specific mission.
Next week marks the release of Eichner's Universal romcom "Bros," which is described as the story of "two gay men maybe, possibly, probably, stumbling towards love. Maybe. They're both very busy." The film is a collaboration between Eichner, writer-director Nicholas Stoller (the "Neighbors" films, "Forgetting Sarah Marshall"), and producer Judd Apatow ("The King of Staten Island," "Trainwreck").
"Bros" is giving the world two things that it desperately needs: a new romantic comedy on the big screen and the first major studio rom-com to feature a primarily LGBTQ cast. Since something this momentous demands as big an audience as possible, Eichner decided to grab his microphone and prepare his voice to terrify New Yorkers into attending. And just for the hell of it, he's brought along "famous and beloved straight man" Paul Rudd, a Billy On The Street alum. Eichner previously teased this return on Twitter, promising "the first Billy On The Street in 3 years" and now, the three-minute revival has finally arrived.
Watch Paul Rudd in Billy On The Street
More than anything else, this mini "Billy On The Street" revival is proof that you never know what you have until it's gone. From 2011 through 2017, Eichner was regularly running around the streets of New York, playing mini game shows with strangers or asking them very random and mildly philosophical questions, like "Should Emma Stone join Instagram?" He was often joined by celebrity guest stars, such as three-time participator Paul Rudd, who's best remembered for standing around gleefully while Eichner asked people: "For a dollar — would you have sex with Paul Rudd?"
This revival comes off the heels of Eichner confirming that he has no plans to continue the series as it was. During his press tour for "Bros," he's been extremely candid about moving forward in his career, saying:
"In terms of the future of it, the vast majority of it is behind me. Maybe for special occasions, we'll bring it back ... But I'm never going to do half-hour episodes of Billy on the Street again, and I don't ever see it coming back as a regular thing. I've just moved beyond it creatively."
That being said, the promise of more creativity from Billy Eichner is great news and our first taste of it is set to arrive in theaters just a few days from now. "Bros" has premiered to rave reviews, including one from /Film's Sarah Milner who wrote, "'Bros' isn't great because it has groundbreaking representation — it's great because it has that and is genuinely hilarious."
"Bros" is set to hit theaters on September 30, 2022.