Eddie Redmayne's Introduction To Harry Potter's Wizarding World Wasn't Very Pleasant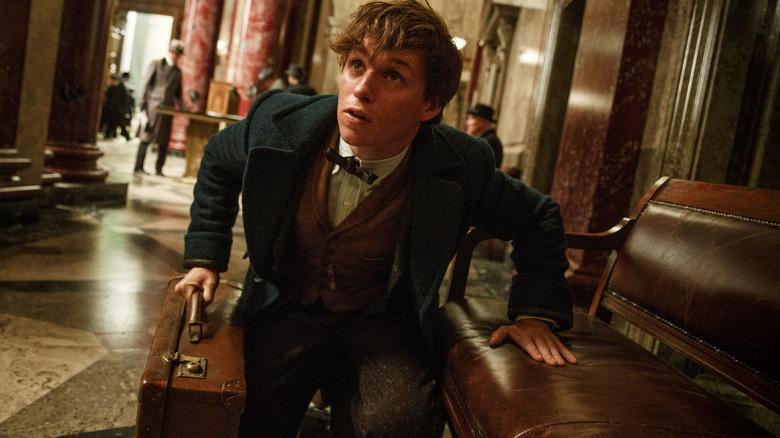 Warner Bros.
David Yates' 2016 film "Fantastic Beasts and Where to Find Them" was, true to its title, an odd duck. Set in the same universe as the "Harry Potter" movies, but taking place decades before the title character was born, "Fantastic Beasts" attempted to expand what audiences knew about wizards and witches through the eyes of a humble cryptozoologist. 
Newt Scamander (Eddie Redmayne) is a mild-mannered animal enthusiast who treks to the United States in the early 1920s in order to, essentially, capture and study rare breeds of Pokémon and write a soon-to-be-standard textbook on them. As in the "Harry Potter" movies, all magical dealings of witches and wizards — as well as the existence of magical animals — are kept safely hidden from the prying eyes of us normal, non-magic folk, called muggles. 
Three Newt Scamander films have been made to date, with the third, "Fantastic Beasts: The Secrets of Dumbledore" released in April of 2022. But Redmayne's first audition for a Wizarding World movie actually took place more than two decades ago.
The power of Redmayne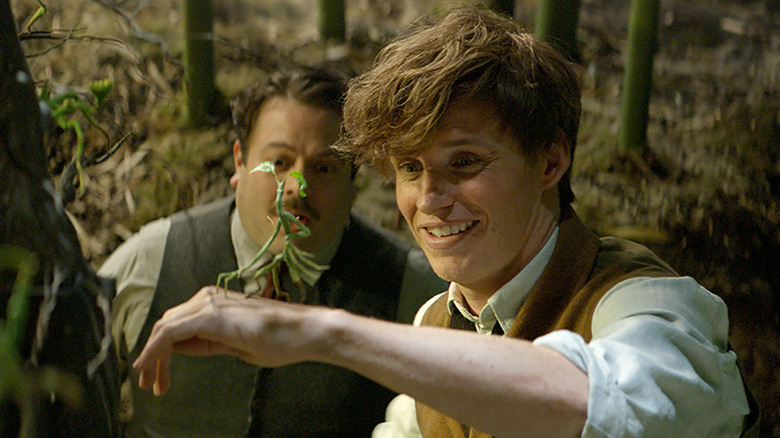 Warner Bros.
Many can agree that Redmayne is the best part of the "Fantastic Beasts" films. His Newt Scamander is a gentle soul in a film full of visual noise and narrative turbulence. He seems genuinely full of warmth and affection, even as the movie he's in becomes steelier and colder. The films may not be wholly successful, but Redmayne gives his all. It's from Redmayne that the films gain a vital sense of whimsy. 
In a 2018 issue of the New Indian Express' magazine Indulge, the "Jupiter Ascending" MVP revealed that had attempted to get into the "Harry Potter" universe long before the "Fantastic Beasts" movies. As it turns out, Redmayne auditioned for the part of Tom Marvolo Riddle in Chris Columbus' 2002 film "Harry Potter and the Chamber of Secrets." A brief rundown: "Chamber of Secrets" was the second film in the series, and featured a guest spot for Kenneth Branagh as a charming but incompetent wizard professor. The climax took place in the titular chamber with Harry facing off against a child-shaped ghost of the evil Lord Voldemort. ("Tom Marvolo Riddle" is an anagram for "I am Lord Voldemort.") 
Redmayne was 19 and in college when he auditioned. It didn't go well. 
"Yeah, thanks for bringing up the painful elephant in the room. Honestly? I was at university at the time that they were starting to make those films. And they were doing a full-on search of the world for the role of young Voldemort. So, this was an audition that came to the university. I walked in to the room. I think I said three lines and then was asked to leave. So, it wasn't like I had much of a chance."
The role ended up going to Christian Coulson.
Playing the long game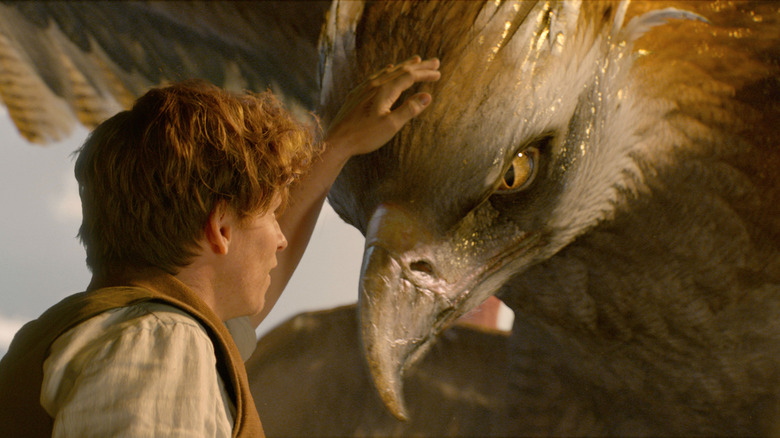 Warner Bros.
Over the years, jokes began to emerge in the discourse about how the "Harry Potter" movies would, eventually, come to incorporate every single working British actor. The cast of the movies were enormous, and several new characters were introduced with every subsequent chapter. Even the grandfatherly wizard headmaster Dumbledore has now been played by three actors: Richard Harris, Michael Gambon, and Jude Law. 
In the Indulge interview, Redmayne joked that he was merely biding his time after the initial rejection from playing Voldemort. Both he and Law admit to being slightly miffed at being looked over for so long, but were pleased to finally be asked. "Now we feel like we lucked out," Redmayne said, "by playing the long game." Once the role was landed, Redmayne threw himself in, and was drawn to Newt's innocence: 
"What I love about Newt is that he's true to himself and not trying to please anyone else. His passion for creatures is uniquely his own, and he refuses to bow to other people's notions of what normal should be. Newt has always taken his own route through life and though he can be empathetic, he doesn't want to be pulled to anyone's side."
The "Fantastic Beasts" movies were not wholly well-received, and have been further troubled by controversies surrounding the actors featured in them. Redmayne himself has spoken out in opposition to "Harry Potter" author and "Fantastic Beasts" screenwriter J.K. Rowling's pervasive transphobia. 
Newt Scamander is certainly a better character than the films he was in. But "The Secrets of Dumbledore" was the lowest-grossing film in the entire "Harry Potter" franchise, and as a result we may never see Newt again.