Braveheart And The Last Of The Mohicans Inspired The Battle Scenes In The Woman King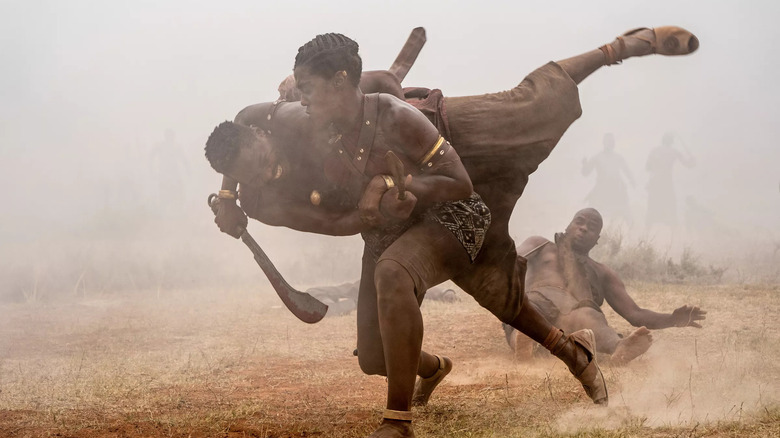 Ilze Kitshoff / Sony Pictures
"Kill your tears," silence your fears, and get ready to follow "The Woman King" into battle. In theaters this weekend, "The Woman King" stars Academy Award winner Viola Davis as General Nanisca, leader of the Agojie, described in the film's official trailer synopsis as an "all-female unit of warriors who protected the African Kingdom of Dahomey in the 1800s with skills and a fierceness unlike anything the world has ever seen." 
You might say General Nanisca has a "Braveheart" and is something of a "Gladiator," and apparently, the woman behind "The Woman King," director Gina Prince-Bythewood, looked to those movies for inspiration.
In an interview with A.frame, the digital magazine of the Academy of Motion Picture Arts and Sciences, Prince-Bythewood discussed bringing the battle scenes to life in "The Woman King," and how she and her crew referenced what worked — and what didn't — in other historical epics:
"Our DP, Polly Morgan, and I studied 'Braveheart.' We studied 'Gladiator.' We studied 'Last of the Mohicans.' We looked at battles in other films that I won't mention, where it didn't work. It just felt like random fighting. I used the phrase 'intimately epic' with every department head, and certainly when I spoke with Danny Hernandez, who's our fight and stunt coordinator. 

"The best action is story-driven and character-driven, and the best way to do that is to have performance within it. And it's one thing to say to your actors, 'You guys are going to be doing your own fighting and your own stunts.' It's another to have actors embrace that fully, and these actors embraced it fully. They all had the desire to be great. Every single one of them wanted to do everything and kept doing it until they got it perfectly."
'This was an epic battle'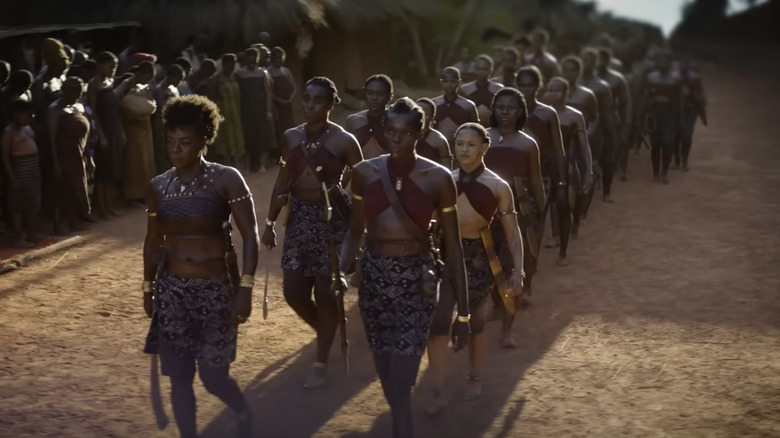 Sony Pictures Entertainment
"Braveheart" is a movie that remains memorable for its battlefield scenes, with the Scottish and English armies clashing in bloody, crowded combat. "Gladiator" is focused more on small-group and one-on-one fights inside a Roman arena for spectator sport. "The Last of the Mohicans" also culminates in a series of personal face-offs, set to the rousing tune of "Promentory," as characters run along a cliff and confront each other.
Each movie brings to mind a specific battle setting, and that's something "The Woman King" is striving for, too, as General Nanisca trains the Agojie and leads them into battle against European invaders. In her interview with A.frame, Prince-Bythewood — whose last film was "The Old Guard" starring Charlize Theron — cited the "Oyo battle" in "The Woman King" as the film's most challenging sequence, and one that she and her cast and crew spent some time working up to during the production. It sounds like Prince-Bythewood was prepping her crew for it the way General Nanisca preps her soldiers:
"That battle was absolutely this thing that was looming at the end of the schedule, but I put it there to give the actors enough time to train for those sequences. But also, I needed our crew to be at a place where we were all so comfortable with each other working at that level before we got into that, because it was daunting, and we had 11 days to shoot it. In context, the plane fight in 'The Old Guard,' I shot over five days and that was two people in a tube. This was an epic battle! But we had a plan. We stuck to that plan, and we got it done."
"The Woman King" is in theaters now.