John Huston, John Malkovich, And A Dog Made Michael Madsen Into An Actor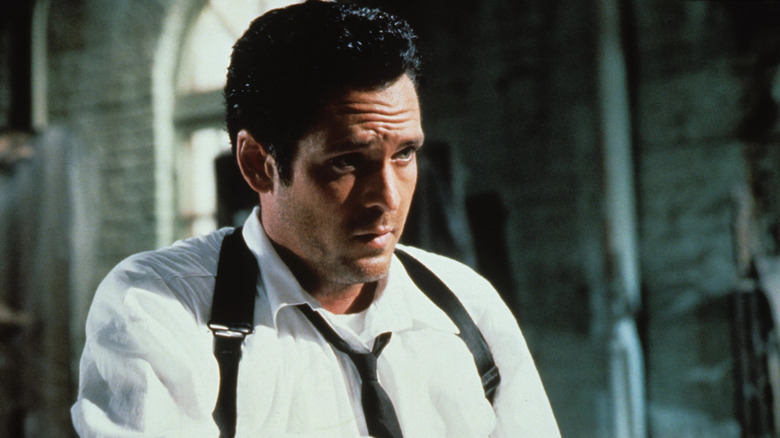 Miramax
It is probably fair to say that Michael Madsen is one of the most recognizable character actors of our time. With an extensive filmography and lengthy working relationship with Quentin Tarantino, he's become one of those actors where if he appears in a movie, you'll probably have a lot of fun watching it.
Of course, he didn't just suddenly become a recognizable character actor one day out of the blue. According to an interview he did with The Independent back in 2016, he said he was inspired to pursue acting, at least as a hobby, after seeing the 1957 John Huston film "Heaven Knows Mr. Allison."
"When I saw that movie, I thought, 'I could probably do that,'" he recalled. However, he didn't start pursuing his career as an actor right away – there were a few other soon-to-be discovered influences that eventually led him to stardom. You probably already gauged that by the title of this piece, though. Still, let's let him explain how he got started.
A chance encounter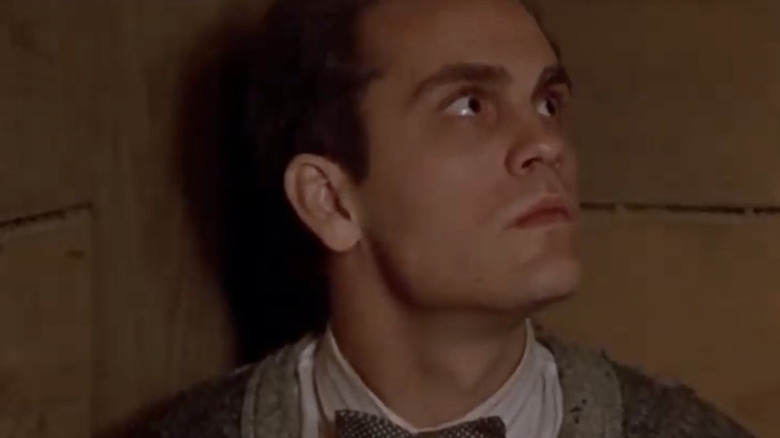 Tri-Star Pictures
While he still had an interest in potentially pursuing acting, the idea took a backseat for a while. He explained in the interview that he had worked as a mechanic and paramedic for years before he saw a 1980 production of the classic play "Of Mice and Men" held by the Steppenwolf Theatre Company in Chicago. This particular production starred a theatre actor who was somewhat popular by local standards but hadn't yet branched out into film or television.
We're talking, of course, about John Malkovich. Madsen doesn't explain what role he had in the show, but considering his youth at the time, he probably would have made a great Lennie. However, that's beside the point, because Madsen recalled being so enraptured by the play and the performance of Malkovich that he ended up meeting him backstage.
"He asked for my address and said he'd send me a brochure for acting classes," he said, although he recalled being skeptical about the actor's intentions. "I thought he was just trying to get rid of me."
It turns out that he actually wasn't. Malkovich really did send Madsen information on acting classes, which the latter promptly signed up for. He eventually landed a role in another production of "Of Mice and Men." Talk about coming full circle! However, Madsen wasn't exactly the type to play the innocent and optimistic Lennie. Instead, he was cast as the farmhand Carlson, whose most famous scene involves him ruthlessly killing an innocent dog.
One very good boy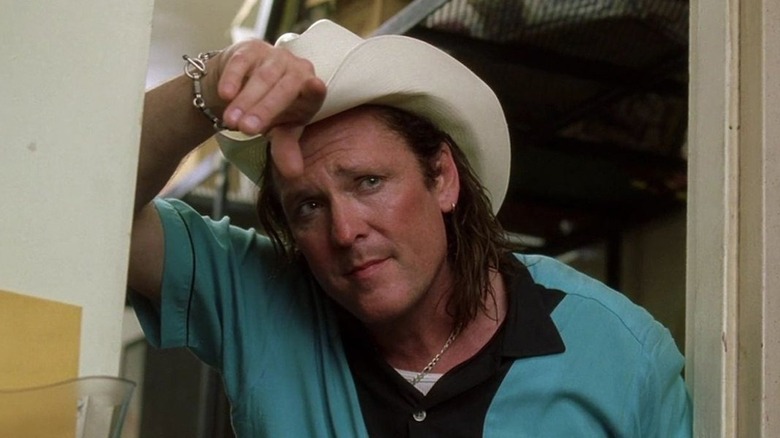 Miramax
Madsen recalled working with an actual dog for the production, and if anyone reading this is a dog person, you know very well that they are great at telling human emotions. This dog, in particular, could apparently sense how into the performance the actor really was, and it is a story you need to read to believe.
"That f****** dog was the best acting teacher I ever had," Madsen told The Independent. "When I was really into my character, the dog would get scared and I'd have to drag it offstage before I fired the blank gun."
However, anyone who has acted in a theatre production before knows that some performances are better than others. There were some nights were Madsen wasn't fully into his character, which resulted in a very comical end to the famous dog-shooting scene. "But if I wasn't into my performance, the dog would just be happy, and when I walked off it would follow me, which was just as upsetting for the audience," he said.
So, what's the lesson here? It's simple; sometimes, you might not realize what you really want to do until you think you've gotten everything figured out. Not only that, but some of the most influential moments of your career could be the ones you expect to be influential the least. So go do what you want to do, even if it seems a bit out of reach. You might end up like Michael Madsen if you do.