Quentin Tarantino Gave Michael Madsen An Ultimatum After His Reservoir Dogs Audition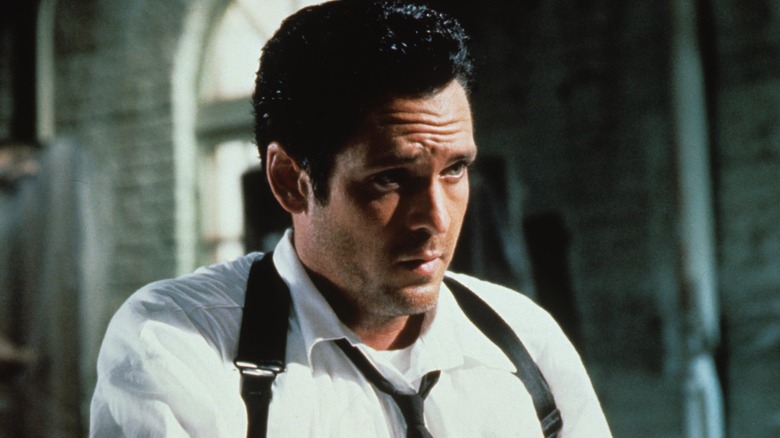 Miramax Films
"Reservoir Dogs," Quentin Tarantino's directorial debut, was indicative of his career to come. It has his trademark snappy dialogue, hyperviolence, and questionable utterance of racial slurs. All it needs is extensive shots of a woman's bare feet, and you'd have a good predictor of Tarantino's entire oeuvre.
Now, despite my snarky dressing-down of Tarantino's artistic stylings, I do thoroughly enjoy his movies, and "Reservoir Dogs" is one of his strongest films, despite being his earliest and cheapest to produce. It's perhaps the shoestring budget and simplicity of the film that gives it its charm, allowing the writing and directing to shine above all else.
Another of Tarantino's great strengths as a filmmaker is his casting. "Reservoir Dogs" is no different, with the film featuring incredible work from fantastic actors such as Steve Buscemi and Harvey Keitel. For Michael Madsen, who portrayed Mr. Blonde in the film, the role was his big breakout performance. After a string of bad luck and bad decisions, Tarantino's request for Madsen to act in his debut film was a golden opportunity for the actor. Of course, he had to meet the demands of the somewhat tyrannical Tarantino in order to gain the role, which was not even the role he initially wanted, according to a 2016 piece by The Independent.
Go blonde or go home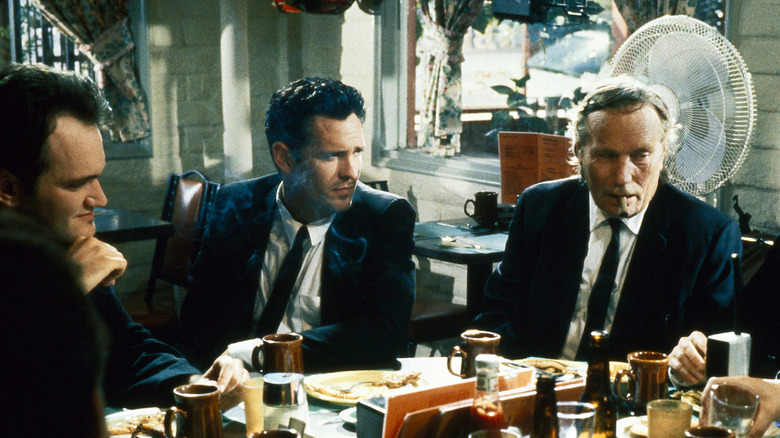 Miramax Films
"Reservoir Dogs," which was heavily inspired by the French neo-noir "Le Doulos," focuses on the aftermath of a heist gone wrong, and the stand-off between the accomplices of the heist in their designated safehouse. Wanting to keep their true identities secret for the purpose of their criminal undertaking, none of the characters go by their true names. They all go by the names of various colors, like "Mr. Pink," "Mr. Black," and "Mr. Orange."
Madsen was always pegged by Tarantino to play Mr. Blonde, the most unhinged and murderous of the band of scoundrels, according to The Independent. But Madsen, upon reading the script, had other designs in mind. "I wanted to play Mr. Pink," Madsen said, referring to the role that was played immaculately by Steve Buscemi. "Because he had more scenes with Harvey Keitel."
Wanting to perform with the legendary Keitel is an understandable desire, but Tarantino wasn't having it. "I made my case for playing Mr Pink, and Quentin said: 
"'Okay, show me what you got.' For one of the only times in my life I'd rehearsed the dialogue, so I did a couple of Mr Pink scenes. When I was done, Quentin looked at me and went: 'Is that it? Okay, good. You're not Mr Pink. You're Mr Blonde — and if you're not Mr Blonde, then you're not in the movie.'"
The Blonded life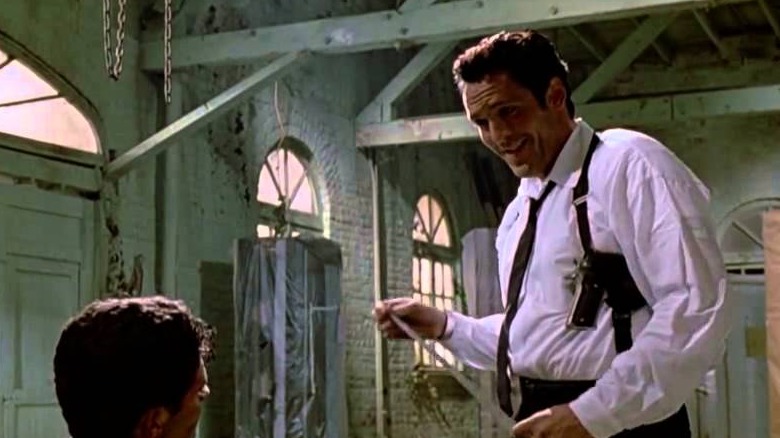 Miramax Films
"Reservoir Dogs" was a critical hit, and Madsen acted the hell out of his role. His performance in the scene where Mr. Blonde tortures a kidnapped police officer to the tune of Stealers Wheel's "Stuck In The Middle With You" is legendary, inspiring homages in shows like "The Simpsons" and "It's Always Sunny in Philadelphia." The movie received such acclaim that Tarantino at one point considered remaking it as his final film, just to "recapture the moment" of the making of the film.
Additionally, Tarantino loves to cast the same actors over and over. This hiring practice landed Michael Madsen additional roles in future Tarantino joints such as the "Kill Bill" films, "The Hateful Eight," and even a cameo in "Once Upon a Time In Hollywood".
Despite their slightly adversarial first impressions, Madsen seems to still enjoy working with Tarantino, even after all these years. "Quentin is just as excited and charged up as he was when we were doing 'Reservoir Dogs,'" said Madsen, in an interview with The National Post. "He's still like a big kid who has giant toy box and he loves it."
With Tarantino partially to thank for his long career as an actor, you have to imagine Madsen is pretty thankful for the opportunity. He surely does not regret his decision to take the role Tarantino envisioned for him. Like many performers before him, Madsen decided to go blonde. And in the long run, he probably did end up having more fun.