She-Hulk's Sneaker Collection Includes Easter Eggs For X-Men, Fantastic Four, Deadpool & More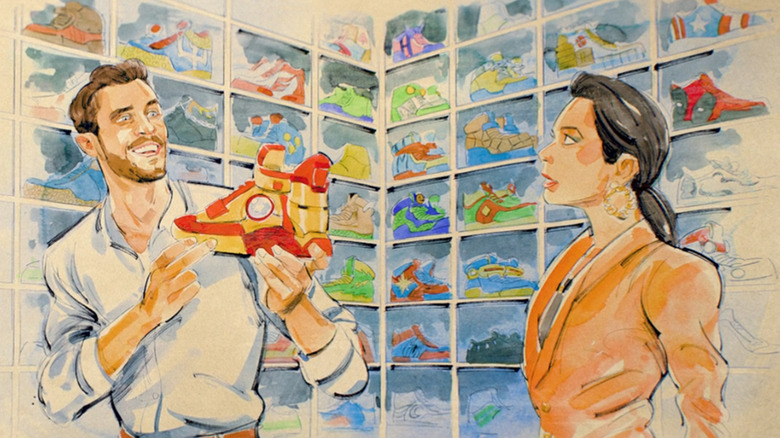 Disney+
"She-Hulk: Attorney at Law" has already featured plenty of nods to (and cameos from) the wider Marvel Cinematic Universe, but this week's episode may just take the cake. During the end credits sequence of episode 5, "She-Hulk" opens the lid on Easter eggs and references over two dozen heroes and villains, including some who have not even made their way into the MCU just yet: key characters from the X-Men, Fantastic Four, and everything in between. This is not the first time the show has referenced fan-favorite characters, but what "She-Hulk" accomplishes is simply unprecedented for the universe it resides in.
In the fifth episode, Augustus 'Pug' Pugliese (Josh Segarra) boasts to Nikki (Ginger Gonzaga) about his extensive shoe collection after he asks for her help standing in line for latest edition of Iron Man sneakers. We don't get to see it before the credits roll, but the end credits include an illustration of Pug's collection that will make any diehard Marvel Comics fan jealous.
A dream shoe collection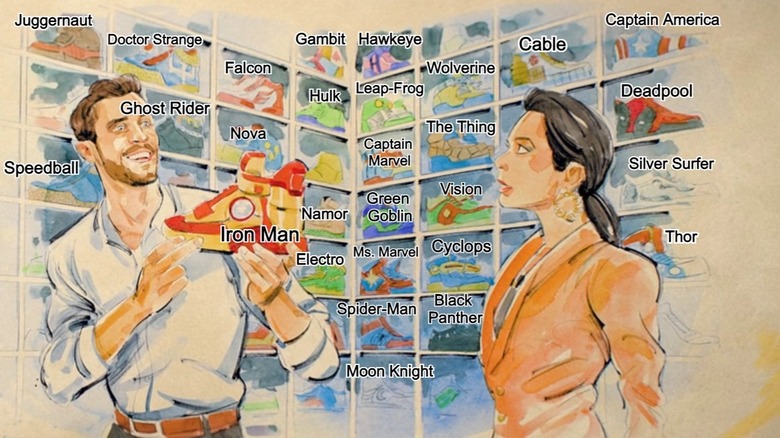 Disney+
As you can see in the image above, Pug's collection includes sneakers based on heroes and villains that we have yet to meet in the MCU, like The Thing and Deadpool, alongside a few familiar costumes. While we've seen more sleek and updated versions of superhero looks throughout the MCU, these shoes go old school and stick to classic costumes from the comics, like Hawkeye's pink and purple outfit. While some of these kicks were challenging to identify, here are all the superhero sneakers we spotted:
Cyclops
Cable
Vision
Namor
Green Goblin
The Thing
Gambit
Deadpool
Doctor Strange
Ghost Rider
Wolverine
Spider-Man
Black Panther
Moon Knight
Captain America
Iron Man
Captain Marvel
Hulk
Speedball
Electro
Hawkeye
Ms. Marvel
Silver Surfer
Thor
Falcon
Nova
Leap-Frog
Juggernaut
This long list of exciting names is probably not a concrete indicator that they are coming to the MCU anytime soon. It should probably be taken at face value as just a neat nod to the source material. Those characters that have not made it to their debut yet, and outside of names like Nova or Deadpool, there is no way to confirm any suspicions.
However, it does seem like the MCU is starting to have a lot of fun with these teases, without worrying too much about messing with MCU canon. I'd argue a credits sequence like this would have Kevin Feige knocking on your door a few years ago, but "She-Hulk: Attorney at Law" freely throws out references to iconic heroes and villains from the comics, even if they aren't established in this universe just yet.
"She-Hulk" episodes 1-5 are now streaming on Disney+.