Decision To Leave Trailer: Tang Wei And Park Hae-Il Play A Romantic Cat And Mouse Game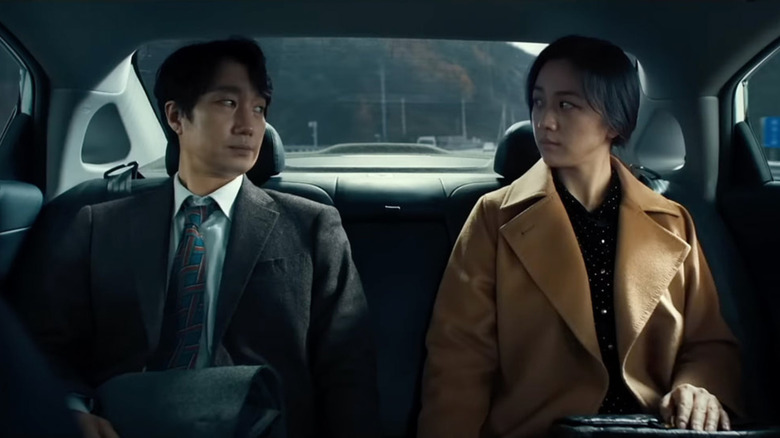 MUBI
After buzzy screenings at Cannes and TIFF, Park Chan-wook's latest film "Decision to Leave" is gearing up for release. And thank goodness that it is, because we are excited to see the tantalizing game teased between the film's two main characters finally come to the screen. Not much is shown in the trailer released by MUBI today, but throughout the seemingly disconnected scenes of dead bodies and oceans, we get our first look at stars Tang Wei and Park Hae-il as their romance both blossoms and falls apart.
The film follows the simmering tensions between police detective Hae-joon (Park) and murder suspect Seo-rae (Wei). Despite her potentially killing her abusive husband, Hae-joon can't help but feel enraptured by her. However, their own desires might also serve as their downfalls as dangerous secrets come to light. In his review out of Cannes, /Film's Rafael Motamayor called the film "a misty detective romance that prioritizes mood, aesthetics, and the psychology of its characters rather than multilayered plots meant for a quick surprise."
Watch the Decision to Leave trailer
Joining Wei and Park in the film are Lee Jung-hyun, Park Yong-woo, Go Kyung-pyo, Jung Yi-seo, Seo Hyun-woo, Park Jeong-min, and Yoo Seung-mok. Park Chan-wook co-wrote the script alongside Jeong Seo-kyeong, who also worked on "Lady Vengeance" and "The Handmaiden." Another one of Park's collaborators, Kim Sang-beom, returns to the editor's chair for his newest film. However, joining the rank of Park collaborators is cinematographer Kim Ji-yong, whose work can be seen in "A Bittersweet Life."
"Decision to Leave" hits American and Canadian theaters on October 14. The U.K. and Ireland will receive the film the following week on October 21. A streaming release for the film has not been announced, but MUBI will have exclusive rights to it in the U.S., Canada, the U.K., Ireland, India, and Turkey. If you're still preparing yourself for the film, read its official synopsis below:
"A man falls from a mountain peak to his death. The detective in charge, Hae-joon, comes to meet with the dead man's wife Seo-rae. Seo-rae does not show any signs of agitation at her husband's death. With her behavior so unlike that of a grieving relative, the police consider her a suspect. Hae-joon interrogates Seo-rae, and while observing her on stakeout, feels himself slowly developing an interest in her. Meanwhile, the difficult to read Seo-rae, despite being suspected of a crime, acts boldly towards Hae-joon. A suspect who is hiding her true feelings. A detective who suspects and desires his suspect. Their decision to leave."