Winston Duke Would Like To Star In His Own Black Panther Spin-Off, Please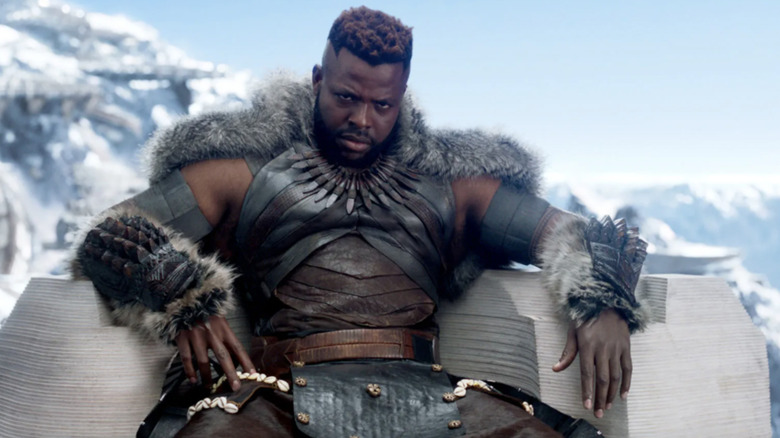 Marvel Studios
"Black Panther: Wakanda Forever" is set to release this coming November, and with it, the end of Phase 4 of the Marvel Cinematic Universe. If the D23 footage is any indication, Ryan Coogler's second outing in the world of Wakanda will be as engaging and epic as the first. "Wakanda Forever" and its larger focus on the royal family and allies of Wakanda allows secondary characters, like Winston Duke's M'Baku, to take more of the spotlight as Wakanda goes to war against Atlantis and Namor (Tenoch Huerta).
The world of Wakanda and its characters lends itself to being explored in other projects outside of the main "Black Panther" title. There are clear intentions for that to be the case, as evidenced by the deal Ryan Coogler inked with Marvel and Disney for future projects revolving around the home of Black Panther. The MCU loves spinning off its characters, and if you ask Winston Duke what he thinks of the idea of M'Baku getting a solo project, the actor is all for it.
Leading man potential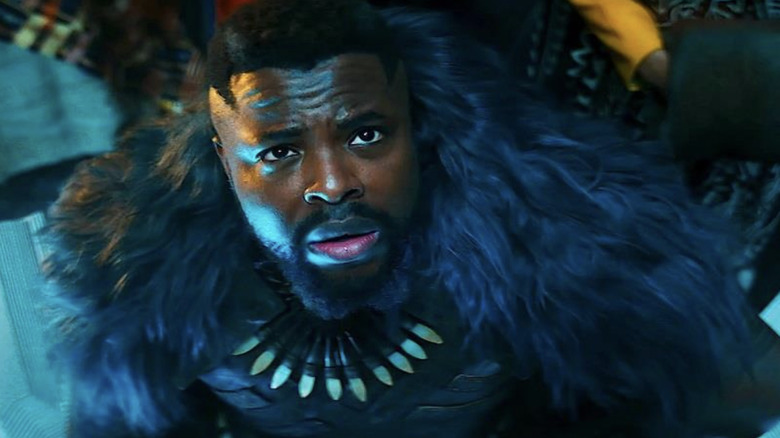 Marvel Studios
In an interview with Collider, Winston Duke was nothing but enthusiastic about the possibility of getting a solo project while also making sure everyone knows what he's discussing is purely hypothetical:
"The Jabari-Lands are such a rich space of culture within Wakanda that it would be really cool to explore that. We're speaking purely hypothetically here. We're just spit-balling and dreaming. You're dreaming with me, my tall friend. I like the idea of what M'Baku would be like, out in the world. That would be pretty cool because he's not a character that we usually see exploring. I think his type of code of honor would be pretty cool to see interact with so many other things."
Winston Duke has shown the ability to carry himself in meatier roles, such as playing one of the leads in Jordan Peele's "Us." However, something potentially preventing a spin-off for M'Baku are various theories that have circulated about who would be the next Black Panther, with M'Baku being one of many candidates.
At this point, it's all but confirmed to be Shuri (Letitia Wright) who takes up the mantle, taking M'Baku out of the running. Thankfully, that leaves room for the character to carry on his journey as his own character, in turn opening up the possibility for a spin-off. 
A rich character history to work with
Marvel Studios
M'Baku was one of many enjoyable supporting characters in the original "Black Panther," developing mutual respect with T'Challa and earning himself a seat on the Wakandan Tribal Council, representing the Jabari Tribe he rules. His crucial role in helping T'Challa (Chadwick Boseman) take the throne back from Killmonger (Michael B. Jordan) and his new relationship with Wakanda could play into the character's development in "Wakanda Forever."
Pairing the rich culture of Wakanda and the Jabari Tribe with Winston Duke's untapped potential and charisma as M'Baku, you have a solo movie or Disney+ series with real promise. Moreover, it's clear from this interview that Duke is passionate about the character and sees the possibilities as well.
Besides being the leader of one of the tribes of Wakanda, M'Baku was also one of the survivors of the blip, providing more material to work with for the character. All that's left now is to see where the character goes in "Wakanda Forever" and whatever fallout the MCU is left to deal with following the events of the film. One thing is for sure, Winston Duke is game for a spin-off.