Kenan Thompson's All That Co-Star Kel Mitchell Spent Most Of The Emmys Hiding Instead Of At Good Burger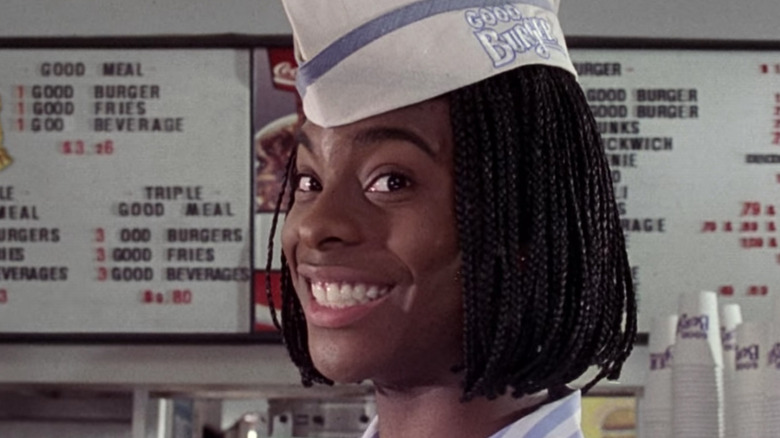 Paramount Pictures
"Good Burger" is one of those movies that only make sense if you saw it as a young kid. The 1997 comedy by Brian Robbins and written by Dan Schneider, Kevin Kopelow and Heath Seifert is based on the comedy sketch of the same name from the show "All That," the Nickelodeon equivalent to all those movies based on "Saturday Night Live" sketches. This is a deeply bizarre movie, not really well made, but nevertheless a weirdly hilarious movie that has garnered a cult following among '90s kids.
That film stars Kenan Thompson as Dexter, a slacker high-school student, and Kel Mitchell as Ed, a cashier at the Good Burger joint. The plot involves Ed and Dexter slowly becoming friends as they try to save the burger joint from closing as the grand opening of the giant new burger restaurant chain across the street is approaching. There are hallucination scenes, breakouts from mental institutions, and a humongous climactic burger.
The movie has gained an almost mythical status in the past few years thanks to years of rumors that their friendship fell apart when Thompson got his job at "SNL" and Mitchell didn't. Though they have dismissed the rumors, it has made any and all appearance by the two comedians together feel like very special occasions.
This includes one of the best bits from this year's 74th Primetime Emmy Awards, where Kenan and Kel reunited once again for a short, but sweet sketch about "Good Burger." 
It was a huge surprise to fans, and a lot went into keeping the surprise a secret, giving the culturally relevant "Good Burger" the Marvel Cinematic Universe treatment, with Mitchell's cameo kept a complete secret.
'I'm a dude, he's a dude, she's a dude, cause we're all dudes'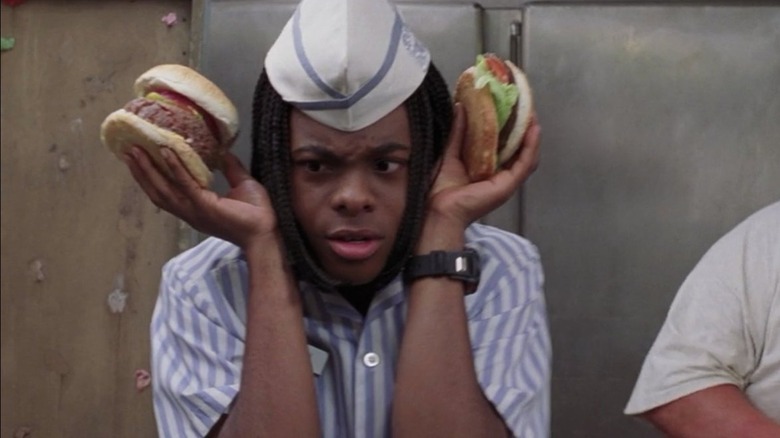 Paramount Pictures
In the sketch, Thompson and "honorary bartender" Kumail Nanjiani asks nominees for food and drink orders, when Thompson approaches a man slumped over the bar. "You know what ... can I get a good burger?" asks the man, who is revealed to be Kel Mitchell himself. Let's make it two good burgers," Thompson responded, as the two hugged and did kung fu moves as the camera cut away.
It was a sweet moment in a low-key, but constantly good night. As for "Good Burger," this is not the first time the duo reunite, having done a similar sketch back in 2015 for "The Tonight Show Starring Jimmy Fallon."
Speaking to The Hollywood Reporter, Mitchell talked about his appearance and how much of a secret it was.
"They had to hide me the whole time while I was here. I was ready to walk the carpet and everything but they were like, 'No, let's hide you.' That way it could be a big moment. But, yeah, man, it was really fun. We knew the audience would like that."
And, once again, for those still thinking the former co-stars hate each other for no reason other than them not starring in projects together all the time, Mitchell continued, "[Kenan's] always awesome. We hang out all the time and call each other all the time, so it's always a great moment for us that we can share with our fans, you know."
So, there you have it. Now go out and grab a good burger, cause we're all dudes.