Watch A 20th Anniversary 'Good Burger' Reunion Sketch With Kenan And Kel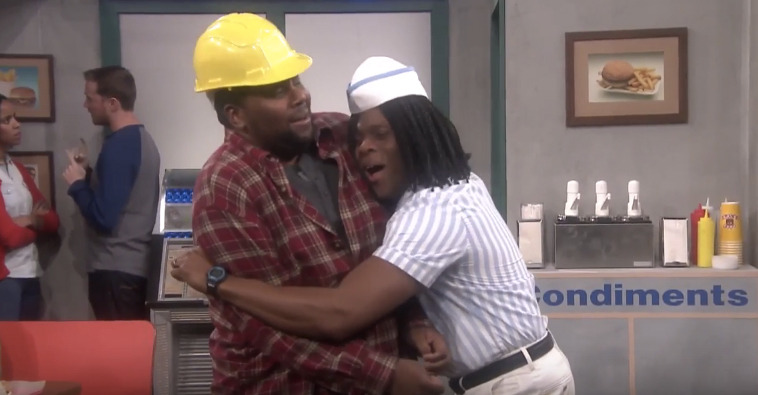 Over the past few weeks, we've heard about a variety of plans by Nickelodeon to cash in on all the nostalgia being felt by children of the 90s for all the programming they used to watch on the kids' cable network. There's been talk of reviving some of the fan favorite Nicktoons in some capacity, a live-action/animated hybrid movie at Paramount and 90s programming block called The Splat coming in October. Yes, nostalgia for a decade that ended just 15 years ago is alive and well.
Now The Tonight Show with Jimmy Fallon wanted to get in on all the 90s fun by having a Good Burger reunion, featuring the return of Kenan Thompson and Kel Mitchell, who originated these exact same characters on the Nickelodeon sketch show All That, which was basically Saturday Night Live for kids.
Here's the Good Burger reunion sketch from The Tonight Show:
And here's a behind the scenes video where they swap characters at the end:
For those who aren't in the know, that's Kel Mitchell as Ed, the dimwitted employee of Good Burger who never gets fired despite his idiocy, and Kenan Thompson as Lester Oaks, a character who recurred in several of the Good Burger sketches from the 90s. This sketch was so popular on All That in the 90s that a feature film called Good Burger was produced in 1997.
This is the first time Kenan and Kel have reunited for something like this since they returned to Nickelodeon 10 years ago in 2005 for the 10th anniversary special of All That in the show's 10th and final season. You can watch the old anniversary sketch and one of the original sketches with Kenan and Kel right here:
For those of you keeping count, that makes All That a 20-year old show, and that makes me feel old as hell. But as a kid who grew up in the early to mid 90s, this was a fun little bit for Jimmy Fallon to do on The Tonight Show and the crowd in the studio went absolutely nuts. It's not enough for me to want Nickelodeon to go all out with a new All That television show, film sequel and a bunch more of inevitable nostalgic cash grabs, but it definitely made me smile.