Clips Round-Up: Justin Long Continues His Thriller Streak With House Of Darkness & More [Exclusive]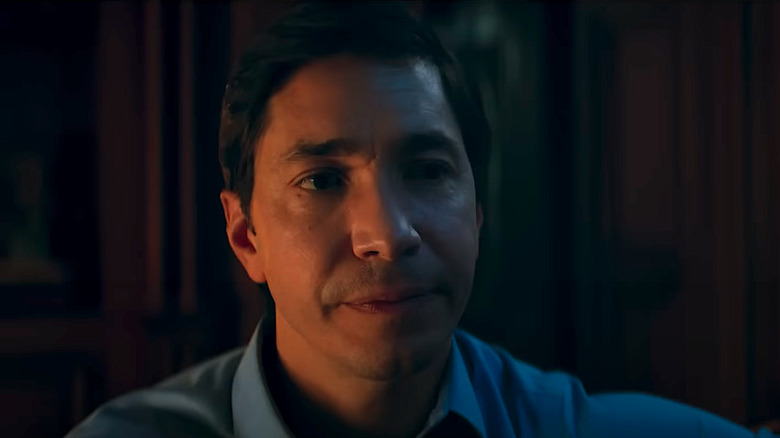 Saban Films
(Welcome to SlashClips, a series where we bring you exclusive clips from hot new Digital, Blu-ray, and theatrical releases you won't see anywhere else!)
In this edition:
House of Darkness
The Amusement Park
Gratitude Revealed
Riotsville, USA
The Bengali
House of Darkness
First up, Saban Films has provided us with an exclusive clip from "House of Darkness," the new thriller starring Justin Long coming off his major success with last weekend's #1 movie "Barbarian." Written and directed by the acclaimed Neil LaBute ("In the Company of Men," "Nurse Betty"), the gothic horror-mystery-comedy co-stars Kate Bosworth, Gia Crovatin, and Lucy Walters. It is now available in theaters, on digital, and on demand.
Here is the official synopsis:
Justin Long and Kate Bosworth star in this seductive thriller from director Neil LaBute ("The Wicker Man"). Driving home to her secluded estate after meeting at a local bar, a player out to score thinks his beautiful, mysterious date will be another casual hook-up. While getting acquainted, their flirtation turns playful, sexy and sinister. Hoping to get lucky, his luck may have just run out.
The Amusement Park
George A. Romero's long-lost 1975 film "The Amusement Park" received an acclaimed theatrical release last year, and is now available on digital as well as DVD and Blu-ray from RLJE Films and Shudder. Over 100 minutes of bonus features accompany the home release, many of which are only available on the DVD and Blu-ray.
Here is the official synopsis:
Recently discovered and restored 46 years after its completion, George A. Romero's "The Amusement Park" stars Lincoln Maazel ("Martin") as an elderly man who finds himself disoriented and increasingly isolated as the pains, tragedies, and humiliations of aging in America are manifested through roller coasters and chaotic crowds. Commissioned by the Lutheran Society, the film is perhaps Romero's wildest and most imaginative movie, an allegory about the nightmarish realities of growing older, and an alluring snapshot of the filmmaker's early artistic capacity and style. The "lost" film was restored in 4K by IndieCollect in New York City.
Gratitude Revealed
Here is an exclusive clip from "Gratitude Revealed," the latest documentary from time-lapse photography pioneer Louie Schwartberg of "Fantastic Fungi" fame. The film is getting a release on September 16, 2022 from Moving Art and Area 23a.
Here is the official synopsis:
"Gratitude Revealed" takes us on a transformational, cinematic experience of how to live a more meaningful life full of gratitude through his intimate conversations with everyday people, thought leaders, and personalities. The documentary reveals that gratitude is a proven pathway back from the disconnection we feel in our lives: disconnection from ourselves, our planet, and each other. Some of the featured interviews are with Norman Lear, Deepak Chopra, Jack Kornfield, and more.
Riotsville, USA
Another intriguing documentary arriving this week is Magnolia Pictures' "Riotsville, USA," about the U.S. military training to combat civil unrest in the 1960s. It opens in theaters this Friday, September 16, 2022.
Here is the official synopsis:
Welcome to Riotsville, USA, a point in American history when the nation's rulers — politicians, bureaucrats, police — were faced with the mounting militancy of the late-1960s, and did everything possible to win the war in the streets. Using training footage of Army-built model towns called "Riotsvilles" where military and police were trained to respond to civil disorder, in addition to nationally broadcast news media, director Sierra Pettengill connects the stagecraft of "law and order" to the real violence of state practice. Recovering an obscured history whose effects have shaped the present in ways both insidious and explosive, "Riotsville, USA" is a poetic and furious reflection on the rebellions of the 1960s–and the machine that worked to destroy them.
The Bengali
Finally, we have yet another documentary in the form of "The Bengali" from award-winning director Kavery Kaul ("Cuban Canvas," "Long Way from Home"). The story spans the big city of Kolkata, the countryside of Bengal, and the streets of New Orleans. It is now playing in the New York metropolitan area and opens in Los Angeles on September 16, 2022.
Here is the official synopsis:
Fatima Shaik embarks upon an unlikely quest when she travels from New Orleans, the city of her birth, to India, home of her grandfather Shaik Mohamed Musa. An African-American writer whose family has lived in Louisiana for four generations, she travels with Kolkata-born American filmmaker Kavery Kaul to a part of India where no African-American (or American) has ever gone. Her search for the past is fraught with uncertainty, as she looks for her grandfather's descendants, the land he claimed to own, and the truth about this legendary figure in her family. Tempered with hope, fear, and unexpected encounters between strangers, "The Bengali" reaches across seemingly insurmountable cultural divides to reclaim timeless themes of family.