You Can Thank David Lynch's Elephant Man For John Hurt's Hilarious Spaceballs Cameo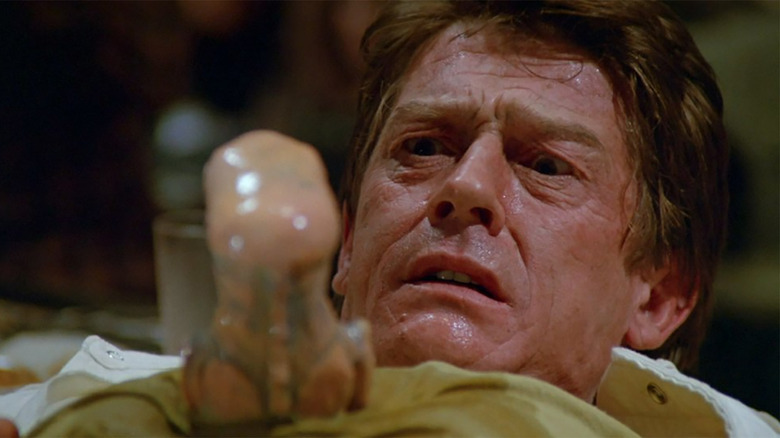 Metro-Goldwyn-Mayer
Mel Brooks is best known for his legendary comedy movies like "Spaceballs," but some are probably unaware that his career also included produced David Lynch's "The Elephant Man." Such a dark, film might feel like a strange choice for Brooks, but the producer actually decided to work with Lynch after seeing his debut feature, "Eraserhead." His collaboration with Lynch was a huge success, and it also introduced Brooks to more than one burgeoning talent in the film industry.
The set of "The Elephant Man" was where Brooks first met John Hurt, who played the film's protagonist. "I first got involved with Mel Brooks through 'The Elephant Man,'" Hurt told The Talks. "Everybody knows now, but they didn't know at the time that he was the producer... he didn't put his name on it, but what a fantastic producer he was." Lynch has also spoken Brooks' praises. "He backed me in ways you can't imagine," the director proclaimed (via Sean Adair).
The 1980 film is a period drama about the deformed historical figure Joseph Merrick, played by Hurt. The actor's performance in the film impressed the Academy enough to earn him an Oscar nomination for Best Actor.
However, when you think of John Hurt, the first role that probably comes to mind is that of Kane in Ridley Scott's 1979 sci-fi horror classic "Alien." In one of the film's most memorable scenes, Hurt famously has a growing xenomorph burst from his chest in front of the rest of the ship's crew. The scene was so famous that Brooks couldn't help but recreate it in his own way in the 1987 "Star Wars" spoof "Spaceballs." as his character in the 1979 movie "Alien." As Brooks recalled in his memoir "All About Me," released in 2021:
"We had our own version of the creature once more burst out of John's chest and he got a great laugh when he said, 'Oh no . . . not again!'"
Brooks kept ringing Hurt up after The Elephant Man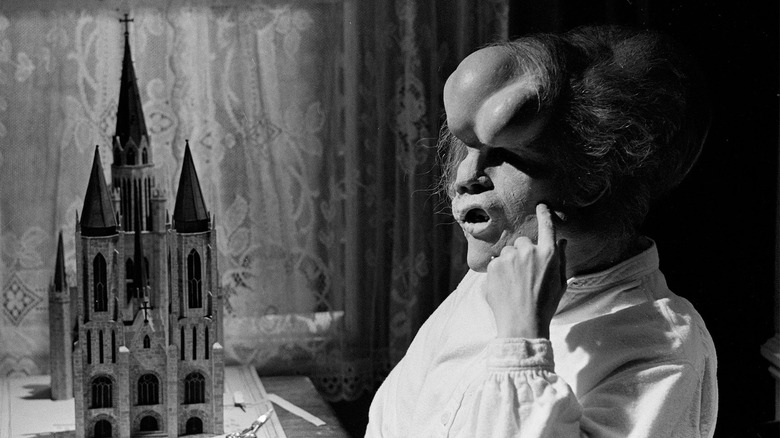 Paramount Pictures
"The Elephant Man" sparked a creative relationship between Brooks and Hurt. Shortly after the pair completed their first collaboration, Brooks invited Hurt to play Jesus in his next comedy. "After that film he kept ringing me up saying, 'I want you to do 'History of the World,'" Hurt recalled. "He said, [with accent] 'C'mon over John, c'mon! We'll put you in a nice hotel, give you a couple of grand.'"
This sounded like a good deal to him at the time, but upon reflection, Hurt regrets not asking for more. "You suddenly find that you're involved in a scene which is worth millions and you're getting $2,000 and a nice hotel — that's it! Very clever, Mel," he recounted. Still, the actor was willing to work with him again years later in "Spaceballs."
Brooks was an "amazing" producer on "The Elephant Man," Hurt said, and his parody films are among the most beloved comedies of all time. So despite feeling a bit shortchanged for "History of the World," the actor agreed to join the incredible ensemble cast of "Spaceballs" under Brooks' direction, and the rest is history. Though Hurt appeared distressed to have an alien burst from his chest yet again, audiences certainly enjoyed seeing it happen for a second time nearly a decade after "Alien" hit theaters.