Francis Ford Coppola Caught Lightning In A Bottle With Marlon Brando's Godfather Screen Test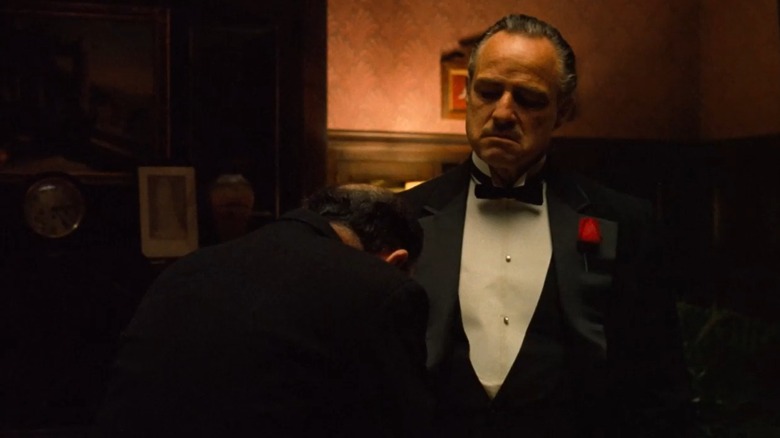 Paramount Pictures
Marlon Brando's performance as Don Vito Corleone in "The Godfather" is one of the best remembered in film history. The part won Brando his second Academy Award for Best Actor (an honor he declined). The film's opening, where Don allows the people of the neighborhood to ask him for favors on the day of his daughter's wedding, is one of those scenes that everybody knows. Even if you've never seen "The Godfather" itself, you've probably seen a homage or parody of that moment.
However, the road to Brando getting the part wasn't an easy one. While he had the support of director Francis Ford Coppola and screenwriter/novel author Mario Puzo, the producers were dead set against casting him. It took a lot of pushback from Coppola, and a screen test from Brando, for the bigwigs of Paramount Pictures to relent.
Why Paramount wanted anybody but Brando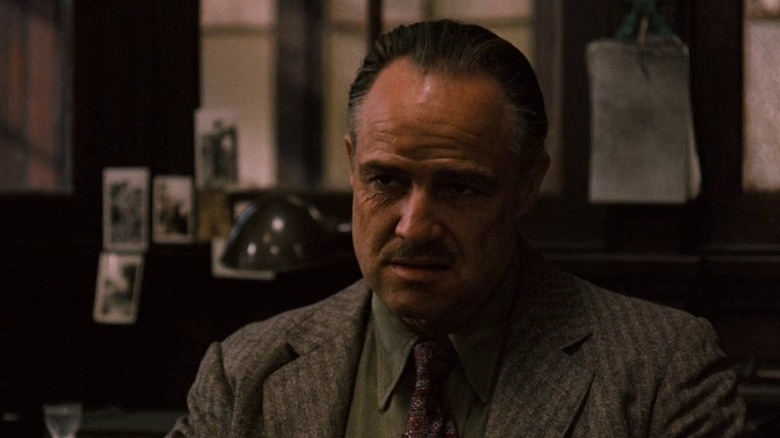 Paramount Pictures
According to Brando biography "Somebody: The Reckless Life and Remarkable Career of Marlon Brando" by Stefan Kanfer, the actor first heard of "The Godfather" in 1970 when Mario Puzo sent him a handwritten letter. According to Puzo, Brando was, "the only actor who can play the Godfather with that quiet force and irony the part requires." Coppola's own notes indicate Brando was his first, if not only choice for the role. As Kanfer documents, Brando's interest was piqued because he saw the movie as a chance to satirize corporate America, "the Mafia is the best example of capitalists we have." With Brando eager to star, why was Paramount so bearish on him?
While Brando's talent was indisputable in the 1970s, he'd also become infamous for prima donna behavior, he was past his physical prime, and he had a string of flops to his name. Executives at Paramount suggested numerous other actors, including Coppola's second pick Sir Laurence Olivier, Ernest Borgnine, and Richard Conte (who would instead play the antagonistic Don Barzini).
It didn't help that Brando wasn't Italian. Robert Evans, head of Paramount, was convinced Italian authenticity was the key to success for "The Godfather." Coppola was hired as director in part because of it (Peter Bart, vice president of creative affairs at Paramount, also thought the young director would be affordable). Brando, however, had been born in Nebraska to a "mostly Irish" family, a far cry from the Italian-born, New York-raised Vito.
When the executives relented to Coppola's wishes, they attached three conditions. First, Brando would work for a reduced salary. Second, the actor would have to put up a $1 million bond to disincentivize him from slowing production down with his antics. And third, he would have to do a screen test.
The screen test that wasn't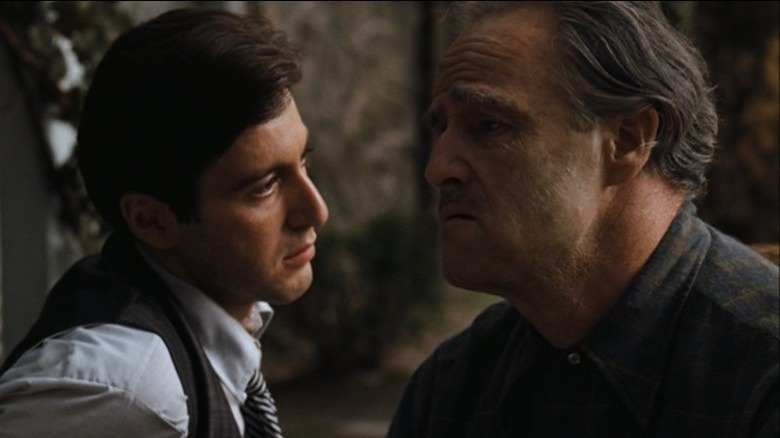 Paramount Pictures
Francis Ford Coppola, knowing Brando would be insulted, staged the screen test in an underhanded way — he didn't even tell Brando what it was. As Kanfer writes, Coppola called up the actor and suggested, "Mr. Brando, don't you think it would be a good idea if we fooled around a little bit, and do a little improvisation for the role, and see what it would be like?" Brando agreed, and the next day Coppola showed up at Brando's home with a small crew and prop selection, including cigars to Italian food. Brando entered the room in a kimono and ponytail then exited as Don Corleone. Kanfer writes:
"He rolled up the ponytail, took some shoe polish, and colored his hair black. On his instructions, a makeup man penciled in a little mustache and darkened the creases around the actor's mouth and eyes. Marlon stuffed facial tissue in his cheeks, wrinkled his collar some more, put on a jacket, lit a cigar, tightened his diction – and turned into Don Corleone. One of the cameramen showed him a playback of the videotape. He was pleased at his bulldog appearance, 'mean-looking, but warm underneath.'"
Coppola arranged a screening of the screen test for Charles Bluhdorn, president of Paramount's parent company Gulf + Western. When Bluhdorn saw the made-up Brando, he signed off. Speaking to Vanity Fair in 2009, Coppola remembered, "Once [Bluhdorn] was sold on the idea, all of the other executives went along." As for Evans, he didn't even recognize Brando in the test footage: "He looks Italian, fine. But who is he?"
Brando's casting may have been a loss for Evans' ego, but it was a victory for "The Godfather" itself.