The Conjuring 2's Original Valak Looked Nothing Like The Nun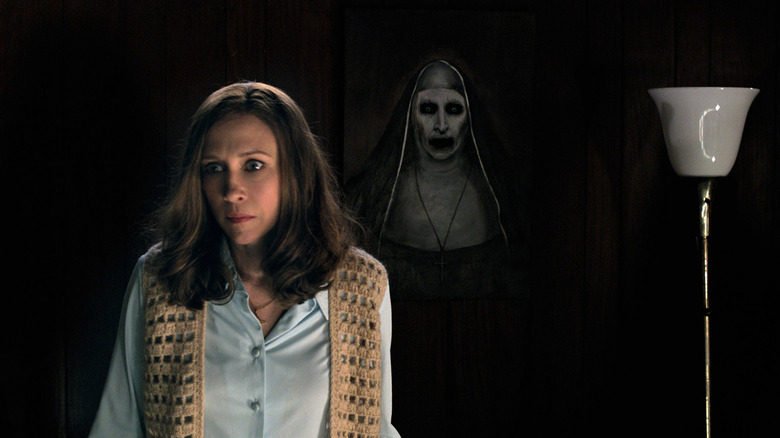 Warner Bros.
James Wan is unquestionably one of our true modern horror masters, as the man behind "Saw," "Insidious," and the shepherd of "The Conjuring" universe. The man has several huge franchises under his belt and, not for nothing, is probably responsible for the most reliable cinematic universe outside of Marvel. One of his biggest hits to date is "The Conjuring 2," a rare sequel that lived up to its predecessor.
Many horror fans remember the follow-up for introducing the demon nun Valak, played by Bonnie Aarons. But Wan's original plans for the movie's big demon were radically different. While the filmmaker had talked about these plans in the past, he's now offered a pretty incredible look at what could have been.
A radical departure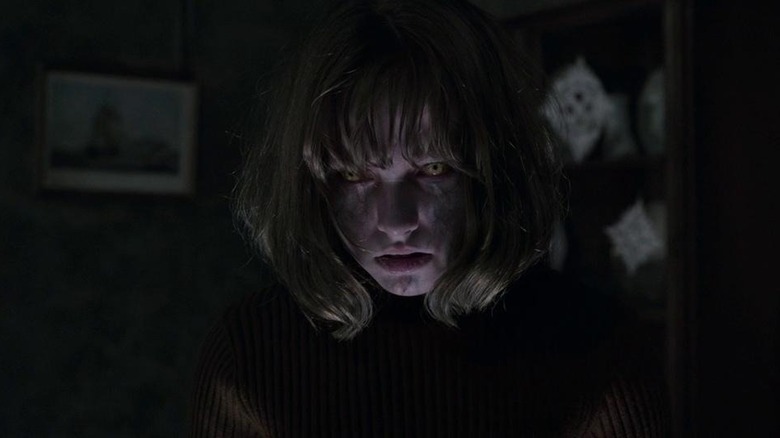 Warner Bros.
Taking to Instagram, presumably on a break from editing "Aquaman and the Lost Kingdom," Wan revealed the actual animatronic puppet/suit that would have been used in "The Conjuring 2" were it not for Valak being used in its place. To say the very least of it, the beast is pretty impressive even before being augmented with CGI to make it look more realistic.
In an era when so much is accomplished with CGI, it's impressive to see a creature brought to life through practical means. It's just a shame the beast didn't make it to screen. That said, Wan previously discussed the original demon and, more importantly, why they decided not to use it in the movie as we know it.
"Aaron Sims (concept designer) and myself took inspiration from our Dracula design for a movie I was attached to a long time ago called Castlevania. Justin Raleigh/Fractured FX built an awesome animatronic suit, and we were going to augment it with CGI wings. But alas, during editing, I deemed this beautifully designed/sculpted horned demon too out of left-field for the film. It needed to be more grounded and personal — something that would take Lorraine's faith and try to test/corrupt it."
A big change for the best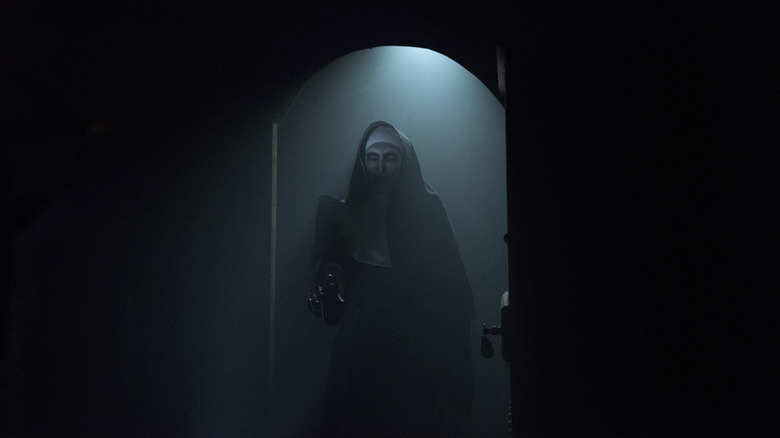 Warner Bros.
It is hard to argue that demon Wan and his crew originally had in mind as it surely would have looked amazing. But his reasoning for taking it out of the film is quite sound, and Wan has proven that he makes decisions that best suit the project at hand. His consistent track record of success suggests that he often makes the right decisions. In this case, it's tough to say he made a bad call.
First off, "The Conjuring 2" was a massive hit, making $310 million at the box office. But aside from that, it paved the way for "The Nun," a spin-off that proved to be an even bigger hit with $363 million worldwide. Amazingly enough, "The Nun" is still the highest-grossing movie in the entire franchise. So, not only did Valak serve this movie well, but it created a very successful spin-off series, with "The Nun 2" on the way in 2023.
But who knows? This universe doesn't appear to be going anywhere, anytime soon. There could be room to use this original demon elsewhere in another spin-off down the road somewhere. "Annabelle 4," maybe that "The Crooked Man" solo film, if it ever happens. The possibilities are endless.