Shazam! Director David F. Sandberg Almost Directed A Completely Different Superhero Movie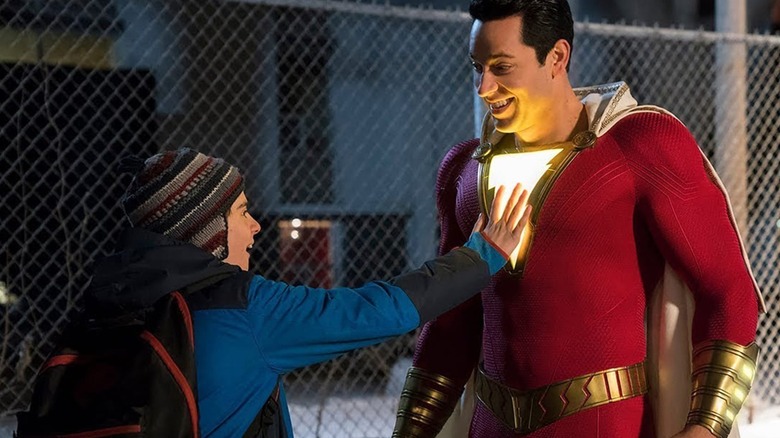 Warner Bros.
One of the most notable aspects of David F. Sandberg's 2019 superhero film "Shazam!" is its sense of wide-eyed wonderment. The title character is a tall, muscular, adult superhero with lightning powers and the ability to fly. In actuality, Shazam is the alter ego of one Billy Batson (Asher Angel), an orphaned teen who, through a complicated set of circumstances, acquired the ability to become a superpowered adult. Much of "Shazam!" is devoted to Billy and his foster brother Freddy (Jack Dylan Grazer) reacting with astonishment to Billy's new superpowers. Indeed, it takes Billy and Freddy the bulk of "Shazam!" to realize that being a superhero involves more strength of character than raw power. 
The film's "little kid" sense of awe is something that is woefully missing from a lot of modern superhero cinema which increasingly skews toward oblique interconnected mythologies and the turgid navel-gazing of Nietzschean overmen. "Shazam!" is light and fun and understands the appeal superheroes have for youths. It's the best superhero movie at least since Sam Raimi's "Spider-Man 2."
Given its fresh-faced innocence and little-kid appeal, it's bizarre to think that Sandberg was once attached to a far stranger and weirder superhero flick. In a recent interview on Instagram, portions of which were transcribed on CBR, Sandberg revealed that he almost took on the alien parasite film "Venom."
Venom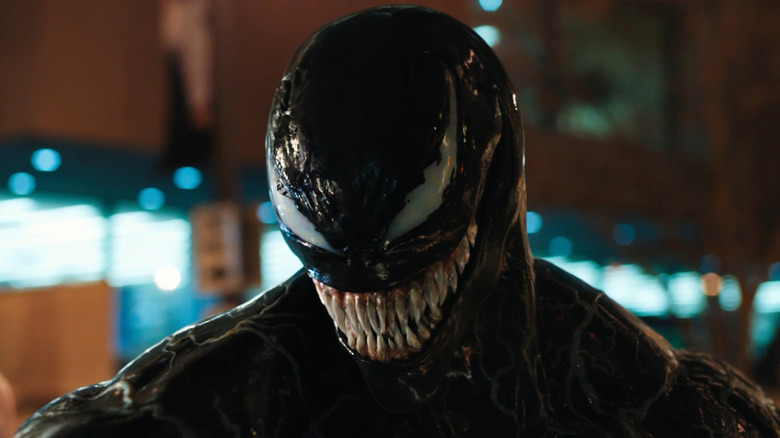 Sony Pictures
For "Spider-Man" fans, Venom is a well-understood and long-established villain who has been giving Spider-Man trouble since his creation in 1988. For outsiders, his origin is incredibly oblique. The story goes — very briefly — that Spider-Man, while visiting an alien world (don't ask), stepped into a machine that wrapped his body in a brand new, all-black Spider costume. It would eventually be revealed that his new outfit was not made of cloth, but was in fact a living, intelligent alien blob that could bond with a host organism and change itself into clothes. The blob ended up seeping too deeply into Spider-Man's brain, necessitating that he painfully separate himself from the symbiote. It then wrapped itself around a man named Eddie Brock, a rival of Peter Parker's, warping into a large, fanged, cannibal version of Spider-Man. Functionally, Venom (as it called itself) is Spider-Man's evil twin. 
Rueben Fleischer's 2018 film "Venom" is comfortably separated from "Spider-Man," and Eddie Brock (Tom Hardy) is merely infected by an alien parasite. When it emerges from his body and wraps itself around Eddie, it looks like a shark made of tar and snot. Venom may have been part of the pop consciousness for 30 years, but it still looks dang ugly.   
Sandberg revealed that he was once offered the chance to direct "Venom" when a fan asked point blank if he had ever been offered anything. Sandberg's answer was brief: "I read the script for and had a meeting about 'Venom' but I was already going down the path of 'Shazam!' and felt that I'd rather do that than pursue 'Venom.'"
It's as simple as that. Sandberg just wanted to do "Shazam!" more.
Their sequels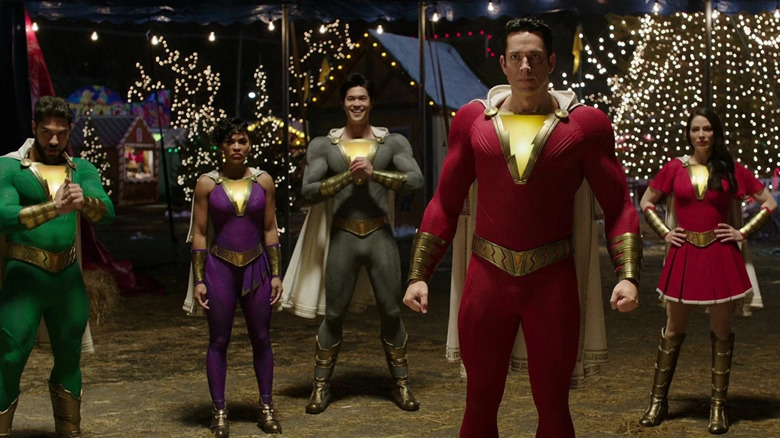 Warner Bros.
Both "Shazam!" and "Venom" have one notable thing in common: they gain power from their own characters and stories and don't rely exclusively on their connection to other films in a franchise. "Venom," at least until a post-credits stinger, doesn't link to other films in any other Marvel Comics film canon, and "Shazam!," in having a few references to Batman and an adorable cameo from Superman, is part of the DCEU. But otherwise, both films are stronger for living in their own worlds. Although tonally very different, both movies are arguably good for the same reason. 
They were also big hits. "Shazam!" made $366 million, and "Venom" made a whopping $856 million. "Venom: Let There Be Carnage," a bonkers, 90-minute trifle, expanded the relationship between Eddie and his symbiote into a straight-up queer romance, while "Shazam! Fury of the Gods" will pit Billy against villains played by Helen Mirren and Lucy Liu. "Fury of the Gods" is due in theaters on March 17, 2023. 
With the "Spider-Man" extended universe in a bizarre place ("Madame Web," anyone?) and the future of the DCEU uncertain, it seems "Venom" and "Shazam!" will remain stalwart in being disconnected. Thank goodness.