The First Five Episodes Were Make-Or-Break For The Sopranos Writers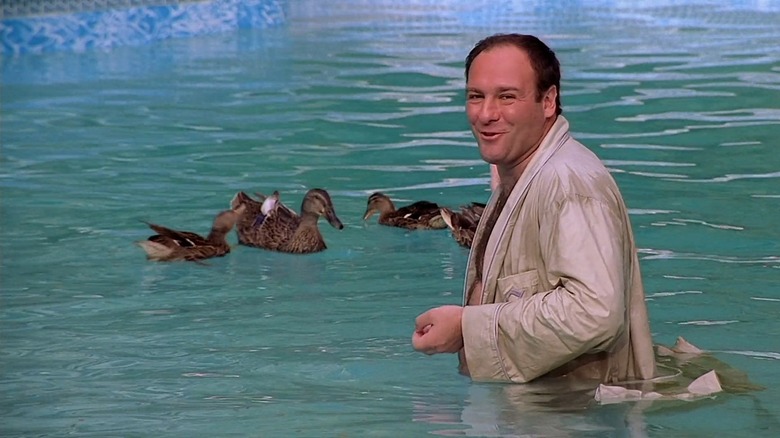 HBO
With credits like "Kolchak: The Night Stalker," "The Rockford Files," and "Northern Exposure," decades of television work gave "The Sopranos" creator and showrunner David Chase a strong sense of what would and wouldn't work for network TV. Tag-teaming with a strong stable of writers, the HBO drama surrounding a New Jersey-based Italian-American mob family took on the shape of an epic text that would appeal to the masses while also commanding critical respect.
In the writers' room, the nuances of New Jersey mob life were meticulously explored in ways that both nodded to and departed from their gangster movie forebears (the show shares over two dozen actors with Martin Scorsese's 1990 crime classic "Goodfellas," for starters). Writers for the show would include Terrence Winter (who would go on to helm "Boardwalk Empire"), cast members like Michael Imperioli, and "Northern Exposure" writers Robin Green and Mitch Burgess, the latter of whom understood what Chase was going for — a crucial part of staying in the writers' room after its fifth episode. 
After the release of "The Many Saints of Newark," Chase told The Hollywood Reporter:
"Two of the writers I knew from prior work, Robin Green and Mitch Burgess, and they really liked the script and they said all the right things; I could tell they understood it. The other people? You just read scripts, agents send in scripts and you read them, and the ones that you like, you meet with the person, and if you hit it off you bring them on. But I did something which I thought was smart, actually: I said, 'We could hire them, but I would like to have an option after episode five to get rid of them if it wasn't working out.' And HBO said, 'OK,' and all those writers agreed to that. So we got rid of like five people."
It's not easy being Number One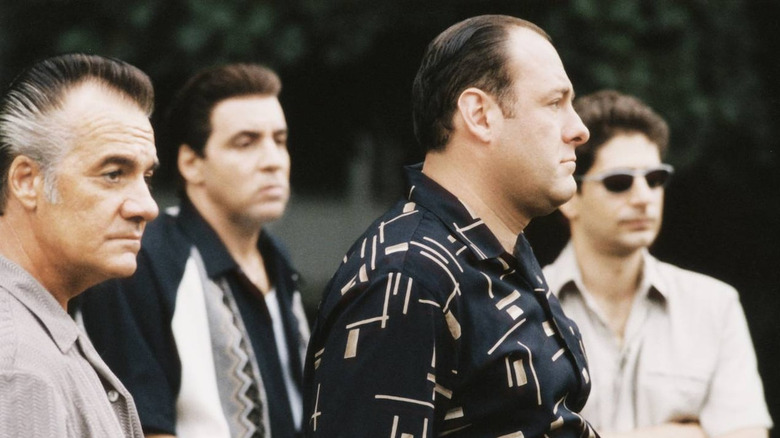 HBO
Similar to fellow HBO darling "The Wire," the first season of "The Sopranos" acts as an enclosed arc but would leave its season finale as open-ended as its infamous series finale. Primary baddies Livia Soprano (Nancy Marchand) and Uncle Junior (Dominic Chianese) are both put out of commission, but new seasons would bring new antagonists, a staple of the show where death always hovers, and its players are forever doomed to look over their shoulder.
Chase would become known for running a tight ship in the writers' room, even beyond the first five episodes (and presumably, he had the writers he wanted). In Brett Martin's book "Difficult Men: Behind the Scenes of a Creative Revolution," Chase's exacting guardianship of the show is speculated to come from decades of studio middling. Fifth-season writer Matthew Weiner is quoted as saying:
"We were exorcizing David's demons. Do you know how many decisions were based on some meeting when he was on 'Northern Exposure,' or 'Rockford,' or 'Kolchak,' or some other show you've never heard of where he worked for three years and somebody told him, 'You can't do that'?"
No-gos for Chase included a ban on walk-and-talk shooting (which delivers information via dialogue as two characters share the frame and walk to their next destination) and a hard rule about camera movement in Tony's therapy scenes. A swift departure was in store for any writer that the showrunner felt was losing their touch, as quickly as a mob hit. 
These were the pressures of working on the number one show in America. Like Tony says of running a criminal empire, "Every decision you make affects every facet of every other f****** thing." Fifteen years beyond "The Sopranos," the show's legacy is an incredible testament to its creator's fastidiousness.