Frank Sinatra Made Guys And Dolls A Slog For Marlon Brando To Film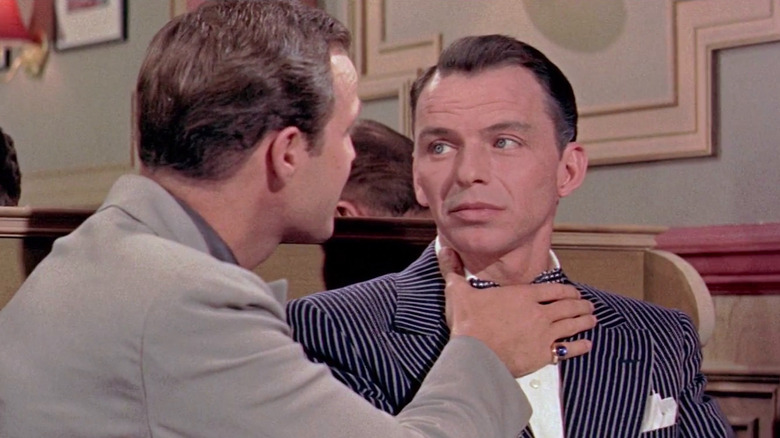 Metro-Goldwyn-Mayer
Marlon Brando was a powerhouse film actor — of that there is no denying. He was also quite admirable for his social activism and standing by his political beliefs, famously sending Indigenous activist and actor Sacheen Littlefeather to refuse his Best Actor Oscar win for "The Godfather" in 1973, citing the poor representation of Native Americans in film and TV.
On the flip side, Brando was known for being at best disruptive, at worst flat-out unprofessional in his conduct on-set later in his career. But you already knew that, correct? Brando's antics are the stuff of legend in their own right. So instead of laying into him yet again, let's talk about the time an actor made Brando's life a slog while shooting a movie
The film was 1955's "Guys and Dolls," a big screen musical based on the hit 1950 Broadway stage show of the same name (itself inspired by Damon Runyon's short stories "Blood Pressure" and "The Idyll of Miss Sarah Brown"). Its plot concerns Nathan Detroit, a seasoned gambler who's pressured by the police into finding a new place to host an illegal craps game. Not having the money to cover the costs, Nathan takes a bet to win the cash from his old pal and fellow gambler Sky Masterson. The deal? Either Sky gets Sarah Brown — a sister at a religious mission dedicated to convincing gamblers to renounce their vices — to go to dinner with him, or he pays up.
"Guys and Dolls" cast Frank Sinatra and Brando to star as, in turn, Nathan and Sky, which read great on paper at the time. However, the duo had far from a fantastic experience working with one another, as Stefan Kanfer detailed in his 2008 book, "Somebody: The Reckless Life and Remarkable Career of Marlon Brando."
'Don't give me any of that Actors Studio s***'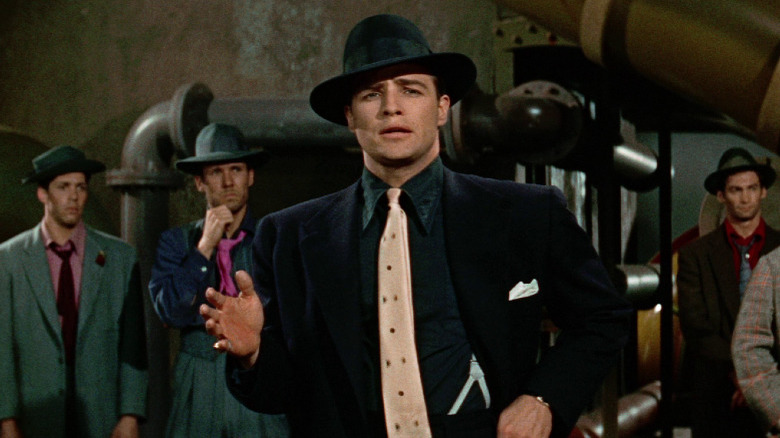 Metro-Goldwyn-Mayer
By the time "Guys and Dolls" went into production, Sinatra was both a global music star and an Oscar-winning actor, having only just won the Academy Award for Best Actor in a Supporting Role for "From Here to Eternity." He had also just lost the role of Terry Malloy to Brando in "On the Waterfront," as director Elia Kazan favored the latter for the part. Hence, when Sinatra lost his preferred role as Sky to Brando in "Guys and Dolls," he took it as an extra insult.
That wasn't the only reason Sinatra didn't care for Brando heading into filming. To quote Kanfer:
[Sinatra] saw in Marlon a figurehead of youthful rebellion, an avatar of all that threatened his career. The wounded swagger notwithstanding, Sinatra was a deeply insecure man in the mid-fifties.
Not helping matters, Brando has studied dance before (a little, anyway) but was a novice when it came to singing. He was told going into "Guys and Dolls" he would get all the extra dancing and singing lessons he needed, but he still approached the role of Sky as he would any other, focusing more on trying to really nail down the essence of the character rather than putting on a great show. It didn't take long for Brando to rub Sinatra the wrong way:
The tone for the film was set on the first day of rehearsals, when Brando was introduced to Sinatra. "Frank," Marlon confided, sotto voce, "I've never done anything like this before, and I was wondering, maybe I could come to your dressing room and we could just run the dialogue together?"

Sinatra was succinct: "Don't give me any of that Actors Studio s***."
Sit down, you're rockin' the boat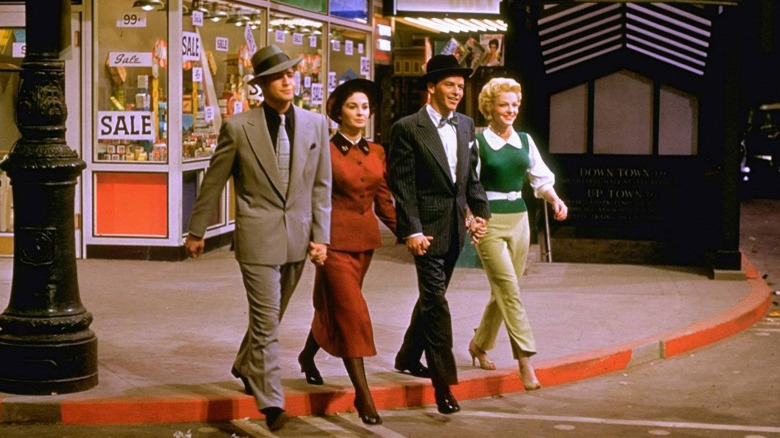 Metro-Goldwyn-Mayer
Things didn't improve from there. Simply put, Brando and Sinatra were the complete opposites of one another as artists, and not in a complementary sense. To quote Kanfer again:
The two men were diametrical opposites: Marlon required multiple takes; Frank detested repeating himself. Marlon repeatedly changed the dialogue. Frank, who had committed hundreds of lyrics to memory, rarely blew a line. Marlon tried to find the essence of Sky Masterson. Many of Frank's intimates were gamblers; he had known Nathan Detroits in New York, Atlantic City, and Las Vegas and needed no research.
On top of all that, Sinatra has starred in far more films at the time and had his own entourage to stroke his ego, whereas Brando was more or less by himself. "Guys and Dolls" director Joseph L. Mankiewicz did his best to keep the peace between the two actors (allowing them to air their grievances with one another to him instead), but it didn't stop Brando from having a harder go of it. When it came time to shoot the movie's big musical number, "Luck Be a Lady," Brando had lost what confidence he had going in and unsuccessfully tried to back out of singing at all.
In contrast to all this, "Guys and Dolls" was quite the success with critics and general audiences. In a 2006 review, Empire Magazine argued the film has very much stood the test of time after overcoming its behind-the-scenes drama. Empire's critic similarly praised Brando for imbuing Sky with what the role needed ("sexy charisma") despite the actor being a "charmingly weedy" singer, and argued Sinatra was equally "great" as Nathan.
Say what you will about Brando, but in this case? He certainly wasn't the singular cause of creative tensions off-screen.