The Superbad Crew Was Resistant To Letting Jonah Hill Play A Young Seth Rogen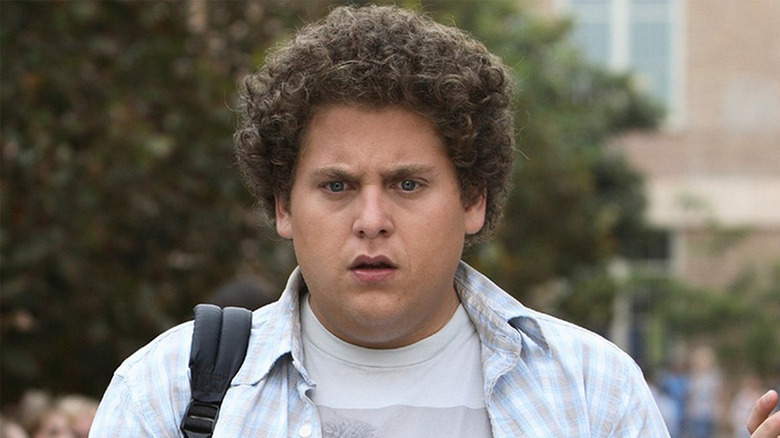 Columbia Pictures/Sony Pictures Releasing
It's hard to imagine "Superbad" without Jonah Hill, but the actor had to fight hard to earn the part of Seth. In fact, director Greg Mottola almost turned him away entirely.
"Superbad" stars Jonah Hill and Michael Cera as two teenagers as they're wrapping up their senior year of high school. The boys are hellbent on losing their virginity before going off to college, and their first and last high school party may be their only chance. Hill's character is based on a teenage version of co-writer Seth Rogen, who also has a minor role in the film as a reckless police officer. But the two had already worked together before. 
Rogen and Hill first got to know each other on the set of Judd Apatow's "The 40-Year-Old Virgin," as the duo recalls. "The day we shot the dancing scene that plays over the end credits, I remember Seth specifically asked to be friends," Hill recalled to Backstage. "It was the first time we'd really worked together," Rogen added. Their budding friendship was slow-going at first. "We exchanged numbers, and I called Seth, and he didn't call me back for six months," Hill revealed. 
The pair would work together again soon in another Judd Apatow production, "Knocked Up." This was where Hill first heard whispers of Rogen and Apatow's next project, "Superbad," which is celebrating its 15th anniversary this year. "We were making 'Knocked Up,' and they couldn't find the lead," Hill recalled to Vanity Fair. According to Apatow, "The problem became there didn't seem to be anybody in the world who was as funny as Michael [Cera]," who was cast as the teenage version of co-writer Evan Goldberg.
When Hill got his hands on the "Superbad" script, he fell in love with the role of Seth. "I just thought it was a great part. I thought it was brilliant," he exclaimed. Hill had the connections and the talent to nab the part. There was just one problem.
Can Jonah Hill play a teen?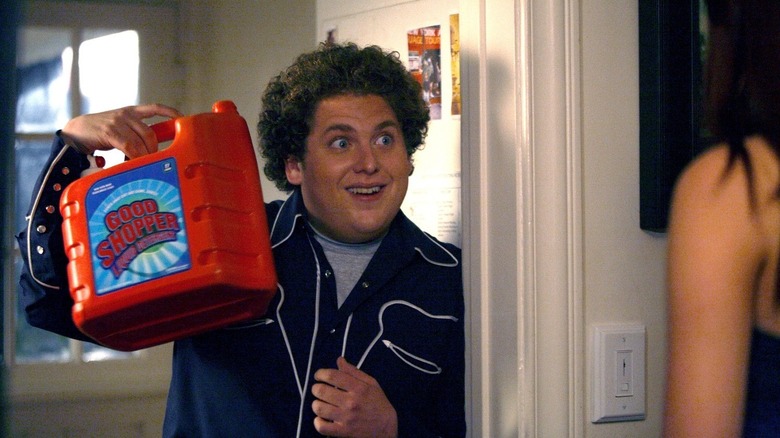 Columbia Pictures/Sony Pictures Releasing
Hill knew all the major players of "Superbad," but that wasn't enough to land him the role. "We all knew Jonah, and knew Jonah was great," Mottola conceded. Still, the director was afraid Hill was too old to pass as a high schooler. "I was like, 'Let's just read people who are closer to the actual age,' because Jonah was in his early 20s," he explained.
But the young actor was persistent. "Jonah was like, 'I should play Seth. I should play Seth. I should play Seth.' And we said no, like, 100 times," co-writer Evan Goldberg recalled. In the end, it was Apatow who caved on Hill's final day of shooting "Knocked Up." The producer recalled, "I said, 'Go shave really well and put yourself on tape reading these two scenes.'"
Hill just needed one chance to prove that he was right for the role. Upon watching Hill's audition, Apatow said, "It was immediately clear that he should've been cast a long time ago, and it was ridiculous that we ever thought there was an option other than him."
Despite being a few years older than his character, Hill brings a youthful delinquency to "Superbad" that has resonated with teenagers since its release in 2007. The movie has a lot of incredible talent on board, but it would not be one of the funniest coming-of-age films ever made if not for Hill's incredible performance as Seth. Fans of "Superbad" have Jonah Hill to thank for badgering the crew — and Judd Apatow, for finally giving in.