The Morning Watch: Creating The RTV For Ghostbusters: Afterlife, Judd Apatow Breaks Down His Movies & More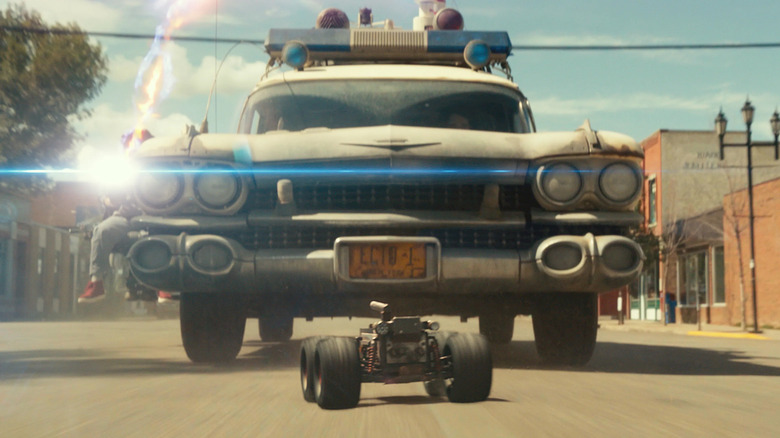 Sony Pictures
(The Morning Watch is a recurring feature that highlights a handful of noteworthy videos from around the web. They could be video essays, fan-made productions, featurettes, short films, hilarious sketches, or just anything that has to do with our favorite movies and TV shows.)
In this edition, we get a behind-the-scenes look at creating one of the pivotal vehicles for "Ghostbusters: Afterlife." Plus, take a look back at the career of Judd Apatow by the filmmaker himself as he breaks down scenes from his movies and TV shows spanning more than 20 years. And finally, "The Flintstones" Christmas gets sent up by the folks at "Robot Chicken."
Creating the RTV for Ghostbusters: Afterlife
First up, last year's "Ghostbusters: Afterlife" was essentially a proper version of "Ghostbusters 3" that many fans had been waiting years to see, taking a "Star Wars: The Force Awakens" approach to bringing the franchise back to the big screen. In this video from the official "Ghostbusters" YouTube channel, we get to see how the RTV ghost trap used in the film came to life, with Ben Eadie, who worked on props and special effects for the movie. It really sheds light on just how much work it takes to bring a big blockbuster like this to life, as this is but one piece of a very large equation.
Director Judd Apatow breaks down scenes from his films
Judd Apatow has been one of the most prominent voices in comedy for more than two decades, so he's got an awful lot on his resume that is worth taking a close look at. The folks at Vanity Fair did just that by having the filmmaker break down some key scenes from his work over the years, ranging from "Freaks and Geeks" to "This is 40" and everything in between, including a scene from his new Netflix movie "The Bubble." It is always nice to get insight like this from the people who crafted beloved works, and this is no exception.
Robot Chicken does a Flintstones Christmas
Lastly, we've got a nice little bite-sized offering from the folks at Adult Swim in the form of a "Robot Chicken" short that takes on "The Flintstones." Specifically, the citizens of Bedrock are celebrating Christmas literally thousands of years before the holiday would have come about, as Jesus Christ wasn't born yet. At times, it's easy to forget just how funny "Robot Chicken" can be and for just how long they've been so damn good at stuff like this, particularly when it comes to working within established properties.