Marvel Consulted With She-Hulk's Tim Roth Before Hiring The Director Of Captain America: New World Order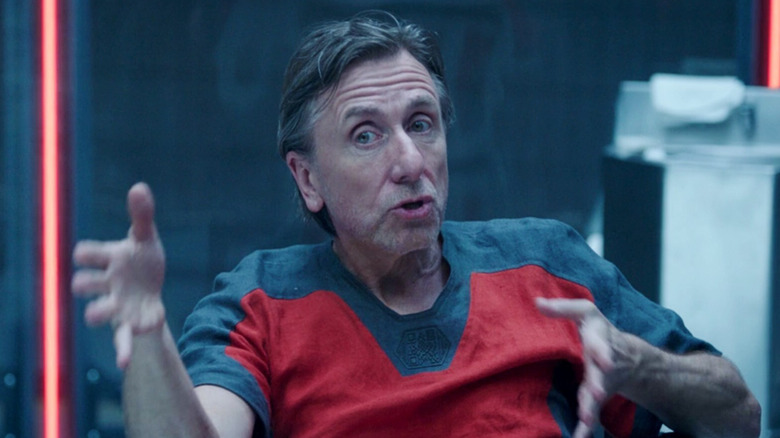 Marvel Studios/Disney+
Odds are, most people know Julius Onah for directing "The Cloverfield Paradox," the third entry in the "Cloverfield" franchise and a film that was infamously surprise-dropped on Netflix right after Super Bowl LII ended in 2018. I seem to be among the rare people who actually kind of liked the movie, though I also won't deny it's clearly an original sci-fi thriller that got messily re-tooled as a "Cloverfield" flick during its development.
If all you know Onah for is his "Cloverfield film, then you might have been a tad confused when Marvel Studios hired him to direct the fourth "Captain America" movie, "Captain America: New World Order." The sequel will pick up with Sam Wilson (Anthony Mackie) at some point after the events of "The Falcon and the Winter Soldier," as the former Falcon continues to settle into his role as the new Star-Spangled Avenger. However, the idea of Marvel entrusting Onah to tell a story about a Black man dealing with the pressure of having to uphold a high standard while navigating prejudice and politics in modern America makes a lot more sense if you're familiar with his most recent directorial effort, "Luce."
Adapted from the play of the same name by J.C. Lee, 2019's "Luce" centers on a well-to-do white couple (played by Naomi Watts and Tim Roth) whose lives are flipped upside down when their teenaged son Luce (Kelvin Harrison Jr.) — who was a child soldier in Eritrea before they adopted him — comes under scrutiny from his teacher (Octavia Spencer) for an essay he wrote. Not only was Onah's mesmeric, nuanced examination of race, tokenism, and identity widely praised by critics, it also led to Marvel consulting Roth directly before hiring Onah to helm "New World Order."
'Julius is incredible'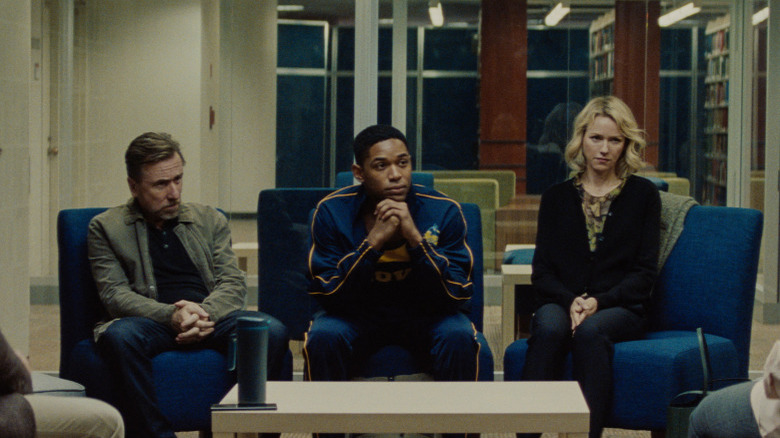 Neon
Roth only recently made his return to the Marvel Cinematic Universe as Emil Blonsky, a role he first played in "The Incredible Hulk" all the way back in 2008. After making a cameo as Blonsky's Hulked-out counterpart, Abomination, in the 2021 MCU film "Shang-Chi and the Legend of the Ten Rings," Roth reprised his role as the character in human form for the "She-Hulk" series.
In an interview with ComicBook.com, Roth took a moment to applaud Onah for his efforts behind the camera on "Luce." He also admitted he hadn't heard Onah was directing the next "Captain America" movie until the outlet told him:
"Oh wow, I love ['Luce']. Okay, let me tell you this. Julius is incredible. He's an extraordinary human being and the story that we told... Again, it was my second time working with Naomi Watts, too. I love her. She's one of the funniest humans you'll ever meet, but Julius is extraordinary and I didn't know that he was doing ['New World Order']."
Roth added that Marvel had reached out to him about Onah before, without specifying what it was about. (CIA-level secrecy in their hiring process? Couldn't be my Marvel.) "They came to me to ask me about him. And I wrote letters and stuff," he explained, adding:
"You know what? They're in safe hands. I'm so pleased, I didn't know. You just told me, I didn't know."
While I don't think anyone expects the next "Captain America" film to have anywhere near the thematic complexity as "Luce," the hope is that with Onah at the helm, the film will prove to be a little more daring and less muddled in its messaging than "The Falcon and the Winter Soldier" ultimately was. "New World Order" opens in theaters on May 3, 2024.