Billy Eichner's Bros Character Was Inspired By A Holly Hunter Rom-Com Classic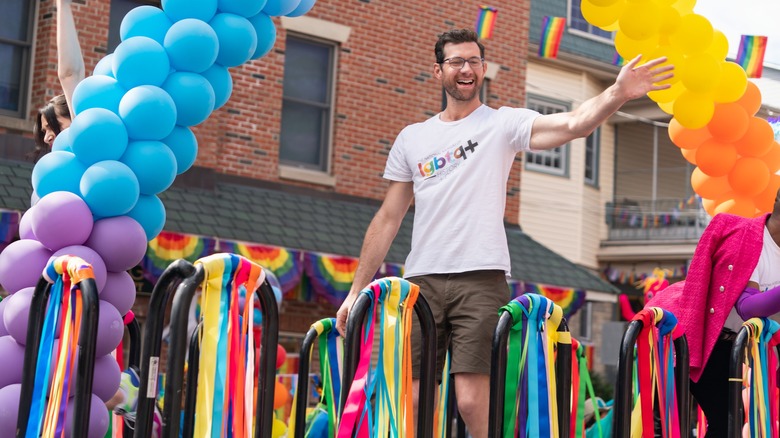 Universal
There isn't a more brutally honest and incisively funny observer of human beings' romantic travails than James L. Brooks. In classic sitcoms like "The Mary Tyler Moore Show," "Rhoda" and "Taxi," he could have us on the floor howling with laughter one second, and break our hearts the next. He later brought this talent to the big-screen with "Terms of Endearment," "Broadcast News" and "As Good as It Gets." His shows and movies are finely wrought and immensely rewatchable. Whenever you're down, Brooks' work is there to give you a lift or a shoulder to cry on.
Unsurprisingly, many of today's most prominent comedy writers cite Brooks as one of their main influences. One such artist is Billy Eichner, the frantically funny creator of the game show "Billy on the Street." Eichner is set to make his debut as a leading man this month in the Nicholas Stoller-directed rom-com "Bros." Judging from the trailer, Eichner appears to have toned down his frazzled persona and turned in a grounded depiction of a proudly single museum curator named Bobby who shocks himself and his friends by falling for a total hunk (Luke Macfarlane). To find his character, Eichner studied one of Brooks' most memorably vexed protagonists.
Vibing on the heartache of Jane Craig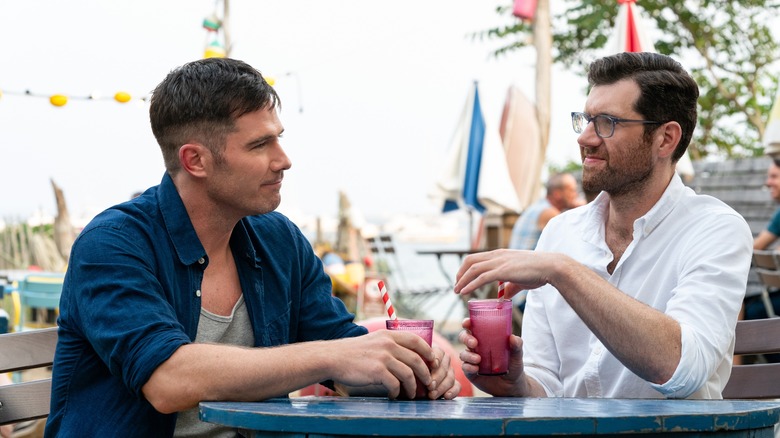 Universal
There isn't a better performance in any of Brooks' movies than Holly Hunter's portrayal of Jane Craig in "Broadcast News." The talented network news producer is on an upward career trajectory, but profoundly unlucky when it comes to dating. Though she preaches the integrity of substantive television news reporting, she passes up her sharp, like-minded co-worker Aaron Altman (Albert Brooks) in favor of the air-headed anchorman Tom Grunick (William Hurt).
As Eichner told Variety's Brett Lang, Jane was the fragile emotional touchstone for Bobby:
"'There's no character in modern films I relate to more than Holly Hunter's, because she's so damn smart, she has all her s*** together, and no one is better at her job. And yet, she falls for the handsome idiot. And that's human, especially if you're a person who doesn't connect romantically to a lot of people. When it does happen, it can really mess you up.'"
How much Broadcast News DNA is in Bros?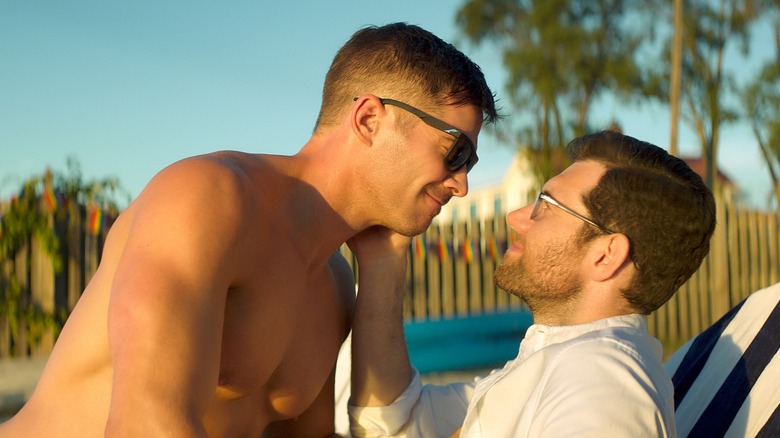 Universal
Will Eichner, who co-wrote the screenplay for "Bros" with Stoller, dare to end his rom-com on the same kind of wistful note Brooks opted for with "Broadcast News"? With Queen's yearningly operatic "Somebody to Love" playing over the trailer, it feels like we're probably in for more of a happy, "Notting Hill" type of finale. But who knows? Eichner is an unknown quantity as a screenwriter. Maybe he's got that bittersweet Brooks thing going for him.
We'll find out when "Bros," which, amazingly, is the first gay rom-com ever made by a major studio, hits theaters on September 30.