Mike Judge Has A Simple Formula For Writing A Good King Of The Hill Script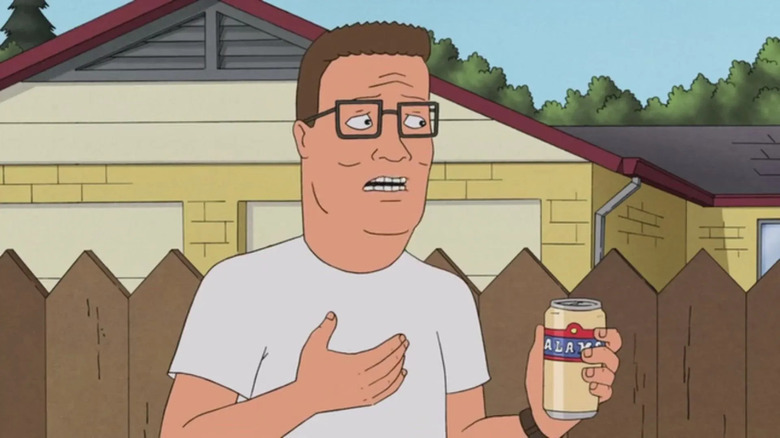 Fox
Now I'm not saying that the absence of "King of the Hill" is what got us in this mess, but since the show ended in 2010, America seems to have lost its collective mind. From Karens to Donalds and all the QAnon in between, what we need right now is for Hank Hill to shed a little light on the absurdity of our present day.
The satirical animated series, which ran from 1997 to 2010, examined a plethora of social issues through the perspective of small-town Texas rednecks. America's favorite propane and propane accessory salesman Hank Hill was at the center of it all, like a well-intentioned Archie Bunker.
Hank was a principled, old-school conservative doing his best to adjust to a changing society. The show's plots would place him in some of the most preposterous situations one could imagine. And he mostly handled it all with dignity. The dignity of, say, Lady Bird Johnson.
And though the formula for the animated series might be simple, it may have meant more to viewers than its creators ever realized.
Even in Texas, Hank was a fish out of water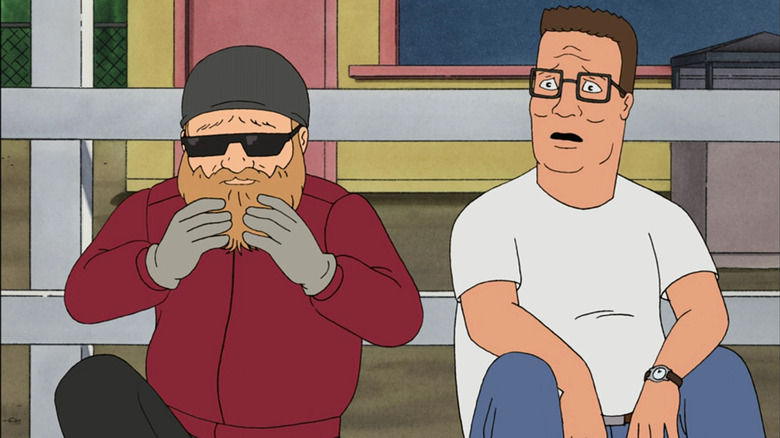 Fox
Mike Judge's "King of the Hill" is like comfort food. When you turn it on, you know exactly what you're going to get, and you know it's going to make you feel good. Like a propane grill that you know is going to light every time and cook evenly.
The show made its fair share of social statements, but to a lesser degree than its animated contemporaries like "South Park" or "Family Guy." Rather than biting satire, Judge used what has worked for live-action sitcoms for decades — the fish-out-of-water trope and observational comedy. Judge explained his simple formula to IGN, saying, "It's usually putting Hank up against something really annoying and ridiculous in the modern world and just making it as annoying and ridiculous as possible."
It helped that Hank was a conservative pragmatist during an era when society began to grow more progressive. In one episode, Hank's affinity for outdated "traditional values" made it difficult to deal with a "new age" parenting style. Judge took what "new age" parenting might normally look like and made it as absurd as possible.
It's a surprisingly simple formula for a show that ran for 13 seasons. But the show also used humor to address complex issues that are often difficult for people to talk about. Although there was nothing groundbreaking about the show's formula, the impact of "King of the Hill" has been extensive.
'The last bipartisan TV comedy'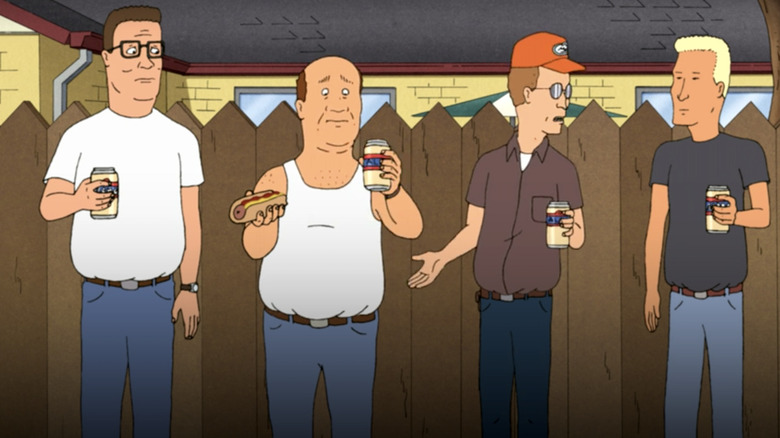 The premise for "King of the Hill" was rooted in reality, inspired by real people surrounding Judge in his north Dallas neighborhood. "I just had this image of just four guys with beers standing out in front of the fence, kind of like I used to see when I'd look out my kitchen window," Judge said. "And I just drew them all saying, 'Yep, yep, yep.'"
Despite Hank Hill's conservative bent, the show mostly stayed away from explicit political messages. The legacy of "King of the Hill" isn't that it avoided politics, but rather that it united viewers amid a rapidly growing political divide. The Atlantic called the show "the last bipartisan TV comedy," noting that its characters emphasized humanity in a changing world. While the situations Hank Hill faced were absurd, his altruistic response to them made the show a comfort for us all.
How would "King of the Hill" play today, where every topic seems to get absorbed into part of a culture war? We might find out. According to ComicBook.com, Mike Judge and "King of the Hill" co-creator Greg Daniels have formed a new animation company, Bandera Entertainment. One of their projects in development is a "King of the Hill" revival. The show is slated to take place 15 years after the original series ended. In response, I think we can all agree in saying, "Yep, yep, yep."