That '70s Show Has Returned To Streaming — On Peacock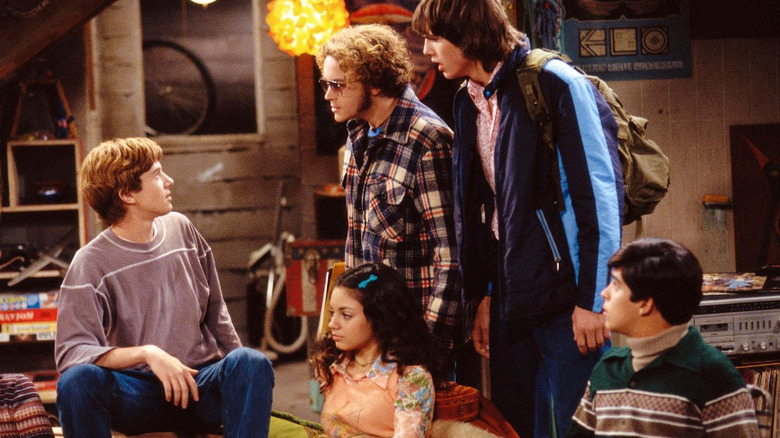 Fox
One of the most beloved sitcoms of the late '90s'/early 2000s (if not of all time) has finally returned to the world of streaming, though it is very arguably not in the most convenient of places. "That '70s Show" used to have a home on Netflix for years, making it easy for millions of people to stream at their convenience. But the show left the service in September of last year. Now? It has found a new home on Peacock, the streaming service headed up by NBCUniversal and, ultimately, owned by Comcast.
As of September 1, 2022, all eight seasons of the show are available to stream on Peacock. The rub is that users of the service's free tier will not have access to Eric Forman and the gang's misadventures in Kenosha, Wisconsin. The show is only available for those who subscribe to the Premium ad-supported plan, or the Premium Plus ad-free plan. The former runs $4.99 per month while the ladder will set you back $9.99 per month.
It's a great get for Peacock, which also plays home to "The Office," another once-popular sitcom that used to perform very well on Netflix. But with the streaming wars being what they are, Netflix has lost a great deal of licensed movies and TV shows that used to offer familiarity to subscribers. From a consumer standpoint, this is somewhat inconvenient as Peacock is trailing up the rear pretty badly in overall subscriber numbers, so it's not nearly as likely the average household already has a premium subscription to the service. But the service is becoming more attractive, as they will be getting new NBC shows instead of Hulu later this month as well.
The inconvenience of modern streaming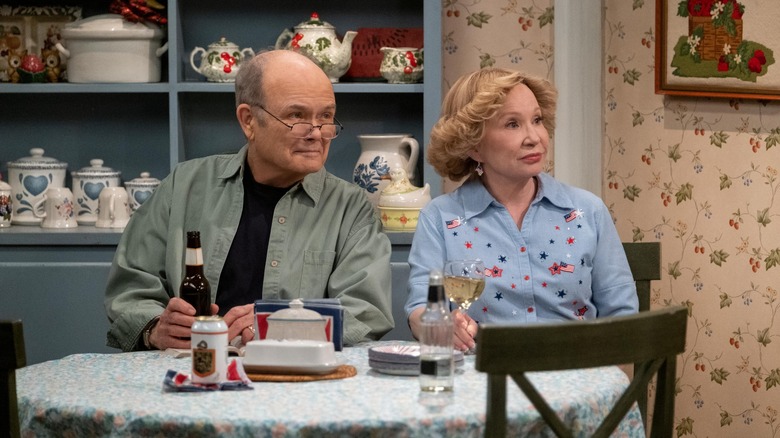 Netflix
The real rub here is that Netflix is actually currently in production on a follow-up to "That '70s Show" with most of the original cast returning. Titled "That '90s Show," the series will pick up roughly 20 years after the events of the original show and will largely be centered on Kurtwood Smith and Debra Jo Rupp as Red and Kitty, Eric's parents. Though Topher Grace (Eric), Laura Prepon (Donna), Wilmer Valderrama (Fez), Mila Kunis (Jackie), and Ashton Kutcher (Kelso) will be reprising their roles as well.
While the spin-off does not currently have a release date it is expected to arrive later this year, if not early 2023. That means, lots of people are going to want to catch up on the original show — all 200 episodes worth — before the Formans return. Yet, to do that now, people will have to be subscribed to a different streaming service altogether. This is becoming increasingly common, with rights split up all over the place. "Yellowstone" streams on Peacock but its spin-offs are on Paramount+. "South Park" is on HBO Max, but the hour-long specials are on Paramount+. It's just the way it goes these days.
There are other ways though. For one, all seasons of "That '70s Show" are available to rent or purchase through digital retailers such as Amazon. The show is also available on DVD for those who are still interested in physical media (which absolutely still has its place).
"That '70s Show" is now streaming on Peacock.