How Domhnall Gleeson And Steve Carell Stayed Sane On The Patient Set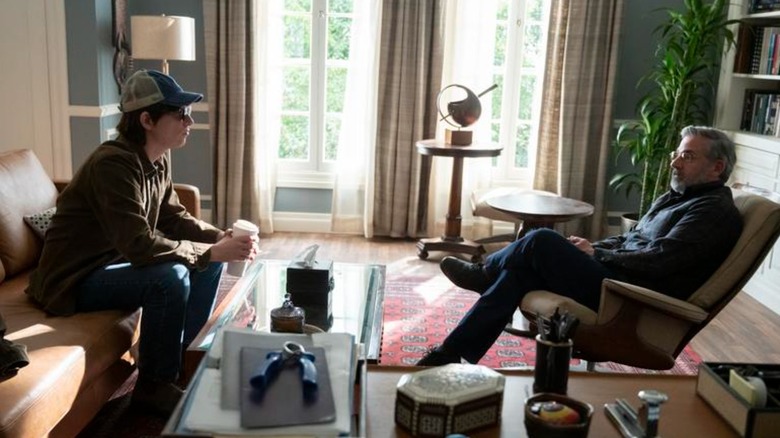 Suzanne Tenner/FX
The new FX on Hulu series "The Patient" has a dead serious premise. In it, a grieving Jewish therapist (Steve Carell) is kidnapped by his homocidal patient (Domhnall Gleeson), who hopes to curb his urge to kill by setting up in-home therapy sessions with the trapped mental health provider. It's a wild idea, and not exactly one that you'd expect to inspire laughs, but the grim series also has some genuinely funny moments. In an interview with Decider, Gleeson shared behind-the-scenes details about the filming of the new series, and explained why it was important to carve out lighter moments on set and in the script.
Gleeson commended series creators Joel Fields and Joe Weisberg ("The Americans") for "working in all the lighter aspects of [serial killer Sam's] character to make him a bigger thing than just one thing all the time." The actor points out that therapy is meant to deal with every part of a person, saying, "It would be bizarre if in a show about therapy you only showed one aspect of a person's character."
To that end, there are moments in which the character does things like rave about the food he loves, or dance to Kenny Chesney songs. "I loved the lighter bits," Gleeson says. "I loved getting to do, like, I think the dance wasn't even scripted. That was just like, what do you do when you listen to Kenny Chesney? I guess you dance."
There was some dancing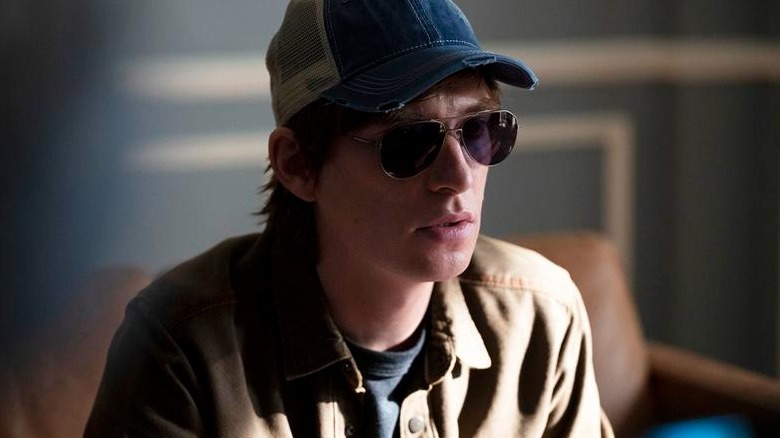 Suzanne Tenner/FX
While the dance episode is yet to come, I can confirm that it's worth the wait. The character's unabashed Chesney fandom is definitely a hilarious facet of his otherwise upsetting approach to life. In the two episodes that have already premiered, Gleeson's great performance has already hinted at some of the absurd idiosyncrasies of his homicidal character, like his oddly long bathroom breaks and a moment when he offers Carell's character, Alan, the watch of a dead man.
Gleeson says that the cast was able to find some light on set, too, which was a respite from the often dark material. "You've got all these lovely people who were also all very funny doing something that for the majority of it ... is serious," he told Decider. "But you cannot live in that for 12 hours a day, you'll just go mad." Carell in particular is best known for his role as insufferable wisecracker Michael Scott on "The Office," and though he's done plenty of great drama before (see: "Little Miss Sunshine," "Beautiful Boy"), this role is especially heavy.
The pair made sure to 'come up for air'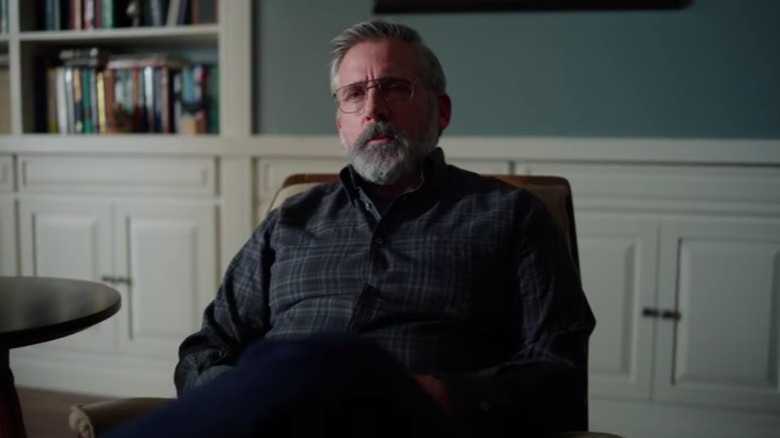 FX
The actor says that the experience likely "wore quite a lot" on Carell, whose character's backstory is revealed throughout the 10-episode series. "He was carrying such a lot and he had to be so still and so contained and had to swallow it down." He also commented on Carell's generous on-set performance, which he says never faltered when the camera was turned to his co-star: "He is right there with you at every second pushing, pulling, getting a better performance out of you" 
But, Gleeson says, the two actors always found time for "coming up for air and keeping it a nice place to go to work," even at the series' darkest moments. The crew, who Gleeson calls "a very happy group of people," apparently helped keep the process positive too. It's great to hear that "The Patient" was a good production experience that included some levity and impromptu Chesney dancing, especially since the film industry seems to be full of people who think actors need to be miserable to cover miserable subject matter.
With eight episodes left, "The Patient" is just getting started, and the limited series' trailer hints at some of the drama to come. The show is the first project Weisberg has made since his critically adored series "The Americans" came to a close in 2018. New episodes of "The Patient" stream Tuesdays on Hulu.