Why John Ford Waited So Long To Bring John Wayne Into The Big Leagues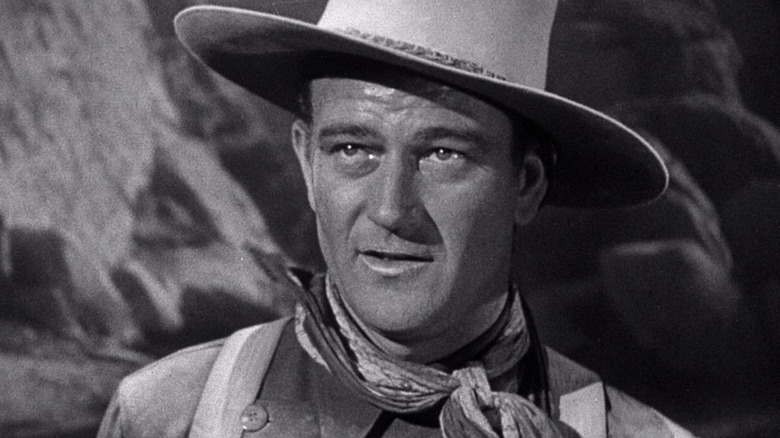 United Artists
For over a decade of John Wayne's early career, the actor was considered too much of a lightweight to register as the two-fisted lead in a Western or war flick. At 6' 4", you'd think he'd be an imposing presence, but put him in front of a camera and that immaculate face would undo him every time. In his 20s, Wayne was a beautiful man. Not handsome. Beautiful. As /Film's own Jacob Hall recently noted on Twitter, Wayne was such a knockout, the ultra-sophisticated Marlene Dietrich carried on a torrid affair with him before he was a star. Look at a random picture of The Duke from the early 1930s, and he'll melt your retinas.
While being too much of a hunk for Marlene Dietrich to pass up is not exactly a problem, if you're trying to launch a career as a rugged man of the West, having a sun-kissed visage won't get you cast as, say, Wyatt Earp. This is why filmmaker John Ford, who'd worked several times with Wayne in the early- to mid-1930s, held off casting him as a leading man until he was 32.
The weathering of John Wayne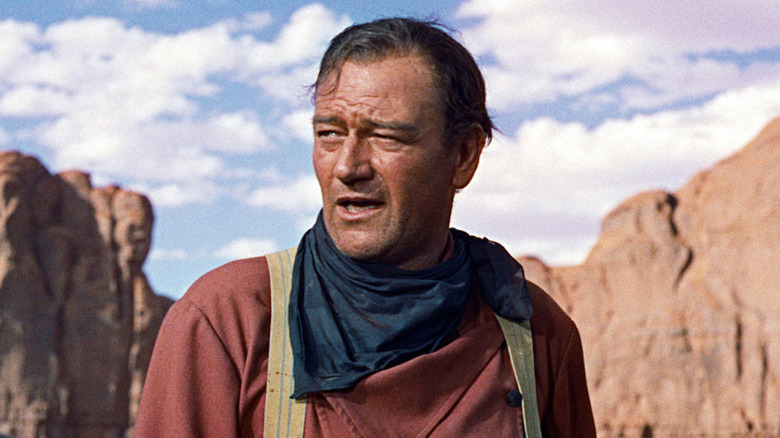 Warner Bros
Wayne's breakthrough role arrived in 1939, when he popped as the fugitive Ringo Kid in Ford's "Stagecoach." He still looks awfully young, but the creases are just beginning to show. According to Ronald L. Davis' "Duke: The Life and Image of John Wayne," when the actor's wife, Pilar, asked Ford why he took so long to make her husband a star, Ford bluntly replied, "Duke wasn't ready. He had to develop his skills as an actor... I wanted some pain written on his face to offset the innocence."
Wayne was far from weathered in 1939, but there was a darkness that hadn't been present in his previous performance. As an outlaw hellbent on avenging the murder of his father and brother, he conveys a palpable fury — that is, when he's not romancing Claire Trevor's disgraced sex worker, Dallas. He's a long way from the meek middle manager of a bank who gets utterly devoured by Barbara Stanwyck in the pre-code classic "Baby Face." He was finally ready. And because he refrained from serving his country during World War II, he subsequently turned himself into one of Hollywood's biggest stars while the likes of James Stewart and Henry Fonda were risking their lives overseas.
So while your mental image of Wayne is probably the world-weary ex-soldier Ethan Edwards in Ford's "The Searchers," keep in mind that The Duke was once deemed too pretty to play a cowboy.