Bones And All: Release Date, Cast, And More For Luca Guadagnino's New Movie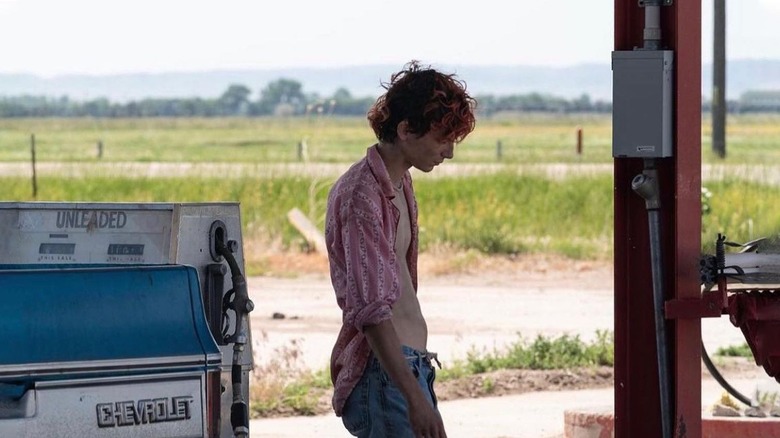 Metro-Goldwyn-Mayer
The story of boy-meets-girl is one that has been told in film throughout its lengthy history. Sometimes, these stories end in a happily ever after, while others end in tragedy. However, it's somewhat uncommon in the grand scheme of cinema that a love story can always have a prevailing sense of tragedy, even in the couple's happiest moments.
"Bones & All," the latest film by acclaimed director Luca Guadagnino, is one such love story. Starring "Waves" breakout Taylor Russell and Guadagnino collaborator Timothée Chalamet, this love story is about to have its world premiere at the Venice International Film Festival. However, we won't be waiting too long for it to be released to the public. Here is what you need to know about this buzzy romance with a uniquely tragic twist.
Bones & All release date and where you can watch it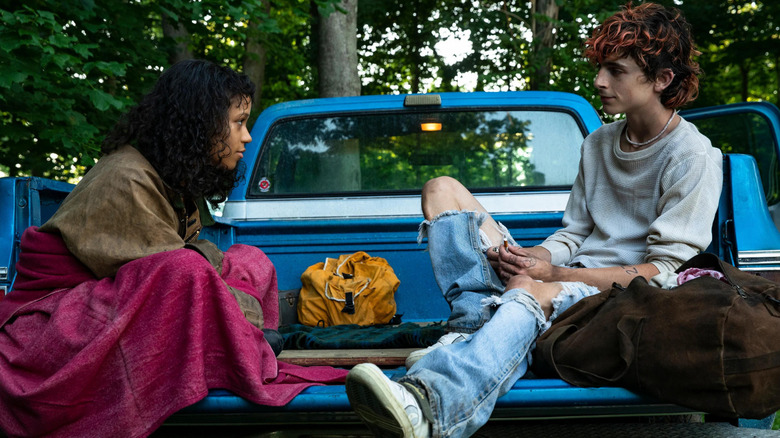 Metro-Goldwyn-Mayer
Unlike his most recently released project, the 2020 HBO miniseries "We Are Who We Are," you won't be able to catch "Bones & All" on streaming. The film will receive a theatrical run on November 23, 2022, via MGM and United Artists Releasing in the United States. Warner Bros. will handle the film's international distribution rights in all regions except for Guadagnino's home of Italy – Vision Distribution will distribute the film there. However, if you can't wait much longer for the film, it will screen at Fantastic Fest and the New York Film Festival after its world premiere on September 2 in Venice.
November 23 is an interesting date, as it is right in the middle of the typical fall and winter awards season release schedule. Given its appearances on the festival circuit and the director's previous awards success (his 2017 effort "Call Me By Your Name" earned Guadagnino his first Best Picture nomination), MGM might be priming "Bones & All" for an unconventional campaign. Unconventional, how, you may ask? Well, take a gander at its plot.
What is Bones & All about?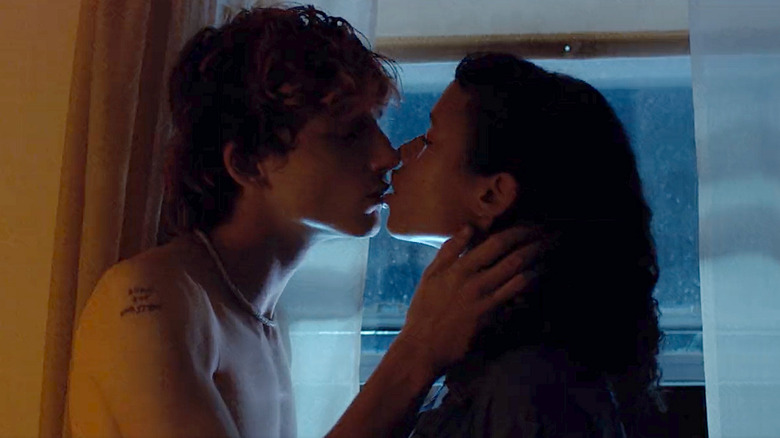 Metro-Goldwyn-Mayer
While this film is unequivocally a love story, it's one that won't be for the faint of heart. Adapted from the novel of the same name by Camille DeAngelis, it follows a young woman named Maren, who has been abandoned by her father due to her deadly condition; when she feels like she is getting close to someone, she develops the uncontrollable urge to cannibalize them. In order to find closure, she travels around the United States in the 1980s in an attempt to relocate her mother, who similarly left her as a child.
However, this trip takes an unexpected turn when she meets a charismatic drifter named Lee. He understands Maren more than anyone else has before, as he has the same cannibalistic desires as her. When Lee decides to tag along on her trip, the two's bond deepens, a feeling that could doom them and anyone they come across.
The cast and crew of Bones & All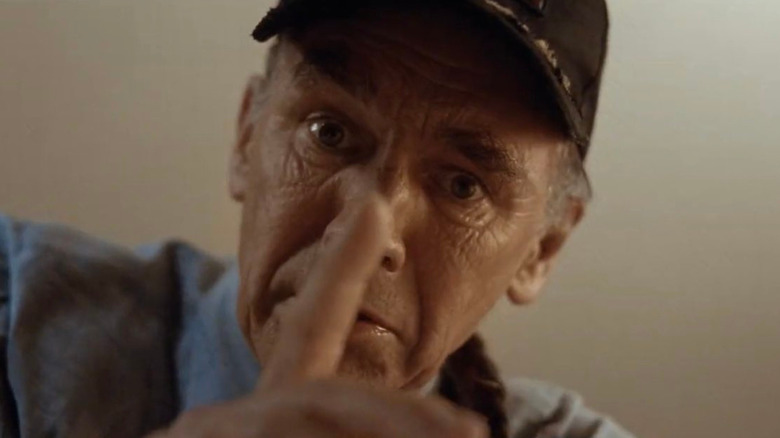 Metro-Goldwyn-Mayer
With an intense story like that, you're going to have to bring in some powerful actors, as well. Thankfully, Guadagnino did just that. Russell will play Maren, while Chalamet will portray Lee. Deadline recently revealed that Mark Rylance will play Sully, a critical character with similar cannibalistic urges, and that André Holland will play Maren's currently unnamed father.
Michael Stuhlbarg, Jessica Harper, Chloë Sevigny, David Gordon Green, Anna Cobb, Francesca Scorsese, and Jake Horowitz will also appear in the film. Harper worked with Guadagnino back in 2018 for his "Suspiria" remake, while both Sevigny and Scorsese appeared on "We Are Who We Are."
Joining Guadagnino on the crew side is screenwriter David Kajganich, who contributed the script to his 2015 film "A Bigger Splash." Arseni Khachaturan worked as cinematographer for the film, and Marco Costa marks his fourth time working with the director in the editor's chair. Multiple Oscar-winning duo Trent Reznor and Atticus Ross will also provide the film's score.