Bones And All Teaser: Timothée Chalamet And Luca Guadagnino Reunite For A Coming-Of-Age Horror Film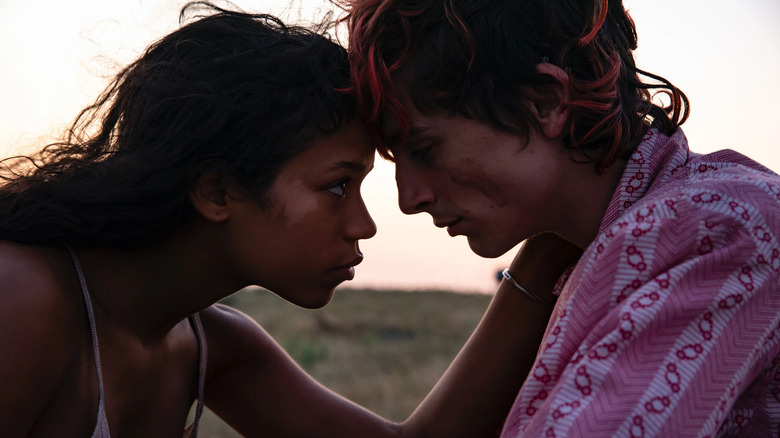 Metro-Goldwyn-Mayer
Our first look at the latest Luca Guadagnino just dropped! The Italian filmmaker is heading back to the Venice Film Festival with the world premiere of his much-anticipated cannibal road trip movie, "Bones And All." Based on the novel of the same name by Camille DeAngelis, the coming-of-age romance follows cannibal lovers Maren (Taylor Russell) and Lee (Timothée Chalamet) as they make their way across America using back roads and hidden passageways.
Wonderfully, the upcoming film marks the first reunion of Guadagnino with Chalamet, since the director's 2017 Oscar-nominated movie launched Chalamet into the Hollywood stratosphere. Prior to "Bones And All," fans thought the two might find their way back to one another to follow up on the story of Elio and Oliver, but dreams of a "Call Me By Your Name" sequel have since been dashed (for obvious reasons). But nothing could stop Guadagnino from reuniting with the star on an entirely new project!
The director has previously said in a statement that this was a role "only Timothée" could play and it was "serendipity" that they were both based in Rome during the COVID-19 lockdowns. So naturally, it only makes sense that Chalamet is the one to give us our first glimpse at the upcoming film. After a series of very weird cryptic tweets with mildly distributing captions like "soft bones" and "boney bones," Chalamet dropped a teaser on Twitter.
Watch the Bones And All teaser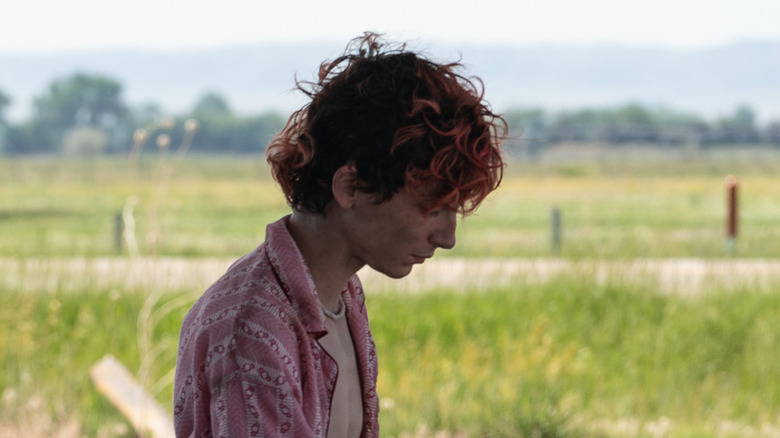 Metro-Goldwyn-Mayer
It seems awfully brave of these two to embark on a press tour that will involve frequent discussions of cannibalism but if you thought the duo behind the infamous peach scene were going to shy away from awkwardness, then maybe you need to revisit that particular forbidden fruit. This time around, Chalamet is sinking his teeth into something bloody as an "intense drifter" with a very specific appetite. Intense is an apt way to describe any Chalamet character and "Bones And All" looks especially poised to deliver on that promise.
LUCA GUADAGNINO'S BONES AND ALL 🩸🩸🩸 pic.twitter.com/Q1ErygQvGF

— Timothée Chalamet (@RealChalamet) August 10, 2022
Our first look at the film opens with chilling vibes as Lee poses a clearly complicated question to his lover. "You don't think I'm a bad person?" Her response s somewhere between sweet and concerning: "All I think is that I love you." Ah yes, all the makings of a healthy relationship. If you're looking for more of those glorious red flags, then check out the synopsis:
'Bones & All' is a story of first love between Maren (Russell), a young woman learning how to survive on the margins of society, and Lee (Chalamet), an intense and disenfranchised drifter, as they meet and join together for a thousand-mile odyssey which takes them through the back roads, hidden passages, and trap doors of Ronald Reagan's America. But despite their best efforts, all roads lead back to their terrifying pasts and to a final stand which will determine whether their love can survive their otherness."
Along with Russell and Chalamet, "Bones And All" also stars Michael Stuhlbarg, André Holland, Chloë Sevigny, David Gordon-Green, Jessica Harper, Jake Horowitz, and Mark Rylance. The screenplay comes from Guadagnino's previous collaborator, David Kajganich, who previously wrote "Suspiria" and "A Bigger Splash."
After the lucky folks at VFF catch the film in August, "Bones And All" will debut in theaters on November 23, 2022.