The Original Pitch For Curb Your Enthusiasm Didn't Do Much For Larry David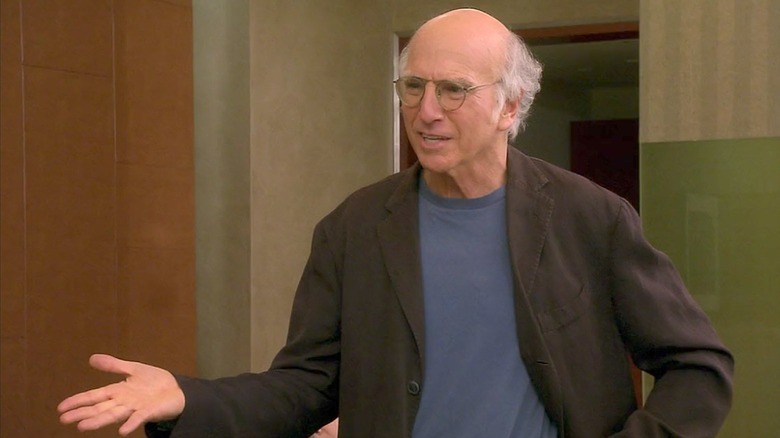 HBO
"Curb Your Enthusiasm" may be one of television's longest-running sitcoms, but Larry David originally just intended the show's de facto pilot, an hour-long HBO special, as a joke about his return to stand-up comedy. Structured as a mockumentary, "Larry David: Curb Your Enthusiasm" followed a similar metanarrative as season 4 of "Seinfeld" (the one in which George tries to sell his concept of "a show about nothing" to NBC) and traced Larry's attempts at creating a — you guessed it — an hour-long special for HBO.
David himself wasn't too enthused about the idea of a documentary crew tracking his stand-up career, but the format inspired the look and feel of "Curb." It turns out the material that stuck wasn't actually Larry's stand-up career, but the fictionalized plot structured around the behind-the-scenes component. Rather than his stage performance, Larry's day-to-day life turned out to be what inspired "Curb Your Enthusiasm" as an entire television show.
A prett-ay good concept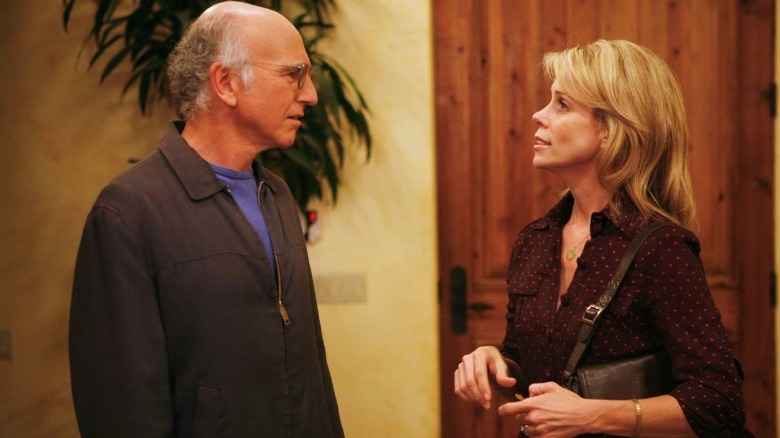 HBO
Larry David wasn't exactly struggling in his post-"Seinfeld" life and career. His film, "Sour Grapes," was critically panned (even David himself has admitted he doesn't care for it), but he still wasn't creatively exhausted and he attempted another go at stand-up comedy for the first time in ten years. According to James Andrew Miller's podcast "Origins," as told by THR, it was David's "Curb" co-star Jeff Garlin who originally suggested filming his stand-up as a documentary. However, David seemed uncomfortable about the idea of "cameras in there, following" him around.
Instead, the special turned into a fictionalized account of Larry's life and career. It's this aspect that David became more interested in, as former president and chairman of HBO Chris Albrecht explained in the podcast:
"Originally Larry was going to do one-third the making of and half to two-thirds the stand-up act. As he started to get into it and started to shoot the making of, that was really the connection he made. What ended up happening was that the making of became the dominant thrust of it. Not surprisingly, the first part was funnier than the second part because what Larry really was was somebody who had learned to take his point of view and translate it through a dramatized version of characters."
Though he dropped the mockumentary style, David kept the style of handheld, low-budget camerawork (at least until around season 9, after a six-year hiatus) and, most importantly, the "day-in-a-life" approach that became the basis for "Curb Your Enthusiasm" when the show premiered in October 2000.