The Best TV Shows And Movies Leaving Hulu In September 2022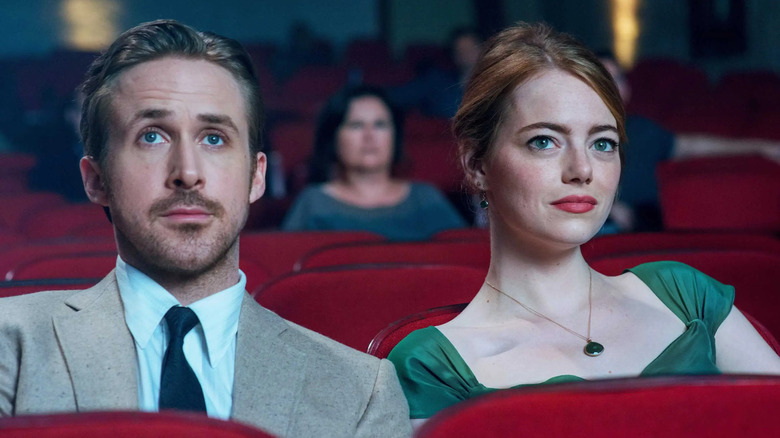 Lionsgate
It's that time again. Although Hulu will be adding a plethora of TV shows and movies in September, a good chunk of their extensive library will cease to exist on the streaming platform. Hulu is home to a healthy number of films and television shows in a wide array of genres and generations, but every month (due to some complicated licensing rights), the streamer loses a long list of titles that either never make it back to the platform, or take months/years to return. Thankfully, we keep track of what is departing Hulu on a monthly basis, and it's a doozy for September. From genre-defining films to cult classics, there are some absolute gems leaving Hulu this month. 
We've hand-selected five films from the expiring section of Hulu's library that are worth catching up with before they are gone forever (unless you have the physical copy, another streaming subscription, own it digitally, etc.). 
La La Land (2016)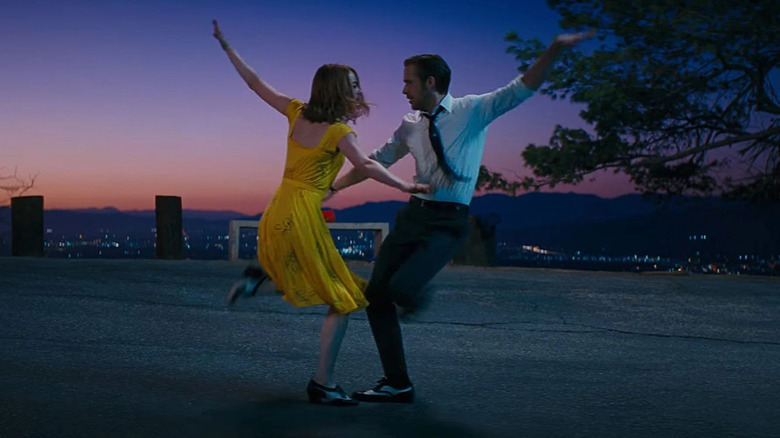 Lionsgate
Damien Chazelle's follow-up to the Oscar-winning "Whiplash" is nothing short of spectacular. Starring Emma Stone and Ryan Gosling, "La La Land" is a romantic musical that follows an actress and a pianist as they navigate the cut-throat world of Los Angeles. A love letter to the city and its quirks, the film boasts incredibly catchy songs and stellar dance choreography. It's also epic in scope and scale, with Chazelle at the top of his game behind the camera (he's the youngest Best Director winner in Academy Award history for a reason). As someone who is not the biggest fan of musicals, there is something magnetic about "La La Land" that makes it a must-watch for any movie lover. 
Missing the chance to see it on Hulu (even if it's a rewatch) would be a crime almost as bad as removing it from the streaming platform itself.
Prisoners (2013)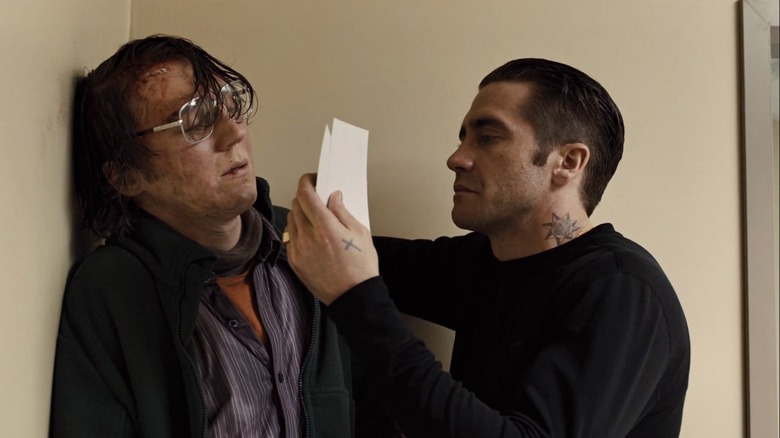 Warner Bros. Pictures
Before tackling aliens and war-torn desert planets, Denis Villeneuve directed a masterful entry in the thriller genre with "Prisoners." Boasting a star-studded ensemble cast, the story revolves around the search for two abducted girls in Pennsylvania and a father's relentless search for the suspected kidnapper. Hugh Jackman gives one of his best performances as a desperate parent using any means necessary to rescue his child, while Jake Gyllenhaal plays a police detective tasked with finding the children. The film will have you at the edge of your seat until the very last frame, which is beautifully composed by cinematographer Roger Deakins. It's not an easy watch by any means, but if there is any desire to catch up on the decade's best mystery thriller, the time to do it is now (at least on Hulu, anyway).
Prometheus (2012)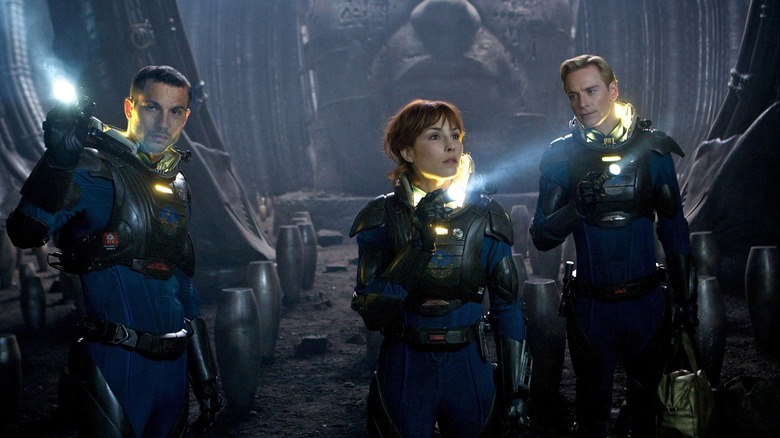 20th Century Studios
Ridley Scott's long-awaited return to the "Alien" universe may not be one of his most beloved efforts, but "Prometheus" serves as a unique entry in an otherwise formulaic franchise. The film follows Elizabeth Shaw (Noomi Rapace) and a ragtag group of individuals on an expedition to a distant moon in search of an alien culture. They are accompanied by an android named David, played by Michael Fassbender, who becomes aware of his superior intelligence to his surrounding humans. Albeit a slow burn, "Prometheus" revitalizes the horror factor of "Alien" with an expansive story that spans centuries and several alien races. If anything, watch it for the intensely committed performance from Fassbender that elevates every scene he is in.
While it's a prequel to the first film, "Prometheus" separates itself by growing out of its own mythology that is even richer than everything that came before it. Catch it on Hulu before it gets sucked into space, where we can't hear its screams.
Van Helsing (2004)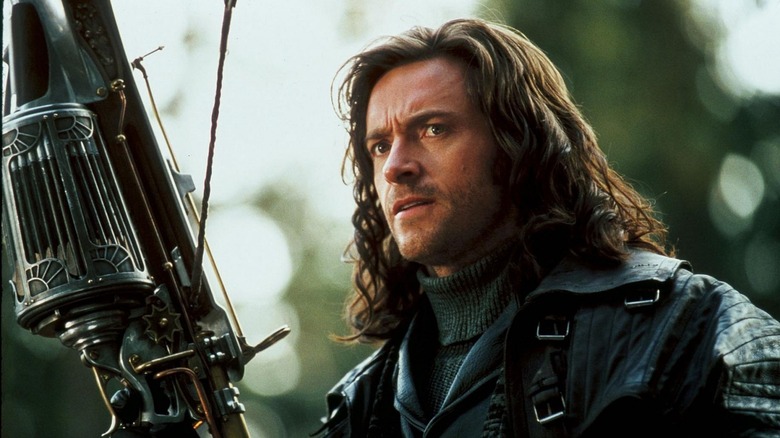 Universal Pictures
Is this the worst film on this carefully-curated list? Absolutely, but that's a part of what makes "Van Hesling" appointment viewing. The early 2000s film features Hugh Jackman hamming it up as a monster hunter who battles a bevy of familiar creatures, including Dracula himself (Richard Roxburgh). Kate Beckinsale, no stranger to the genre, plays Anna Valerious, who joins Helsing on his quest to kill the ancient vampire and gets in on the action. Stacked cast aside, the film is relentlessly entertaining, even in its most zany moments. It's trashy fun at its finest, boasting some off-the-rails action and great monster designs — including some of the best-looking werewolves cinema has to offer. The heavy use of CGI is a staple of that era, but I think it works for a film like "Van Helsing" that relishes the most insane parts of the monster canon. It may not be the jumpstart to a full-fledged monster franchise Universal Pictures has been desperately pursuing for years, but the film does enough to make it a worthwhile venture.
Looper (2012)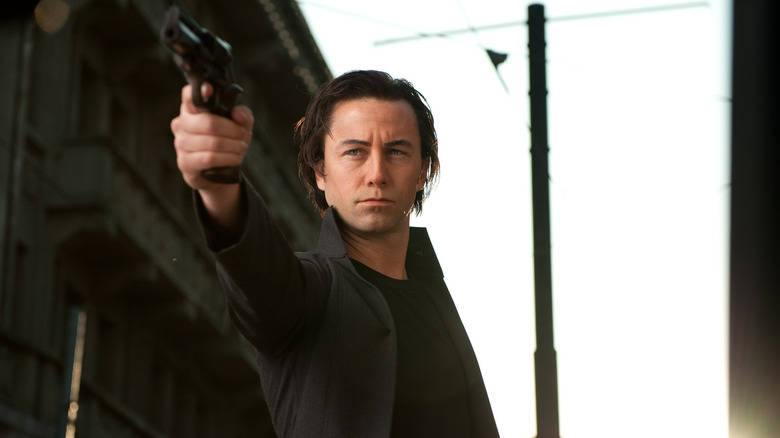 Sony Pictures
Before directing quite possibly the best Star Wars film ever made, Rian Johnson delivered a near-perfect sci-fi thriller in "Looper." The trippy movie features Joseph Gordon-Levitt as an assassin for a distant-future crime syndicate that uses time travel to dispose of bodies. A "looper," Gordon-Levitt's Joe receives his targets from the future (2074) and kills them in his present time (2044). It all gets complicated when he is tasked to eliminate himself, butting heads directly with his older self aptly played by Bruce Willis. Oh yeah, there are also people who have telekinetic abilities in this world. If that synopsis is not enticing enough, the film also stars Emily Blunt, Paul Dano, Jeff Daniels, and frequent Johnson collaborator Noah Segan.
It's a pretty complex and twisty film even by Johnson's standards, but as with the rest of his work, "Looper" is centered on emotional stakes and meaningful character development. Beneath the time travel shenanigans is a story about redemption and loss encapsulated in the strong performances of its two leads.
Everything leaving Hulu in September 2022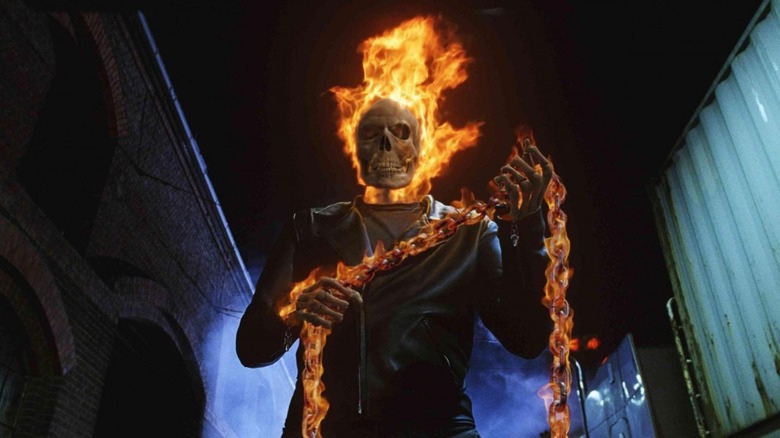 Columbia Pictures
September 5
Awoken, 2019
Storks, 2016
September 7
September 9
September 12
Colette, 2018
Scary Movie 5, 2013
September 14
A Long Way Down, 2014
A.C.O.R.N.S. (Operation Crackdown), 2015
Blade Of The Immortal, 2017
Cocaine Cowboys, 2006
Ozzy, 2016
The Seat Filler, 2004
Serena, 2014
September 18
Brooklyn Nine-Nine: Seasons 1-8
Keeping Up With the Kardashians: Seasons 1-20
Life of Kyle: Season 1
The Real Housewives of Atlanta: Seasons 1-13
The Real Housewives of Beverly Hills: Seasons 1-15
The Real Housewives of New Jersey: Seasons 1-11
The Real Housewives of New York: Seasons 1-12
The Real Housewives of Orange County: Seasons 12-15
The Real Housewives of Potomac: Seasons 1-5
The Real Housewives of Salt Lake City: Season 1
Top Chef: Seasons 1-18
Vanderpump Rules: Seasons 1-8
September 19
September 29
Southbound, 2015
Across The Line, 2015
September 30
127 Hours, 2010
21, 2008
American Pie, 1999
American Pie 2, 2001
American Wedding, 2003
American Reunion, 2012
Any Given Sunday, 1999
Batman Begins, 2005
Big Trouble in Little China, 1986
Black Knight, 2001
Bogus, 1996
Bride Wars, 2009
Bugsy, 1991
Cadillac Records, 2008
The Chronicles Of Riddick, 2004
Closed Circuit, 2013
Conspiracy Theory, 1997
Contraband, 2012
The Dark Knight, 2008
Death Race, 2008
Dick, 1999
The Dilemma, 2011
Dude, Where's My Car?, 2000
The Dukes of Hazzard, 2005
First Knight, 1995
Fly Away Home, 1996
Fred Claus, 2007
Ghost Rider, 2007
Gone, 2012
Groundhog Day, 1993
Hysteria, 2012
Instructions Not Included, 2013
Joy Ride, 2001
Jumanji, 1995
Just Go With It, 2011
Kindergarten Cop, 1990
Kindred Spirits, 2019
Knock Knock, 2015
Knowing, 2009
Little Richard, 2000
Looper, 2012
The Man Who Knew Too Little, 1997
Mary Shelley's Frankenstein, 1994
Milk, 2008
Napoleon Dynamite, 2004
National Lampoon'S Dirty Movie, 2011
New Year's Eve, 2011
Next Level, 2019
Nim's Island, 2008
The Nutty Professor, 1996
Nutty Professor II: The Klumps, 2000
Post Grad, 2009
The Professional, 1994
Prometheus, 2012
Rachel Getting Married, 2008
Reign Over Me, 2007
Rise, 2022
Sex Ed, 2014
Sexy Beast, 1999
The Sitter, 2010
Snow White And The Huntsman, 2012
Sorry To Bother You, 2018
Step Up, 2006
Step Up 2 The Streets, 2008
Step Up 3, 2010
Superhero Movie, 2008
Swimming For Gold, 2020
Taxi, 1998
This Is 40, 2012
The Tourist, 2010
Tower Heist, 2011
The Two Faces Of January, 2014
Tyler Perry's Madea's Big Happy Family, 2011
Tyler Perry's Madea's Family Reunion, 2006
Urban Legend, 1998
Urban Legends: The Final Cut, 2000
Van Helsing, 2004
What'S Love Got To Do With It, 1993
Wolves at the Door, 2016
Working Girl, 1988