A Brief History Of Dragonstone, Daemon Targaryen's New Home In House Of The Dragon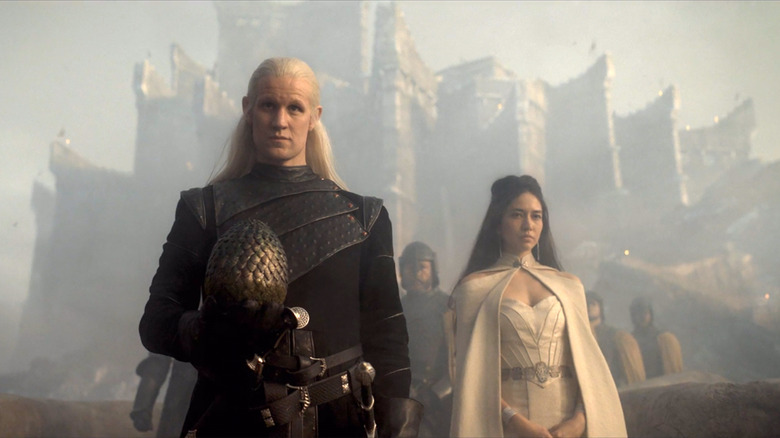 HBO
This article contains spoilers for "House of the Dragon" episode 2.
In episode 2 of "House of the Dragon," aptly titled "The Rogue Prince," Prince Daemon Targaryen (Matt Smith) defies his elder brother Viserys' (Paddy Considine) orders in a big way. After Viserys' son died a day after his birth, the king declared his daughter Rhaenyra (Milly Alcock) as his heir. The Targaryen heir is supposed to rule at Dragonstone once they come of age, so Daemon decided to take that for his own since he couldn't have the throne. He also stole a dragon egg that had been kept in his late nephew's cradle, though he eventually gave it back when Rhaenyra came to retrieve it. Dragonstone, however, he kept, and it looks like the sprawling castle will serve as his base of operations for some time. It's a perfect Targaryen home, complete with carvings of dragons absolutely everywhere, and since it's on an island, it's easy to visit on dragonback and not much else. 
Dragonstone serves an important history in the world of Westeros, and ends up being an important setting in "Game of Thrones." The castle ends up being the home of two very different rulers in later years, but hey, at least one of them is a Targaryen. 
No place for stags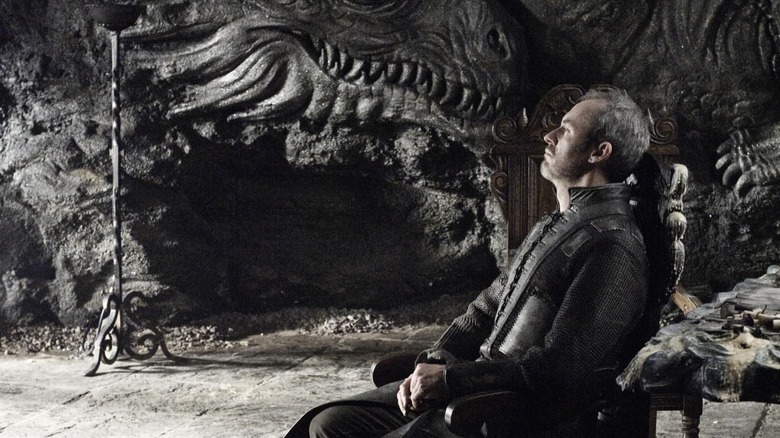 HBO
Dragonstone is the birthplace of Aegon Targaryen I, who would go on to be known as Aegon the Conqueror when he united the seven kingdoms of Westeros for the first time. Many of the houses had been there for centuries before the Targaryens ever crossed the narrow sea, but they soon fell in line with their dragon-riding rulers. While the Targaryen kings ruled out of King's Landing, as the other Westerosi kings had done before, their true ancestral home was still Dragonstone. After the Mad King, Aerys II, was killed by a teenage Jaime Lannister, House Baratheon ascended the throne, and Dragonstone became a Baratheon holding instead. Stannis Baratheon (Stephen Dillane), the younger brother of King Robert, ends up taking the island castle and making it his home. 
The room that Stannis eventually made into his war room, complete with a giant wooden table that's a map of Westeros, appears in the second episode of "House of the Dragon," when Daemon tries to reassure his lover, Mysaria (Sonoya Mizuno), after lying about both getting married to her and her being pregnant. The big wooden map is missing, but the rest of the room is unmistakable, right down to the dragon carvings on the walls and the floor-to-ceiling "windows" overlooking a beautiful view of the ocean. 
The heart of the Targaryen dynasty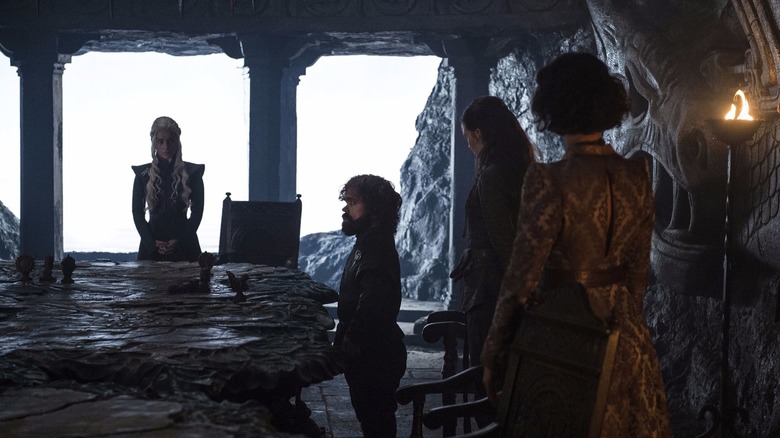 HBO
Eventually, Dragonstone ended up back in Targaryen hands, when Daenerys Targaryen crossed the narrow sea from Essos and took back her ancestral home. Those loyal to Stannis had abandoned the castle after his death, and Daenerys (and her dragons) had no problem taking control of the island castle. She ends up leading her efforts to take back the Iron Throne from Dragonstone for quite some time and eventually returns there with Jon Snow (Kit Harrington) in season 8 of "Game of Thrones" to prepare for her final battle with the Lannisters in King's Landing. The two of them even use Dragonstone's incredible caches of dragonglass, or obsidian, to help in their fight against the encroaching white walker hordes of the north. 
After the events of "Game of Thrones," there's no telling who Dragonstone might fall to, or if the castle will ever be used again. While some of the other spin-offs in production might address the fate of Dragonstone, at least fans will get a chance to see more of its history in "House of the Dragon," because I don't imagine Prince Daemon's going to give it up any time soon.
New episodes of "House of the Dragon" premiere Sundays on HBO and HBO Max.