Goodnight Mommy Is Holding Early Screenings Across The Country – And We're Giving Away Free Tickets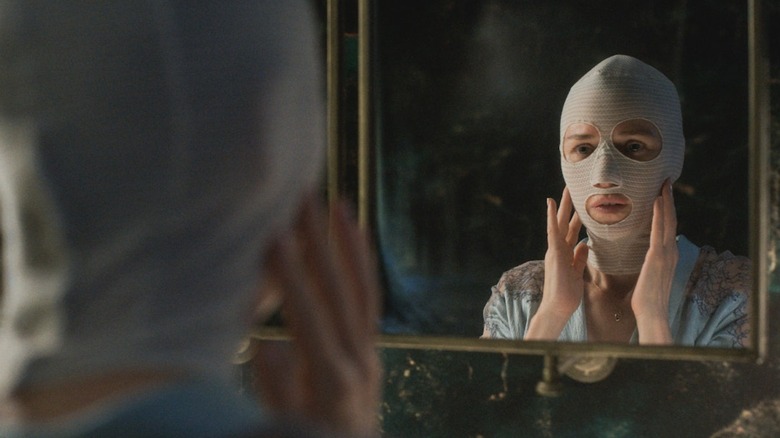 Prime Video
The terrifying Austrian horror film "Goodnight Mommy" is getting an American remake this fall, and moviegoers will be able to check it out early with advance screenings at the Alamo Drafthouse. If that's not exciting enough, we're also giving away free tickets to the screenings, which are available at select Alamo locations.
While horror fans may already be familiar with Veronika Franz and Severin Fiala's 2014 film "Goodnight Mommy," the new version comes courtesy of Prime Video and features a new cast taking on the freaky source material. Naomi Watts stars as the mother, a woman who wears mysterious face bandages that alienate her from her twin sons (Cameron and Nicholas Crovetti, of "Big Little Lies" fame). When the kids come to stay with her after some time away, they grow suspicious of her new appearance and personality changes, and begin to wonder whether she's actually their mother at all.
The original "Goodnight Mommy" is a twisted, stomach-churning psychological thriller, and with "Brand New Cherry Flavor" filmmaker Matt Sobel directing the latest version, it has the potential to put a fresh spin on an entertainingly wicked story. Luckily, horror fans will be able to find out sooner rather than later, as the Alamo Drafthouse will be screening the film early for members of its free rewards program, Alamo Drafthouse Victory. The early screenings will take place on September 14, 2022, and are available in New York City, Los Angeles, Dallas, Austin, Denver, and San Francisco. A special guest will be in attendance at the Manhattan preview screening.
And we're giving away five tickets to each screening in all six locations.
Here's how to get tickets
While tickets are now on sale for the sneak preview screening, you can also win them exclusively through /Film. To enter the contest, simply follow /Film on Twitter at @slashfilm, then quote-tweet our post about the giveaway (linked below) with a comment that includes the name of the Alamo theater or location where you'd like to see the movie. Make sure that it's one of the six participating locations — New York City, Los Angeles, Dallas, Austin, Denver, and San Francisco — and, of course, your tweet will have to be publicly visible to be considered. Also, be sure to enter by September 6, 2022!
Early screenings of #GoodnightMommy are happening next month via @drafthouse, and we have 30 tickets to give away! Follow /Film and quote tweet this tweet with your preferred location (NYC, LA, Dallas, Austin, Denver, or San Francisco) for a chance to win! Details threaded below. pic.twitter.com/yiZdXxir8i

— /Film (@slashfilm) August 30, 2022
Once again, here are the participating locations:
New York City, NY / Alamo Drafthouse Lower Manhattan 
Los Angeles, CA / Alamo Drafthouse DTLA
Dallas, TX / Alamo Drafthouse Cedars
Austin, TX / Alamo Drafthouse South Lamar
San Francisco, CA / Alamo Drafthouse New Mission
Denver, CO / Alamo Drafthouse Sloans Lake
Here's the official synopsis for Prime Video's "Goodnight Mommy":
When twin brothers (Cameron and Nicholas Crovetti) arrive at their mother's (Naomi Watts) country home to discover her face covered in bandages—the result, she explains, of recent cosmetic surgery—they immediately sense that something doesn't add up. She sets strange new house rules, smokes in her bathroom, and secretly rips up a drawing they gave her—things their loving mother would never do. As her behavior grows increasingly bizarre and erratic, a horrifying thought takes root in the boys' minds: The sinking suspicion that the woman beneath the gauze, who's making their food and sleeping in the next room, isn't their mother at all.
"Goodnight Mommy" premieres in theaters on September 16, 2022.